Toad in a Hole Eggplant Style
We may earn money or products from the companies mentioned in this post.
Toad in a Hole Eggplant Style
Toad in a Hole Eggplant Style is the Paleo take on the childhood classic 'Toad in a Hole'. Instead of bread, you use eggplant slices which gives you more nutrients, fewer carbs and most importantly, fewer calories with an extremely delicious flavor. This is a dish you'll want to make and eat often for breakfast, lunch and/or dinner. The next time you visit your local farm stand or farmers market, pick up an eggplant and give this recipe a try.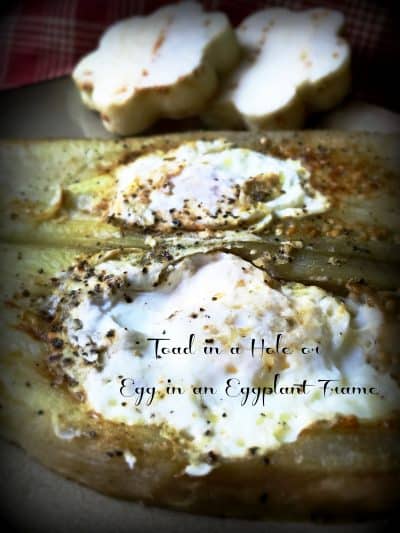 Eggplant
Last weekend I stopped at my favorite farm stand, Wagner's Market and picked up 3 eggplants. The eggplants were .75 cents each which I thought was a great buy. Because the eggplant is a member of the nightshade family, it's related to the tomato and potato. Though commonly thought of as a vegetable, eggplant is actually a fruit, specifically a berry. There are many varieties of eggplant, ranging in colors from dark purple to white.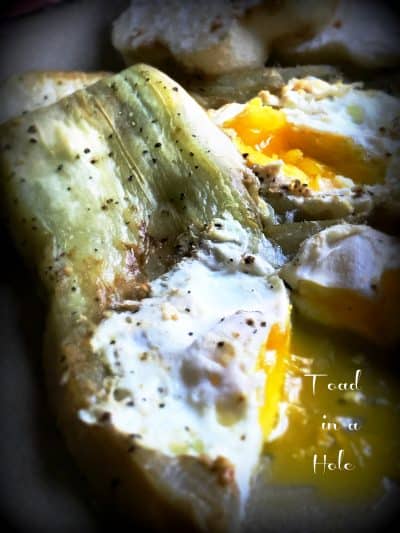 A Few Eggplant Facts
In the US, the most common eggplant is the large, cylindrical or pear-shaped variety, with a smooth, glossy, dark-purple skin. It's available year-round, with the peak season during August and September. Choose a firm, smooth-skinned eggplant heavy for its size; avoid those with soft or brown spots. Eggplants become bitter with age and are highly perishable. Store in a cool, dark place and use within a day or two of purchase.
Young and Old
When young, the skin of most eggplants are edible; older eggplants should be peeled. Since the flesh discolors rapidly, an eggplant should be cut just before using. Bitter, overripe eggplant can benefit by the ancient method of salting both halves and weighting them for 20 minutes before rinsing; the salt helps eliminate some of the acrid taste. Eggplants can be prepared by baking, broiling or frying.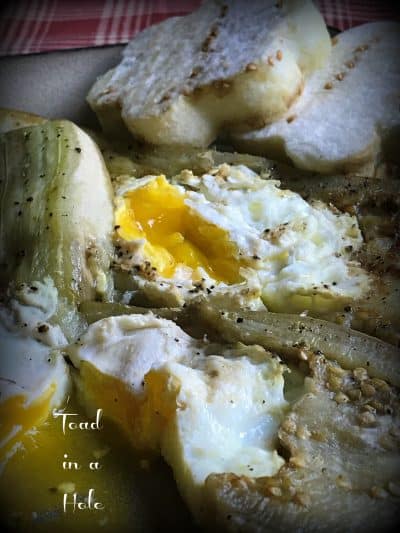 Varieties of Eggplant
The very narrow, straight Japanese or Asian eggplant ranges in color from solid purple to striated shades and has tender, slightly sweet flesh. The Italian or baby eggplant looks like a mini version of the common large variety, but has a more delicate skin and flesh. The egg-shaped white eggplant gets it's name from the obvious white color of the eggplant. It has tougher skin, but firmer, smoother flesh. All can be prepared in many different ways.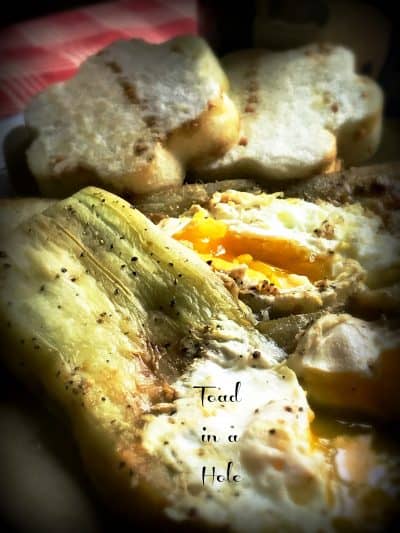 What is a Toad in the Hole?
I had absolutely no idea that there were over 66 names for 'Toad in a Hole' which is what I grew up calling this classic. According to the definition of a Toad-in-the Hole, this comically named British dish consists of a Yorkshire Pudding batter to which small cooked link sausages are added. The dish is baked until golden brown or until the batter puffs up around the sausages, making them the 'toads'. It's most often served for lunch or dinner.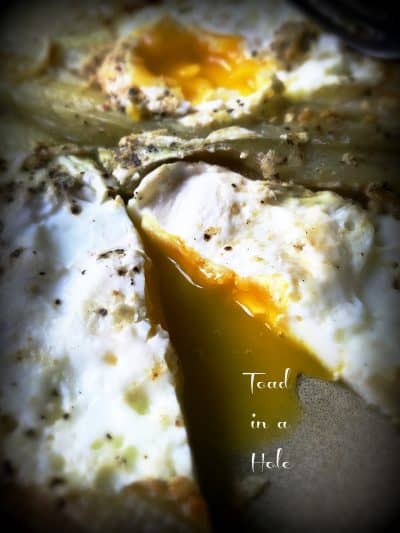 Egg in a Frame
After reading the long list of different names for 'egg in a frame,' names like: 'egg-in-a-window', 'egg-in-a-trashcan', 'frog-in-a-pond', 'one-eyed-pirate', 'hobo-toast', 'peek-a-boo-eggs', and 'moon-over-Miami', I've decided that 'egg-in-a-frame' makes more sense than' toad-in-a-hole', even though I personally like 'frog-in-a-pond' but you can call these eggs anything you like and most people will know what your talking about.
Recipe Tip:
Looking for a new way to prepare eggplant without all the razzle-dazzle? Give this recipe a try. Eggplant like many vegetables are delicious prepared in a simply way. When making this recipe resist the urge to add more oil to the skillet when cooking the eggplant. Eggplants are like sponges, they will absorb as much oil as you add. Cut out the 'hole' with a cookie cutter and use the cut out sections for another recipe.
Gourmet Pigs in a Blanket  are super delicious and easy to make.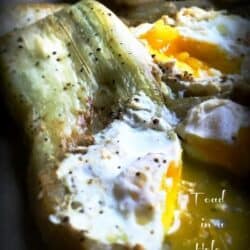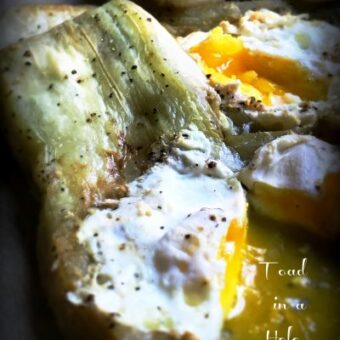 Toad in a Hole Eggplant Style
This is a Paleo take on the childhood classic, Toad in a Hole. The eggplant replaces the bread used in the classic recipe, making this recipe good for you!
Ingredients
1

medium

eggplant

2

tablespoons

olive or coconut oil

4

large

eggs

1

green onion, thinly sliced
Instructions
Peel eggplant, slice eggplant into thick slices, one eggplant should yield 4 slices. Season with salt and pepper. Using a cookie cutter, cut a hole in the seed section of each slice.

Heat a large skillet over medium heat. Add the oil, followed by the eggplant. Cook eggplant on one side for 4 minutes, flip over, cook 3 minutes longer.

Melt one teaspoon of butter in hole of eggplant. Crack one egg into center of each slice. Season with salt and pepper. Cook for 3 to 4 minutes. Flip over, being careful not to let the egg fall out of the hole. Cook another 3 to 4 minutes and remove from pan. Garnish with sliced green onions if desired. Serve.