Tips to Expand Your Recipe Repertoire
We may earn money or products from the companies mentioned in this post.
Tips to Expand Your Recipe Repertoire

Do you find yourself cooking the same meals over and over again? Are you looking for inspiration for new recipes? If so, you've come to the right place. There's nothing wrong with having favorites, but it's always fun to experiment and introduce new ingredients and flavors to your weekly menu. If here are a few tips to expand your recipe repertoire.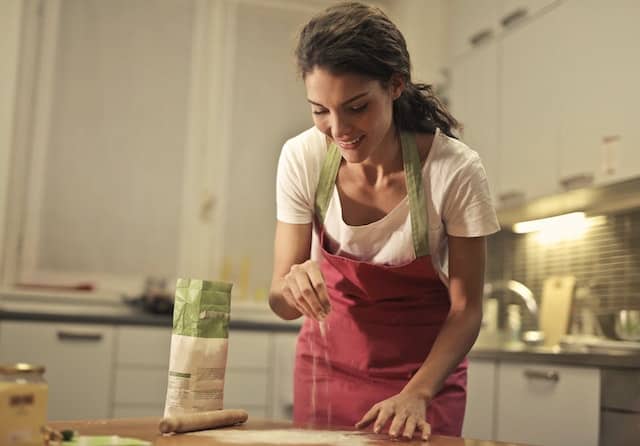 Image source: https://www.pexels.com/photo/happy-woman-preparing-dough-at-home-3770002/
Get social
Social media is not just about keeping in touch with friends and family members and following your favorite brands or celebrities. It also provides incredible opportunities to connect with people who have shared interests and to get ideas. From interior design and fashion to travel and food, you can follow accounts to give you inspiration for your home, wardrobe, vacation plans or menus. Follow food bloggers, influencers, TV chefs and recipe book authors and save recipes that take your fancy. You can search and filter results according to your tastes, your dietary requirements, or the ingredients you want to use. It's also a great idea to ask friends and relatives to share recipes and set up a virtual swap shop. 
Explore different cuisines
The planet is a melting pot of cuisines and today, it's easier than ever to explore different cultures and try all kinds of different foods. Many of us now have access to imported and exotic ingredients and we can access recipes for traditional dishes from overseas online. Try different styles of cooking and embrace new cuisines. You'll find everything from an easy recipe for pfeffernüsse cookies to aromatic curries, delicious pasta dishes and sumptuous classic French sauces online. Think about the dishes you've tasted on your travels or restaurants you love to visit to start your search and get ideas from blogs and TV cooking shows. 
Substitute ingredients
One of the simplest ways to diversify your menu is to substitute ingredients to put a twist on much-loved classics and staples. Try different types of meat, fish, vegetables and seeds and pulses, experiment with different herbs and spices and turn savory dishes into desserts and vice-versa. Often, swapping one or two ingredients can alter the taste of a recipe dramatically. 
Buy new books
As well as searching for recipes online and via social media apps, you can also buy new books. Recipe books have been around for decades, and there's a huge array of titles available. Browse books and choose products that cater to your tastes and your requirements. If you don't have much time to cook, or you're trying to embrace a healthier diet, for example, look for books that contain quick, easy, delicious and nutritious recipes. If you don't want to spend a lot of money on buying books, search second-hand stores and online marketplaces or swap with friends, neighbors and colleagues.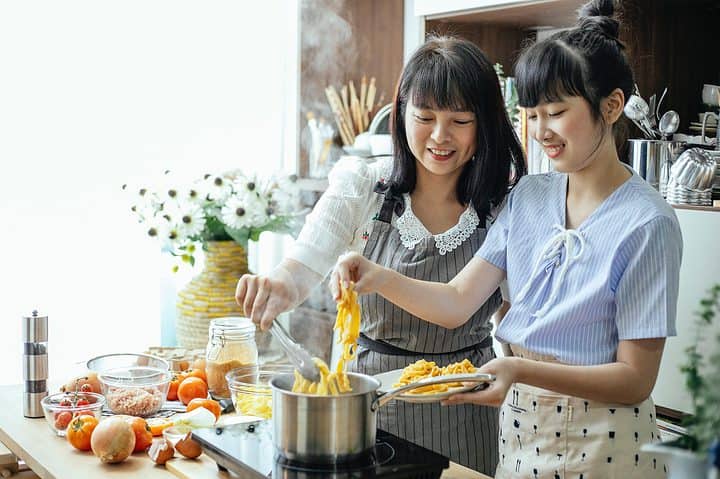 Picture from https://www.pexels.com/photo/happy-asian-women-cooking-oriental-noodles-in-kitchen-5907592/
Many of us get stuck in a rut in the kitchen and we cook the same meals on rotation. There's absolutely nothing wrong with having favorite dishes, but it's fun to experiment with new flavors and ingredients. If you're keen to expand your recipe repertoire, use social media, food blogs, TV cooking shows and recommendations from friends to get inspiration. Explore different cuisines, search for recipe books and substitute ingredients in recipes you