The Benefits of Meal Planning
We may earn money or products from the companies mentioned in this post.
The Benefits Of Meal Planning 
For some meal planning might seem like a lot of unnecessary hard work and admin or it might detract from the freedom and spontaneity you currently enjoy. That said when it comes to meal planning there are a whole host of benefits that are likely to outweigh the initial effort of forward planning. Here are some of the great benefits you can enjoy when setting aside a little time to meal plan for the week ahead.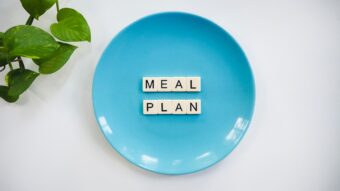 Photo credit; Vegan Liftz from Pexels
Reduction in food waste
For many, the thought of wasting food is enough in itself to give meal planning a try. By planning your meals you will reduce the amount of food you waste as you will only buy what you really need for those meals. More often than not when aimlessly food shopping you will add items to your basket that you don't need or want and ultimately do not use. The result being, waste. 
Save money
As with reducing food waste, you will also reduce your weekly food expenditure on the same premise that you will only be buying what you actually need. It will also result in less spontaneous shopping to pick up items you are lacking, which inevitably results in buying more items than you originally went in for. Finally, by meal planning, you will also cut down on the amount you spend on takeaways and eating out. Meal planning will help you become more aware of what you are spending on food each week. 
Weight management and healthy eating
If you are trying to lose weight then meal planning can have a real transformative effect. It can be all too easy to grab convenience food that is often high in calories or saturated fats when you are rushed or out of meal inspiration. By meal planning each week you will be able to plan healthy nutritious meals that will complement your weight management goals and ensure you stay on track. Whether you plan to take healthy weight loss bars or leftovers for your working lunch planning your meals in advance will only seek to serve your overall weight management goals. 
It is not just weight management that meal planning will help but the way in which you eat is likely to be improved as a result of meal planning also. If you make the effort to plan your meals to include a variety of healthy foods such as fruits, vegetables, whole grains, and pulses then it will ensure you end up actually eating them. The benefits of healthy eating are known the world over and you should start to see an improvement in your overall health and wellbeing.  
Time-saving 
So you may have to set aside a bit of time to meal plan. This might include going through your food supplies and seeing what you have available, sourcing planning 7 dinners, 7 lunches, and 7 breakfasts, and then shopping to stock up on the items you do not have. Granted that may take a bit of time, however, this time will be offset by the amount of time you save during the week when you are working off of your meal plan. By planning ahead and mapping out your meals in advance it will save you time on last-minute trips to the shops looking for inspiration for the night's dinner and it will also save you the time and hassle of aimlessly searching through your pantry trying to decide what you are going to feed the family each night. 
Not only will this result in time-saving but you will also be reducing your stress levels. By having your meals planned in advance you avoid the headache and mental turmoil of trying to scrape together a meal from the ingredients you have lying around. 
Increased variety 
When you do not know what to cook for your meals it is all too easy to fall back onto those easy meals you are used to cooking. Meals that you have eaten time and time again. Meal planning can help you get out of this rut and enjoy a bit more variety in your meals. After all, variety is the spice of life.  
Increased control 
Planning your meals and cooking at home will give you more control over the choices of ingredients you use. This can be particularly beneficial for those who have particular food allergies or dietary requirements. For example, coeliac sufferers have to maintain a strict gluten-free diet, which can be difficult when eating out a lot or buying shop-bought food. By preparing your food yourself you can actively choose the ingredients that suit you and your needs.