Tequila Cranberry Pepper Jelly
We may earn money or products from the companies mentioned in this post.
Tequila Cranberry Pepper Jelly
What makes this jelly so special? The 3 shots of Tequila! Why 3 shots of Tequila you might ask, well because ♫One Tequila♪ Two Tequila♪ Three Tequila♪ Floor♫ This is a nice, spicy jelly with a fruity aftertaste. The alcohol from the Tequila evaporates during the cooking process and the flavor left behind from the Tequila is a mellow, earthy, fruity flavor. Tequila Cranberry Pepper Jelly is fruity, tart and spicy. Perfect anytime!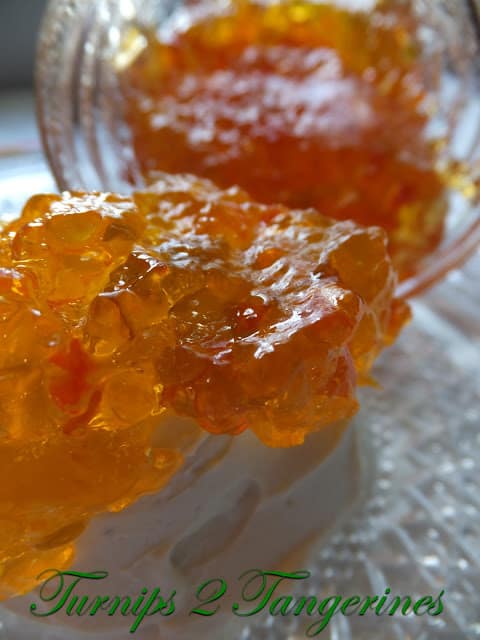 Cream Cheese & Hot Pepper Jelly
I'm not sure where this 'recipe' came from or who 'invented' this 'recipe' but I sure wish I would have! Talk about easy and it's super good too! The first time I had this dip/spread I was at my brothers house. My niece had graduated from high school and they (my brother and sister-in-law) were throwing a big wing-dig for her. Sitting on one of the many tables lined up around the room, all overflowing with food, sat a block of cream cheese with something green spooned over it.
Willing to Try Anything..Once
Hmm, I must say I was intrigued. Someone I didn't know was standing by the unusual looking appetizer and I asked out loud to no one in particular, "How in the hell do you eat this?"  The person I didn't know answered, "You spread it on crackers…it's hot pepper jelly over cream cheese." Well, I'll be dogged. Since I'm the kind of person who will try anything at least once, I dug in. As I'm sure everyone in the universe can testify to, cream cheese with hot pepper jelly is pure joy!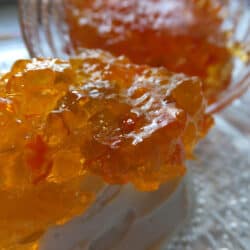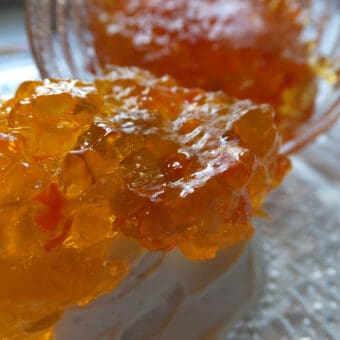 Tequila Cranberry Pepper Jelly
Sweet, Tart and Spicy, the perfect jelly
Ingredients
3

cups

cranberry juice

1

cup

chopped seeded jalapeno peppers

1

cup

white vinegar

3

shots 1 oz each

tequila, (we used tequila gold)

4 to 6

drops

hot sauce

1/4

cup

fresh lime juice

7

cups

sugar

2

3 oz each

pouches liquid fruit pectin
Instructions
Place cranberry juice and jalapenos in a blender; cover and process until peppers are fully chopped. Strain through a double thickness of cheesecloth. Pour the strained juice into a Dutch oven; Add the vinegar, tequila, hot sauce and lime juice. Stir in the sugar.

Bring to a full rolling boil, stirring constantly. Stir in the pectin; return to a full rolling boil. Boil for 1 minute, stirring constantly. Remove from the heat; Skim off foam.

Carefully ladle hot mixture into hot sterilized half-pint jars, leaving 1/4 inch headspace. Wipe rims and adjust lids. Process for 5 minutes in a boiling-water canner. With tongs, carefully remove jars from canner. Set jars upright on a kitchen towel.

Let cool for 12 to 24 hours
Recent Recipe: Taco Salad in Baked Tortilla Bowl and Chocolate Pecan Coffee Cake
For this recipe we used Philadelphia Brand Cream Cheese. Here is another super duper recipe that uses Philadelphia brand cream cheese. Raspberry Swirl White Chocolate Cheesecake
Cream Cheese & Hot Pepper Jelly
Ingredients
1 (8 oz) package




cream cheese, softened

1 (6 oz) jar




tequila cranberry pepper jelly or pepper jelly of your choice

1 box




crackers and/or pretzels
Cooking Directions
Spread soften cream cheese on a serving plate. Spoon pepper jelly over cream cheese.
Serve with crackers and/or pretzels.