Tangerine Apricot Poppy Seed Scones
We may earn money or products from the companies mentioned in this post.
Tangerine Apricot Poppy Seed Scones
It's Citrus Time!! There is nothing better than eating a big, juicy orange while snow is falling outside! Tangerine apricot poppy seed scones are truly delightful. During the Holiday season, we tend to over indulge in candy, cookies, chips and dips. We forget about all the lovely citrus fruits that abound this time of year. Next time you're at the grocery store, pick up a bag of oranges, tangerines, grapefruit and place a big bowl of citrus fruit on your Holiday Table!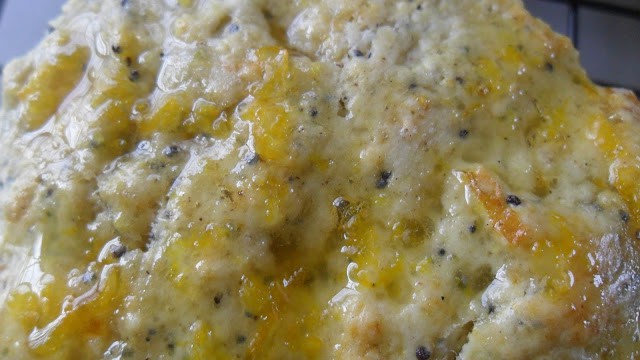 Tangerine Glaze
Add more tangerine goodness to these already delicious scones by drizzling them with a tangerine glaze. Tangerine glaze is made simply with confectioners' sugar, fresh grated tangerine zest and freshly squeezed tangerine juice. If your like me and purchase large quantities of oranges during the winter months, you can swamp oranges for the tangerines. Each year the school where my daughter-in-law teaches sells oranges and grapefruit. This recipe comes in handy.
Dried Apricots
Dried Apricots are pitted, unpeeled apricot halves that have had a large percentage of moisture removed. Often times treated with sulfur-dioxide to preserve their color. In addition to being rich in vitamin A, dried apricots are a valuable source of iron and calcium. The kernels of the apricot pits are used in confections and to flavor Liqueurs. Like bitter almonds, apricot kernels are poisonous until roasted.
Mandarin Orange
A loose skinned orange category that includes several varieties that can be sweet or tart, seedless or not and can range in size from as small as an egg to as large as a medium grapefruit. All mandarins have skins that slip easily off the fruit. Among the more well known mandarin orange family members are clementine, dancy, satsuma and tangerine. The most common mandarin found in the United States is the tangerine. It has a thick rough skin and sweet flesh.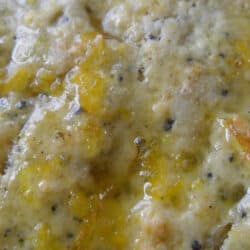 Tangerine Apricot Poppy Seed Scones
A wonderful way to enjoy citrus fruit during the winter months.
Ingredients
2

cups

flour

2

tablespoons

sugar

2

teaspoons

baking powder

1/4

teaspoon

allspice

1/2

teaspoon

baking soda

1/2

teaspoon

salt

2

tablespoons

poppy seeds

1/4

cup

cold butter, cut into cubes

2

teaspoons

grated tangerine zest

1/3

cup

chopped dried apricots

1/4

cup

half and half

1/4

cup

Greek-style vanilla yogurt

1

egg

2

tablespoons

fresh squeezed tangerine juice

1/3

cup

confectioners' sugar

2

teaspoons

grated tangerine zest

2

tablespoons

fresh squeezed tangerine juice
Instructions
In bowl combine flour, sugar, baking powder, allspice, baking soda, salt and poppy seeds. Add butter, cut in using a pastry blender. Stir in tangerine zest and chopped apricots.

In a small bowl combine cream, yogurt, egg and tangerine juice. Add to dry ingredients. Blend well. Turn dough out onto a lightly floured surface. Knead 8 to 10 times. Pat dough into a 9 inch circle. Cut into 8 wedges. Place wedges on a baking sheet lined with parchment paper.

Bake at 375 for 12 to 15 minutes. Remove from oven. Place scones on a wire rack to cool.

Make Tangerine Glaze.

Whisk together all glaze ingredients, drizzle over warm scones.