Sweet Spicy and Sour Pulled Pork
We may earn money or products from the companies mentioned in this post.
Sweet Spicy and Sour Pulled Pork
Sweet, Spicy and Sour Pulled Pork is reminiscent of a sandwich I had several years ago when my hubby and I where in North Carolina. We stopped at one of those rode-side stands that serve everything from boiled peanuts to soft shell crabs. This particular stand was manned by who I assumed was Billy, since that was the name painted on the front. Billy served his sweet, spicy and sour pulled pork on buttered Texas bread with an ice cream scoop of creamy slaw on the top.
Ways with Slaw
This was the first time that I had been served slaw on top of anything, let alone a sandwich! Where I come from, way up here in Wisconsin, slaw is traditionally served as a side dish, alongside your fish dinner (usually served in it's own separate bowl/container.) In Wisconsin, slaw is made one of two ways, creamy with a mayonnaise based dressing or oily with an oil-vinegar/sweet-sour based dressing. I like slaw either way, I just like slaw! Top your sweet spicy and sour pulled pork sandwich with a huge scoop of creamy slaw.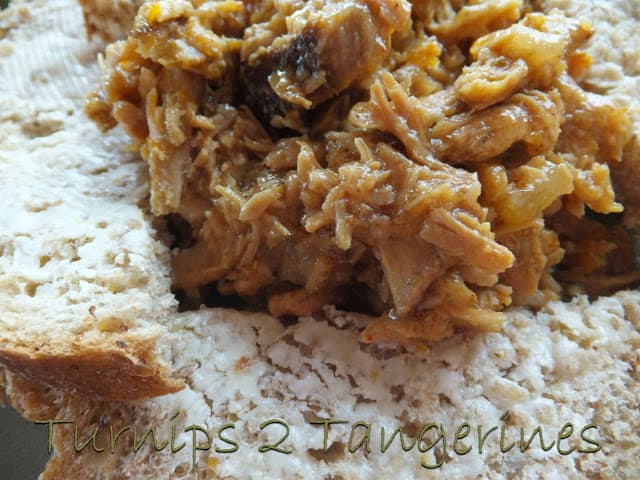 Willow "Cole Slaw Girl"
A few years ago when my grand-daughter Willow was staying with us, I made German Style Coleslaw.  It was a warm, sunny and breezy afternoon  on the lake that day and I asked her if she wanted to eat some slaw with me out at the picnic table. She said, "Grandma, I never had coleslaw before but I'll try it." and I said to her, "That's the spirit Willow." I thought that was a brave statement for a 3 year old.
Willow proceeded to eat not one but two small bowls of slaw that day. No one believed us when we told them how much Willow liked slaw. Not Mom, Dad, Uncle Bob or Auntie Kimmy. A few weeks later, Willow stayed at Bob and Kim's house. They ordered out from their favorite restaurant, Ardy and Ed's Drive In. Kim ordered slaw for Willow and after she ate it all, Kim dubbed her the official "cole slaw girl."
 Packed Full of Flavor
This recipe is packed full of flavor. Spices include garlic powder, curry powder, chili powder, allspice and cayenne pepper. Brown sugar adds the sweetness and the sour comes from the apple cider vinegar and bottled sweet sour sauce. If that wasn't enough to tantalize your taste buds, throw in some Worcestershire sauce, liquid smoke and hot sauce. Sounds terrific doesn't it! Psst, it's made in the a slow cooker too.
Make one Day Ahead
This recipe needs to be made 24 hours in advance. The spice rub is made rubbed into the pork shoulder. The pork shoulder is wrapped tightly in saran wrap and allow to sit in the refrigerator overnight. The next day, brown the pork shoulder in oil on all sides to seal in the juices. Combine the remaining ingredients and pour over browned roast in slow cooker. After 7 hours, remove pork shoulder and shred. Return pork back to the slow cooker and heat for a few hours longer. Serve and Enjoy!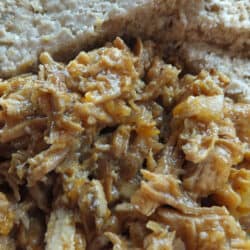 Sweet Spicy and Sour Pulled Pork
A tasty and delicious pork sandwich.
Ingredients
1

tablespoon

garlic powder

2

tablespoons

curry powder

1/4

cup

packed brown sugar

2

teaspoons

chili powder

1/2

teaspoon

ground allspice

1/2

teaspoon

black pepper

3

pounds

boneless pork shoulder

2

tablespoons

vegetable oil

3/4

cup

apple cider vinegar

1/4

cup

Worcestershire sauce

1/4

cup

sweet and sour sauce

2

teaspoons

hot pepper sauce

1

tablespoon

liquid smoke

1/2

teaspoon

dry mustard

1/4

teaspoon

cayenne pepper

1

medium onion, chopped

4

cloves

garlic, minced

1/3

cup

water or apple juice
Instructions
Combine the garlic powder, curry powder, 1 tablespoon of the brown sugar, chili powder, allspice and black pepper in a medium mixing bowl. Reserve 1 tablespoon of the spice mix; rub the remaining spice mix all over the pork. Wrap the pork in plastic wrap and refrigerate over night.

Heat oil in a large skillet over medium high heat. Add the pork and cook, turning to brown on all sides, this should take about 20 minutes. Transfer to a 4 to 5 quart slow cooker.

In a small bowl, mix together the vinegar, the reserved tablespoon of the spice mix, the remaining 3 tablespoons brown sugar, sweet and sour sauce, Worcestershire sauce, hot pepper sauce, liquid smoke, dry mustard, cayenne pepper, chopped onion and minced garlic. Pour mixture over pork in crock pot. Add 1/3 cup water or apple juice to drippings in skillet, with a wooden spoon stir to loosen up any particles in bottom of pan, pour water/juice mixture over pork in crock pot.

Cover and cook on low for 6 to 10 hours or until pork is fork tender. Remove pork from crock- pot, shred pork using two forks. Return shredded pork to crock-pot. Stir pork into juices in crock-pot. Heat on high for 1 to 2 hours.