Sweet Potato Sweetie Pie Bars
We may earn money or products from the companies mentioned in this post.
Sweetie Pie Bars
Over the past 3 weeks, I've seen Krusteaz Sweet Potato Pie Mix at 3 different grocery stores. In all three stores there was a shopping cart with a "sale" sign with at least 15 boxes of Krusteaz sweet potato pie mix. This got me thinking?? Either the grocery stores needed the shelf space for a more summery dessert mix or the dessert mix was sent too late or people don't want to make a sweet potato dessert in the summertime. Whatever the reason, is anyone's guess.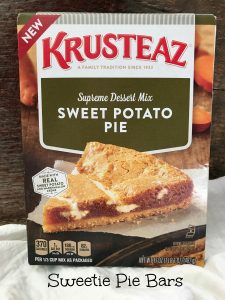 Dessert Pie Mix
I decided to take a look at the dessert mix, so I picked up a box and read the directions. It seemed easy enough, so I checked the price and date on the box. The date read 08/11/2018, so the mixed wasn't expired and the price… .99¢. Well ok, I'll bite! On the back of the box there was a recipe for Sweetie Pie Bars, I read on. I only needed a few extra ingredients to make the bars, which I already had, so Sweetie Pie Bars it is.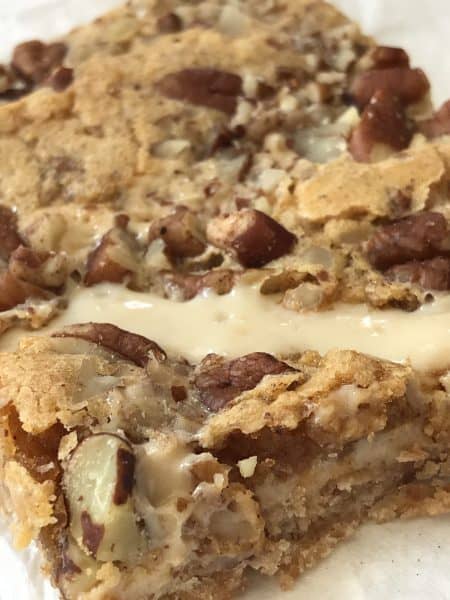 Easily Adaptable
If you don't like using box mixes, this recipe is easily adaptable to your favorite pumpkin bar recipe. Don't have a favorite pumpkin bar recipe? Use ours: Pumpkin Bars with Cream Cheese Frosting. Follow the recipe for pumpkin bars but instead of making the cream cheese frosting, simply whisk together 6 oz. marshmallow creme and 1/2 cup sweetened condensed milk until smooth. Drizzle over pumpkin filling, top with nuts and bake.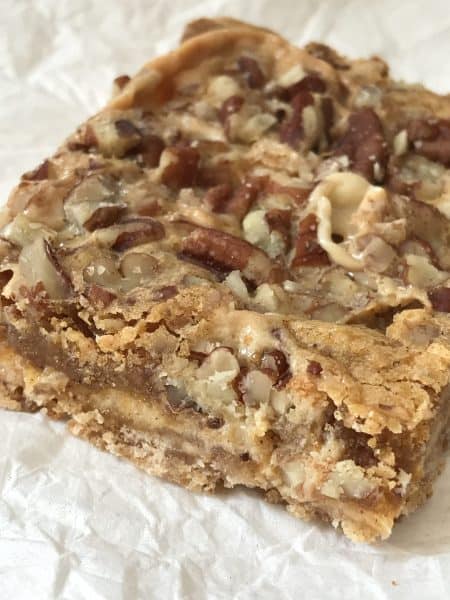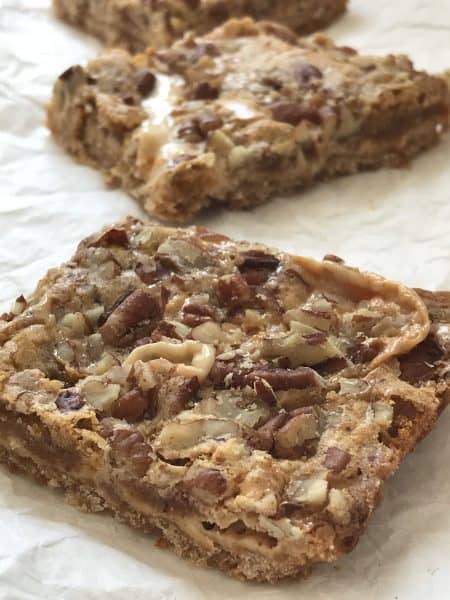 Sweetie Pie Bars are made with Krusteaz Sweet Potato Pie Supreme Dessert Mix.
Sweetie Pie Bars
Author:
Prep time:
Cook time:
Total time:
This fast and easy recipe is made with a convenient boxed mix made by Krusteaz called Supreme Dessert Mix Sweet Potato Pie.
Ingredients
1 17 oz box Krusteaz Sweet Potato Pie Mix
1 pouch crust (enclosed)
1 cup graham cracker crumbs
6 tablespoons melted butter
1 pouch filling mix (enclosed)
3 tablespoons water
1 egg
4 tablespoons melted butter
1 pouch marshmallow creme (enclosed)
1/2 cup sweetened condensed milk
2 cups coarsely chopped pecans
Instructions
Heat oven to 350 degrees. Lightly grease a 13 x 9-inch baking pan.
Crust: In a small bowl, stir together crust ingredients with a fork until well blended. Press into prepared pan. Bake 5 minutes.
Filling: Whisk filling mix, water, egg and 4 tablespoons melted butter until smooth. Set aside.
Topping: In separate bowl, whisk marshmallow creme and sweetened condensed milk until smooth. Pour sweet potato filling over hot crust; top with marshmallow mixture. Sprinkle nuts on top. Bake 19-21 minutes. Cool completely.
Hungry for more sweet potato recipes? Try these: Cranberry Sweet Potato Casserole and Sweet Potato, Goat Cheese, Cranberry Rounds.