Sweet Potato Bake
We may earn money or products from the companies mentioned in this post.
Sweet Potato Bake
Happy Thanksgiving!! Today I'll be sharing with you all the wonderful Thanksgiving dishes we will be feasting on today. This recipe is for a favorite of everyone. Whether you like your sweet potatoes "sweet" or "savory" this recipe is sure to please your "sweet" tooth. Sweet Potato Bake has been served on many a Thanksgiving Day table.
Made With
Sweet Potato Bake is made with marshmallow fluff, spices, dried cranberries and mini marshmallows. You can also add drained crushed pineapple and roasted chopped pecans to this dish for added sweetness and crunch. If you aren't a fan of sweet potatoes or if you wan to try something different, substitute two 18-oz. cans of canned pumpkin for the sweet potatoes.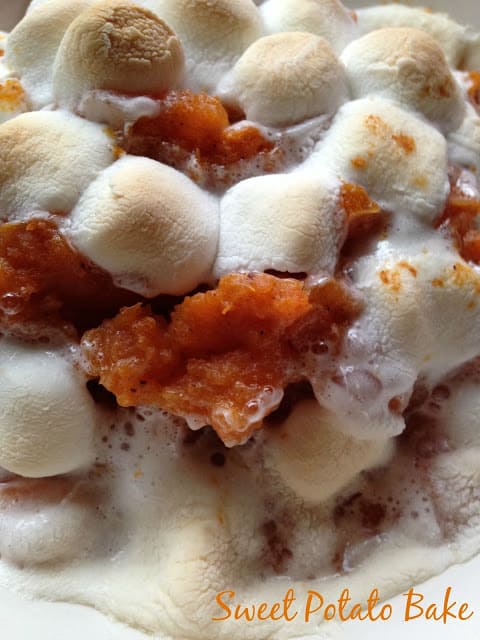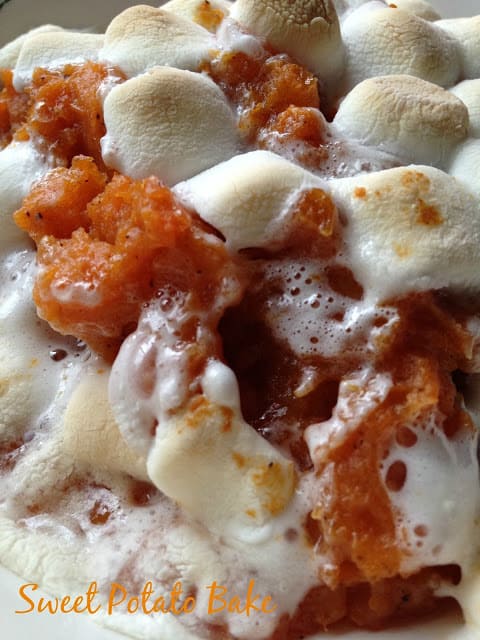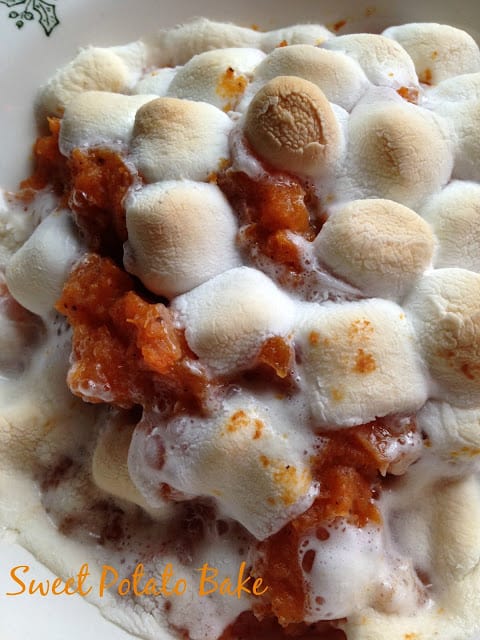 History of Sweet Potato Casserole 
In the United States, sweet potato recipes can be found as far back as 1796, when Amelia Simmons published American Cookery. Then in the late 1800's and early 1900's, as American cookbooks boomed, everything from the incredibly well-known Boston Cooking School Cookbook (Author Fannie Farmer) to George Washington Carver published a recipe for candied sweet potatoes. Some call these recipes candied yams, although actual yams are a different plant altogether. The oldest recipe for candied yams can be found as far back as 1889.
Marshmallows
Because sweet potatoes are a root vegetable and can be kept for a long time, may have been why they showed up on Thanksgiving tables in the late 1800's. But when did marshmallows come into the picture casserole? Well, a company known as Angelus Marshmallows, also the original maker of Cracker Jacks, introduced mass made marshmallows to Americans in 1907.
Recipes Made With
A decade later, the company was still trying to get marshmallows into American homes. The company sought out Janet McKenzie Hill, the founder of the Boston Cooking School Magazine, to help them develop recipes that included marshmallows. The resulting cookbook, published in 1917, featured recipes that included fudge studded with marshmallows; hot cocoa dotted with marshmallows and the first documented appearance of mashed sweet potatoes baked with a marshmallow topping. Read more about the history of marshmallows at: The Smithsonian.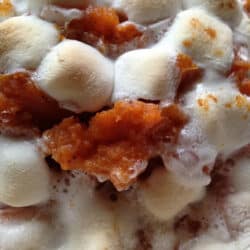 Sweet Potato Bake
An old-fashioned favorite.
Ingredients
6

medium sweet potatoes, unpeeled

1/4

cup

brown sugar

1/2

teaspoon

salt

1

cup

marshmallow fluff

1/2

teaspoon

vanilla extract

1/2

teaspoon

nutmeg

1

teaspoon

ground cinnamon

1/4

teaspoon

ground ginger

1/4

cup

evaporated milk

1

tablespoon

butter

1/2

cup

dried cranberries

1 1/2

cups

mini marshmallows
Instructions
Pierce each sweet potato several times with the tines of a fork.

Place the sweet potatoes on a rimmed baking sheet lined with foil.

Bake until tender, about 45 minutes.

Remove from oven, set aside to cool.

When sweet potatoes are cool enough to handle, peel off the skins.

Place sweet potatoes in a large mixing bowl, mash with a potato masher.

Blend together sweet potatoes, brown sugar, salt, marshmallow fluff, vanilla extract, nutmeg, cinnamon, ginger, evaporated milk, butter and dried cranberries.

Spoon into a buttered 2 quart baking dish.

Bake at 350° for 45 minutes.

Top sweet potatoes with mini marshmallows.

Return back to the oven, bake an additional 15 minutes longer.

Marshmallows should be a nice golden brown.