Sweet Corn and Tomato Salad
We may earn money or products from the companies mentioned in this post.
Sweet Corn and Tomato Salad
Sweet Corn and Tomato Salad is so delicious. It's the perfect salad to make with fresh vine-ripened garden tomatoes, fresh sweet corn, fresh basil ribbons and tangy goat cheese. This salad is then tossed with drizzle of olive oil and balsamic vinegar. A delicious salad that is fast, easy and affordable. When sweet corn and fresh tomatoes are in season, reach for this yummy salad recipe. I reach for this recipe often in late summer when my favorite farm stand is overflowing with tomatoes and sweet corn. If you like things on the spicy side, toss in a fresh diced jalapeno pepper, omit the fresh basil and substitute fresh torn cilantro leaves. You have a whole new salad. Sweet corn and tomato salad will soon become a fast favorite.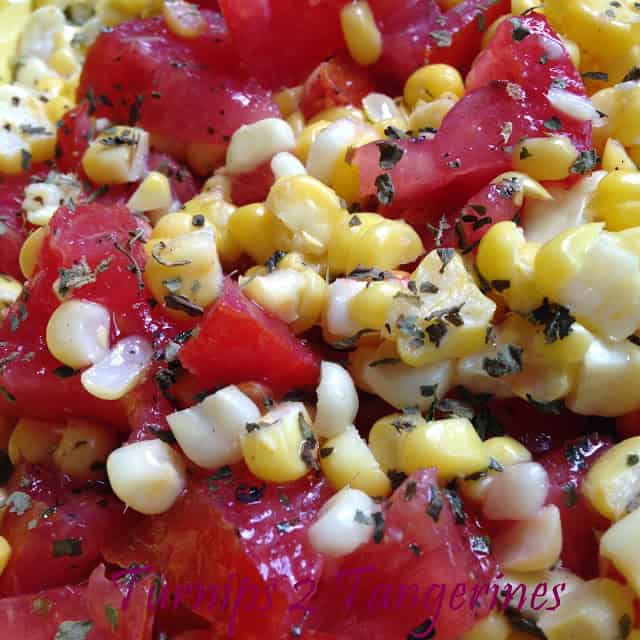 Fresh is Best
As always this salad is best when made fresh. Use fresh vine-ripened tomatoes and fresh corn-on-the-cob. This easy, fast and affordable salad is fantastic to make in late August, at least here in Wisconsin, when both tomatoes and corn are bountiful at farmer's markets and farm stands. Fresh ingredients makes a world of difference in this salad or any salad really. Sweet Corn and Tomato Salad is the perfect summertime salad. For a whole different taste sensation, grill the corn first!!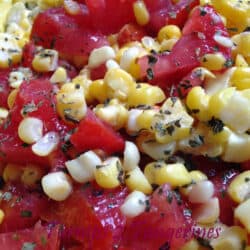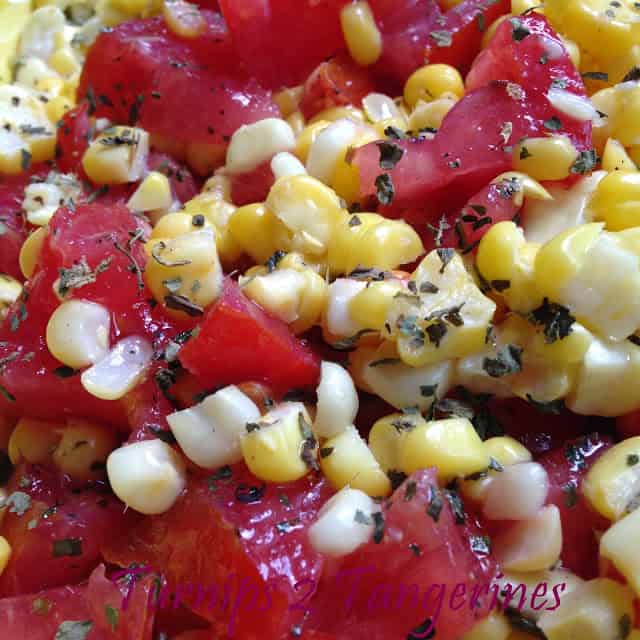 Sweet Corn and Tomato Salad
A super way to enjoy fresh vegetables.
Ingredients
6

ears

fresh sweet corn, shucked

4

medium

tomatoes

1/4

cup

fresh basil

pinch

of oregano

1

tablespoon

olive oil

splash of balsamic vinegar

salt and pepper, to taste

3

ounces

soft goat cheese, chilled and crumbled, optional
Instructions
Bring large pot of water to a boil over medium high heat. Add corn and boil for 5 minutes. Drain and cool.

Chop tomatoes in quarters, squeeze out juice and seeds. Chop the seeded tomato quarters into a rough dice, pat with paper towels to remove moisture.

When corn has cooled, stand each ear up in a wide shallow dish and cut the kernels off with a chefs knife. Toss corn with tomatoes.

Finely mince basil, toss with tomatoes and corn along with olive oil, salt, pepper, vinegar, and cheese if using. Toss gently.
Nutrition