Super Easy Fish Wraps
We may earn money or products from the companies mentioned in this post.
Super Easy Fish Wraps
Super Easy Fish Wraps couldn't get any easier. This recipe starts with a package of cole slaw mix and cole slaw dressing. Both can be purchased at any grocery store in the produce department. Creole seasoning is whisked together with boxed cornbread muffin mix. The haddock fillets are then breaded and fried in a small amount of hot oil.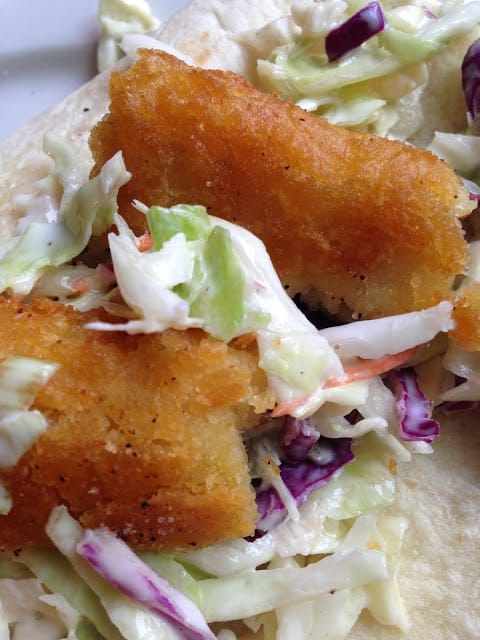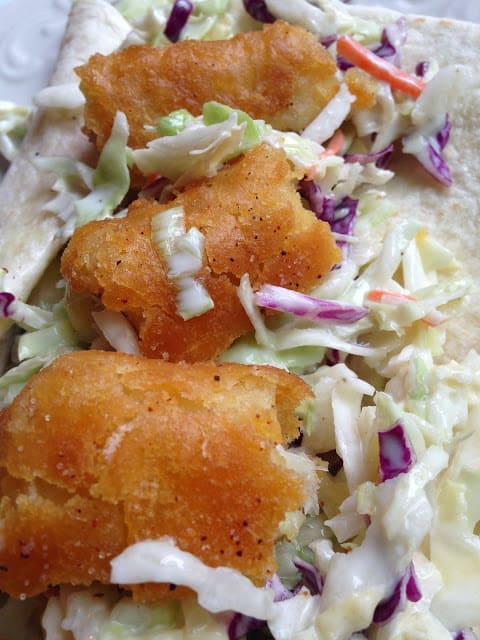 Assemble Wraps
To assemble wraps, layer coleslaw and fish fingers in flour tortillas. You can add any of your favorite toppings such as: cherry tomatoes, diced red onion, or sliced avocado. Top with your favorite salad dressing, tarter sauce or squeeze on some fresh lemon juice. Add a few cilantro leaves and you're good to go. A little skeptical at first but one bite of these easy fish tacos changed my mind completely. They're super delicious.
Fishwich?
I first became familiar with fish tacos a few years ago when my son and daughter-in-law came back from Seattle. Bob asked if I had ever tried fish tacos before and I said that I hadn't. He suggested that I make them sometime and that's exactly what I did! In my humble culinary opinion, fish tacos are similar to what we call a fishwich or perchwich, only tacos are served in a tortilla and the latter are not. Fishwiches are usually served on a toasted bun with coleslaw, tomatoes and anything else you like.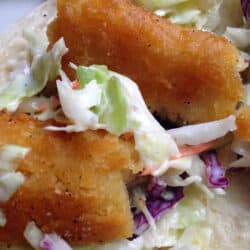 Super Easy Fish Wraps
Super easy way to enjoy a fish taco.
Ingredients
2

cups

coleslaw mix

2

tablespoons

sliced green onions

1/8

teaspoon

black pepper

1/4

cup

coleslaw dressing (Marzetti)

1/2

cup

corn bread muffin mix

1

teaspoon

creole seasoning

1/2

pound

haddock fillets or fillets of your choice*

2

tablespoons

oil

4 to 6

flour

tortillas

toppings and dressing of your choice
Instructions
In a small bowl combine coleslaw mix, onion, and pepper. Stir in coleslaw dressing. Cover and refrigerate 15 minutes.

In a resealable plastic bag, combine cornbread muffin mix and Creole seasoning. Cut fish fillets into 2-4 inch pieces or "fingers." Add fish to baggie and toss to coat.

In a small skillet, cook fish in hot oil over medium heat for 6 to 8 minutes or until lightly browned on each side and fish flakes easily with a fork. Drain on paper towels.

Spoon coleslaw mixture onto tortillas; top with fish, squeeze fresh lemon juice over all or drizzle with dressing of your choice and roll-up.
Nutrition
*catfish fillets or orange roughy fillets can be used in place of the haddock fillets*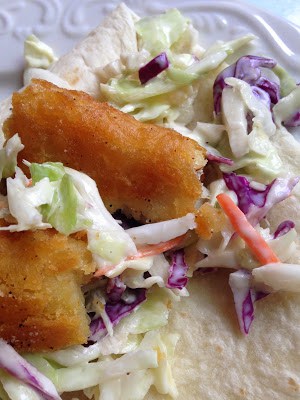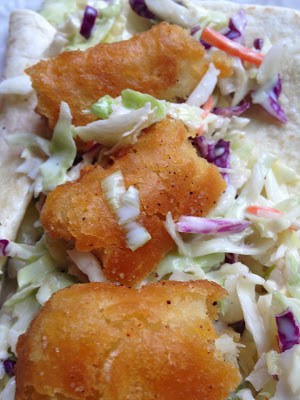 Recipe Note:
This recipe was made using Marzetti Salad Dressing. Want more "fishy" recipes? Try these: Baked Haddock Dinner and Crispy Cornflake Coated Haddock.