Super Bowl Party Tips and Tricks
We may earn money or products from the companies mentioned in this post.
Super Bowl Party Tips
Are You Ready for The Super Bowl!! Even though the Super Bowl is still a few weeks away, it's never to early to plan a menu and get organized. Here are a few tips to help you get started and to make sure your party runs smoothly.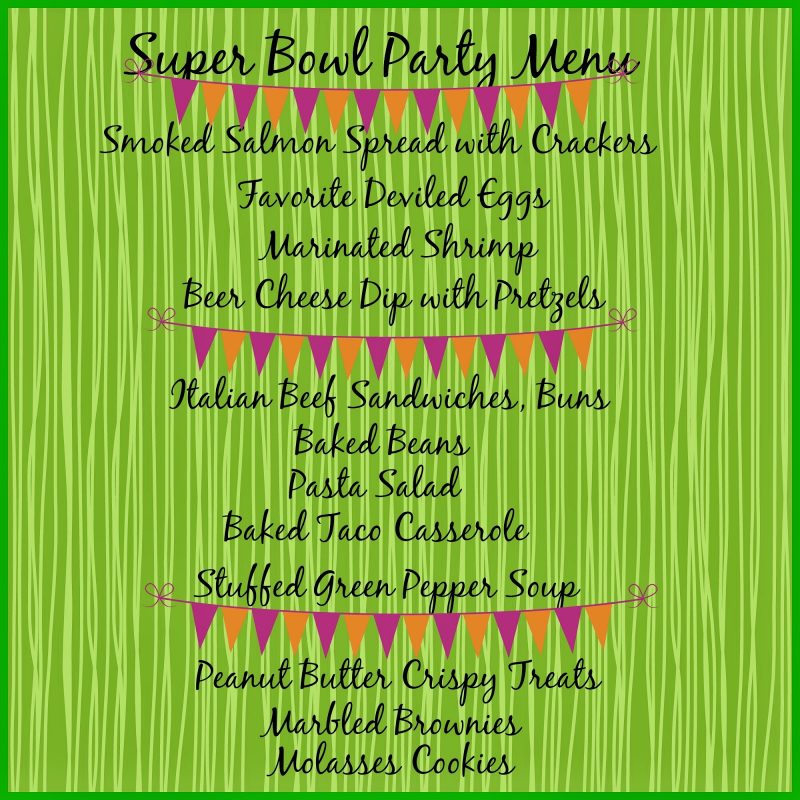 Let's get started!
Super Bowl Party Tips
1. Plan a menu in advance and stick to it! Tentatively plan a guest list and start time of party.
2. Check to see what ingredients you already have on hand, write a grocery list, and stick to it! Check for sales and grocery shop early.
3. Buy extra plastic wrap, tin foil and garbage bags. Buy extra anti-bacterial bathroom hand soap, toilet paper and bathroom spray. (These are great items to buy at the $1 Tree)
4. Buy disposable plastic containers or large gallon size ziplock baggies. Great for left-overs and doggy bags. (Again, $1 Tree items)
5. Buy produce no more than 2 days in advance.
6. Give your hubby, friend, boyfriend, sister, significant other, the job of picking up the rolls, beverages and ice the day of the party. If you are planning a large party, it's a good idea to order your rolls in advance from your local bakery or grocery store bakery. Note: If you are sending someone to the store to pick up alcoholic beverages, they need to be 21.
7. Have a variety of soda and beer. If purchasing alcohol for drinks, keep it simple. Have diet and regular soda, along with lite beer.
8. Pick up paper plates, napkins, tablecloths, decorations, plastic forks, spoons, drinking cups, soup bowls and toothpicks. ($1 Tree or Party Store)
9. Decorate. This is up to you~ If your lucky enough to have your Team playing in the Super Bowl, then get nuts!!! (Again, $1 Tree is great for this)
10. Make a check list of all the things you will need, pots, pans, crock-pots, bowls, fondue pot, corkscrew, bottle openers etc. If you don't have something, borrow it, if you can't borrow it, stop by your local Goodwill or Thrift Store and see if they have it. This is a great idea if you need something that you will only be using for the party. Test it first!! Make sure it works before you get it home.
11. Have several garbage containers set up. One for paper, one for cans, one for glass, one for garbage. This will make clean up easier.
12. Don't waste your time dusting, vacuuming, and scrubbing the kitchen floor. No one will notice! I like to make sure my bathrooms are spotless.
13. Have extra chairs available. Folding chairs and folding trays come in handy. Folding chairs from outdoor furniture sets work great.
14. Keep soda and other beverages in a separate refrigerator (if this is possible) or coolers filled with ice.
15. Send out invitations at least 2-3 weeks in advance. Get a final head count 4-5 days before the party.
16. Make coffee at halftime and have creamer available. Buy disposable insulated cups with lids. The cups are also a great way to serve soup!
17. Most people will ask, "Can I bring anything?" you can answer, "You sure can!" This is when I like to ask people to bring: potato chips, pretzels, crackers, peanuts, Doritos, Cheetos and/or anything else that they would like to bring.
18. Hang coats in a certain closet, (even if this means you have to clean one out) Buy extra hangers if needed. If this isn't possible, try to keep coats in the same area/room. It makes things easier when everyone decides to leave at the same time.
I hope this list of tips and recipes will help you save some time and make your party planning easier.  Most important, Have Fun!
Recent Recipe: Spicy Roast Duck with Cherry Sauce
Kitchen Tips are always helpful and we like to be helpful! Save Broccoli Stems for Recipes. For more ideas and tips on how to host a successful Super Bowl Party check out. Patch.