Stuffed Round Zucchini
We may earn money or products from the companies mentioned in this post.
Stuffed Round Zucchini
(with pictures)
Today as I was driving down County Road R, on my way to my daughters house, I was thrilled when I saw the familiar sign on the side of the road.  My favorite produce stand, Kirchner Produce was open.  Back in business for another season of  selling their wonderfully fresh and very  reasonably priced produce. This year Kirchner Produce is selling a new to me vegetable, Round Zucchini! Stuffed Round Zucchini immediately came to mind.
Round Zucchini
Yes, you read that right, Round Zucchini! This recipe is made with round zucchini. The round zucchini is hollowed out like a pumpkin, then filled with cooked ground beef and ground turkey, diced onions, chopped green pepper, zucchini, cooked rice, tomato sauce and topped with cheese.
What a great way to eat your vegetables! Delicious! If you can't find round zucchini, substitute regular zucchini. If you use round or regular zucchini, one thing is for certain, stuffed round zucchini is super good.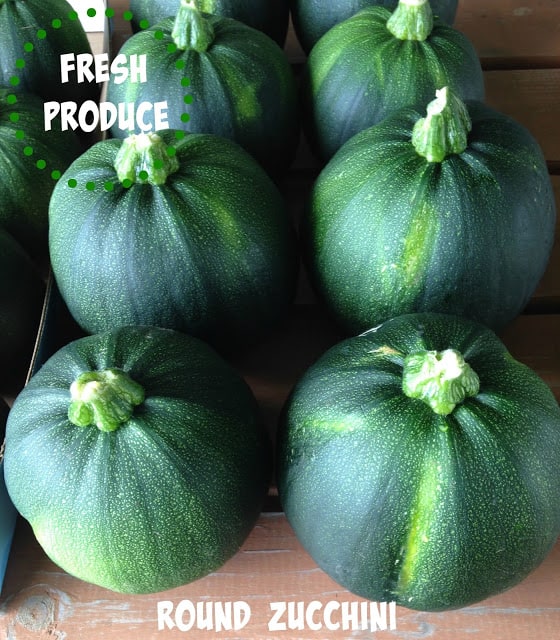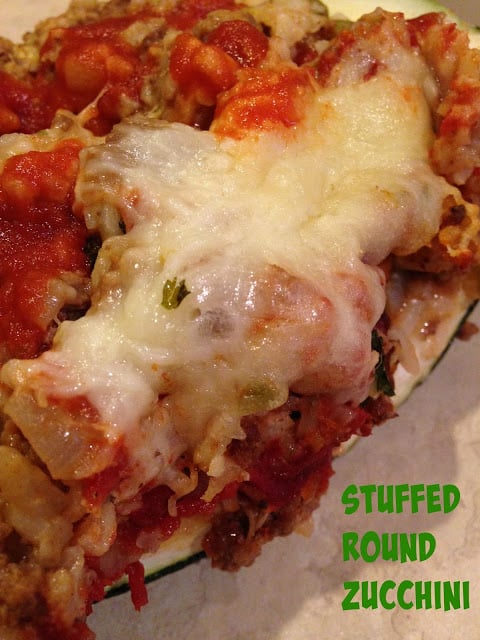 Kirchner Produce
Kirchner Produce sells zucchini, cucumbers, dill, pumpkins and  many more seasonal vegetables. Owners: Paul and Linda Kirchner. Kirchner Produce is located at: 7890 County Road R, Suring, WI 54174. Open from July through November. Kirchner Produce also have for sale: Mini Decorative Corn, Dried Gourds and Primed Dried Gourds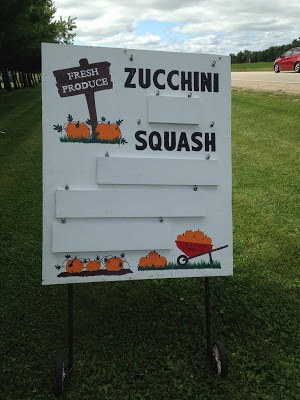 Ingredients
1 cup




uncooked long grain rice

1 pound




ground beef

1 pound




ground turkey

1 small




onion, diced

1




green pepper, chopped

1 small




zucchini, diced

2 tablespoons




white karo syrup

1/4 cup




Parmesan cheese

1/4 cup




ketchup

1 (8 oz) can




tomato sauce, divided

1




egg, beaten

1 teaspoon




garlic-pepper seasoning blend

1/2 teaspoon




black pepper

1 teaspoon




seasoning salt

1/4 cup




fresh parsley, minced

2 cups




shredded Italian blend cheese

4 small




round zucchini OR

6 mini




round zucchini
Cooking Directions
Prepare rice according to package directions. Set aside.
In a large skillet, brown ground beef and turkey with onion, green pepper and zucchini. Cook until meat is no longer pink inside, about 10 minutes. Drain fat, return meat mixture back to skillet, stir in karo syrup, Parmesan cheese, ketchup, 1/4 cup tomato sauce, egg, seasonings and fresh parsley. Stir in cooked rice.
Cut tops off of zucchini, scoop out seeds and membranes, discard. Fill zucchini cavities with meat mixture. Divide tomato sauce between zucchini, pouring a small amount on the top of each.
Place stuffed zucchini in a baking dish. Add a small amouny of water to the bottom of the baking dish. Cover with foil. Bake at 375º F for 1 hour, carefully remove foil, sprinkle cheese on top of zucchini. Bake an additional 15 minutes or until cheese is melted.