Stuffed Dates, Dollar Store Style
We may earn money or products from the companies mentioned in this post.
Stuffed Dates, Dollar Store Style
This post and following recipe, comes to you via my recent trip to the Dollar Tree in Antigo WI. If you have read my blog you're well aware of my love for all things cheap or thrifty. I love a good bargain as much as the next guy (person) and I'm not ashamed to admit it. I'm a thrift store shopper, an aldi and dollar tree shopper. When I was younger, I wouldn't have been caught dead in thrift stores, goodwill, aldi or the dollar tree.
Nope, never, ever. I would have been way to embarrassed or proud to step foot in "those" places. But over the years I've put all that nonsense behind me. After discovering many treasures (some worth big bucks) and many other cool items at "those" places, I've jumped in with both feet and have never looked back. There's nothing better than a good bargain to make your day!
[easy-image-collage id=22790]
Try Something New
As I stated above, I love a good bargain. italione spreads fit that statement to a tee. First off, I'm a sucker for hazelnut chocolate spread or by the more popular name, Nutella. I mean, I love this stuff! It's super on graham crackers, vanilla wafers, peanut butter cookies and your finger. Secondly, Cookie Butter Spread. We never even heard of this sweet, creamy spread until we picked up a small jar at the dollar store. This is another reason why we like the dollar tree, we might never have tried cookie butter if we hadn't came across it at the dollar tree. And that would have been a real shame:)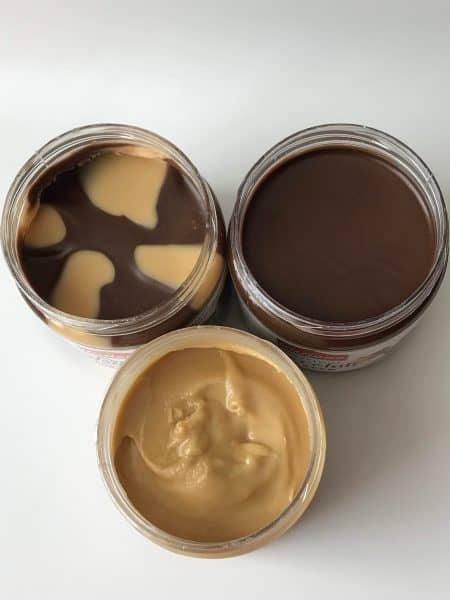 Cookie Butter and Nutella
Cookie butter has the same consistency as nutella or peanut butter. To me cookie butter tastes something similar to what finely crushed biscoff cookies or lorna doone cookies might taste like. We really couldn't put our finger on it but it was dang good! Lastly, cookie butter & hazelnut chocolate duo spread is pure genius. Talk about good! Thank God I only bought one small jar! When I broke out the tiny pretzel twists and started dipping them into the jar I knew I was in big trouble. I was also relieved that I lived 40 minutes away from the dollar tree because I probably would have gotten in my car and driven back to pick up more.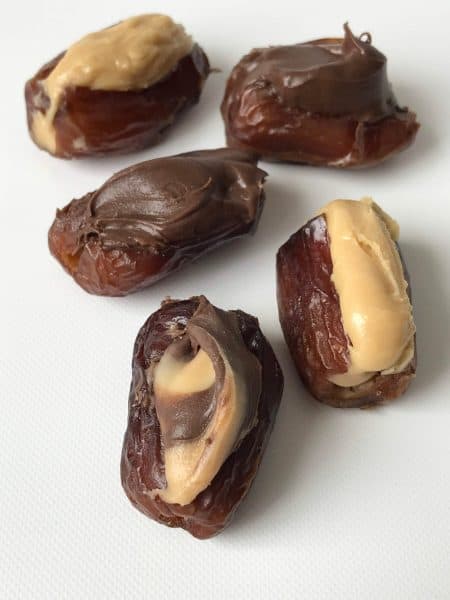 italione spreads
italione spreads can literally be used in a wide range of recipes. Replace the peanut butter most often used to make "ants on a log" with cookie butter or hazelnut spread. Change up this simple recipe for filled dates by topping each filled date with just a small sliver of crispy bacon or with a paper thin slice of apple or pear. Yum! I have tried finding some/any information on italione on the web but I couldn't find a whole lot of info. We try to leave links to all companies we feature here, so we'll keep on it. If you have any info, leave a comment in the comment section below.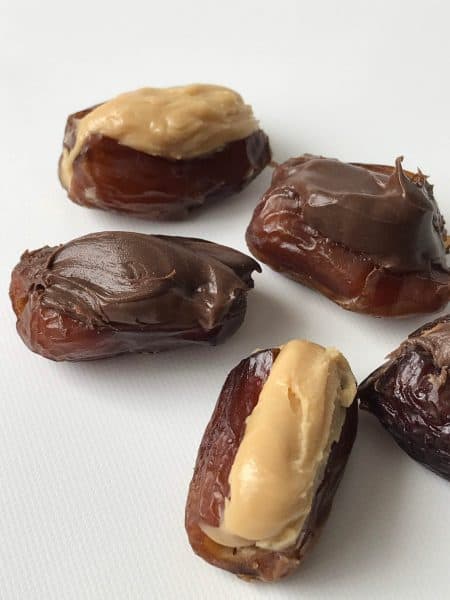 Lite Bites?
You might not believe this but these little filled dates aren't really all that bad for you. Depending on their size, 4 to 5 dates are roughly 120 calories. Nutella and/or cookie butter has roughly 50 calories per teaspoon. It will take about 1/2 a teaspoon of cookie butter and/or nutella to fill one date. Thus, making a serving of 5 filled dates around 220 calories. Now personally, I don't find that horribly 'bad' considering its a sweet and chewy snack.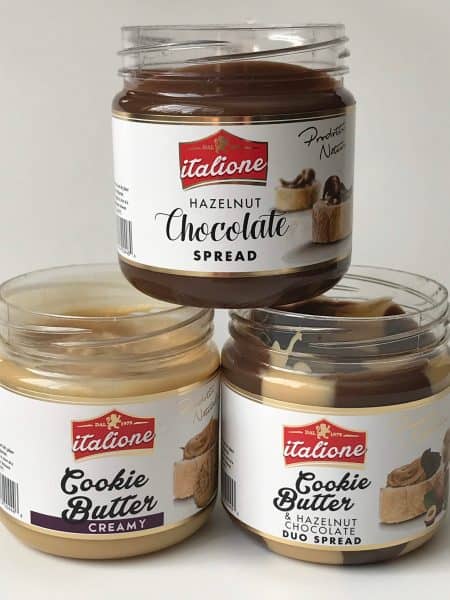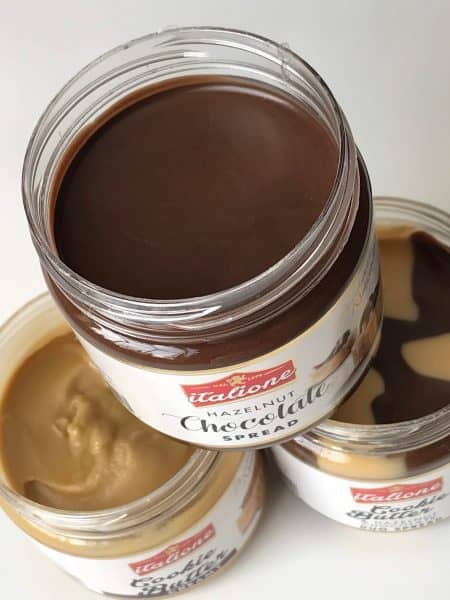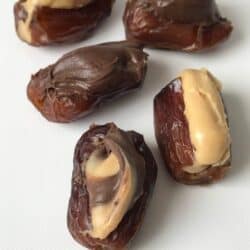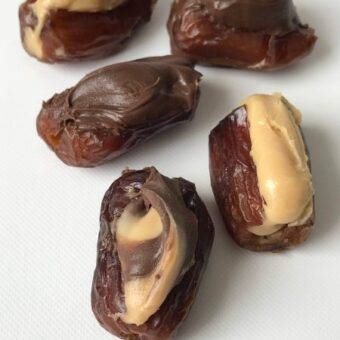 Stuffed Dates
An easy and delicious recipe with only a few ingredients needed.
Ingredients
1

8 oz container

dried pitted dates

3

small jars

cookie butter, hazelnut and cookie butter-hazelnut spreads
Instructions
Carefully open dates. Using a small teaspoon fill each date with a small mixture of cookie butter, hazelnut spread, or cookie butter & hazelnut duo spread.