Stuffed Cherry Tomatoes with a Kick
We may earn money or products from the companies mentioned in this post.
Stuffed Cherry Tomatoes with a Kick
Stuffed Cherry Tomatoes with a Kick are super delicious. Don't let the size of these little firecrackers fool you, these little bites pack a punch! Stuffed with ricotta cheese and hot giardiniera relish, they are sure to set off a few sparks. Made with fresh cherry tomatoes, ricotta cheese, Italian seasoning, Parmesan cheese and the ingredient that will start the sparks flying, hot giardiniera relish.
What is Giardiniera?
Giardiniera [jahr-dee-NYAY-rah] is an Italian relish of pickled vegetables in vinegar or oil. According to Wikipedia, Italian giardiniera is also called sottaceti ("under vinegar"), a common term for pickled foods. It is typically eaten as an antipasto or with salads. In the US, giardiniera is commonly available in traditional or spicy varieties and the latter is sometimes referred to as "hot mix."
Put It On
Giardiniera is a versatile condiment that can be used on a variety of different foods such as; bratwurst, bruschetta, burgers, pasta salad, hot dogs, sandwiches, eggs and so much more. In the US it's not uncommon to use giardiniera on pasta or in the Chicago area, pizza. Chicago area, giardiniera is typically used as a topping on Italian Beef sandwiches. Other regions it's a popular topping on the Muffuletta sandwich.
Typical Ingredients
The Italian version of giardiniera includes bell peppers, celery, carrots, cauliflower and gherkins. The pickled vegetables are marinated in oil, red or white wine vinegar, herbs and spices. Chicago-style giardiniera is commonly made "hot" with sport peppers or "mild" without,  along with a combination of assorted vegetables including bell peppers, celery, carrots, cauliflower, serrano peppers and gherkins.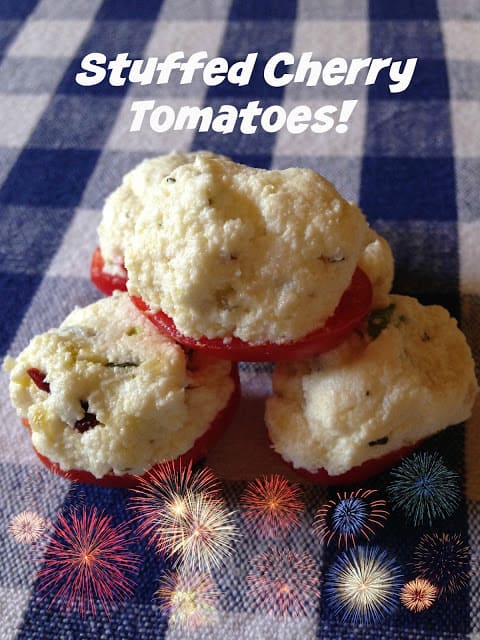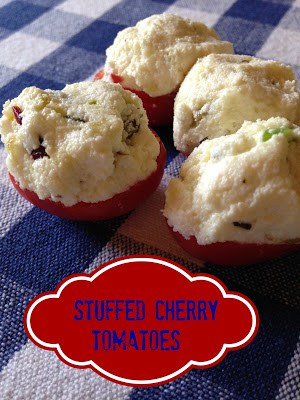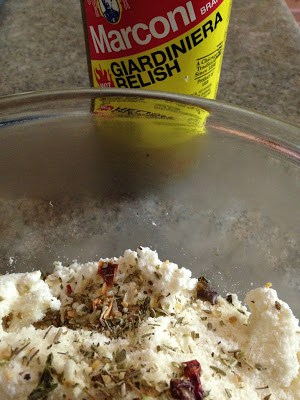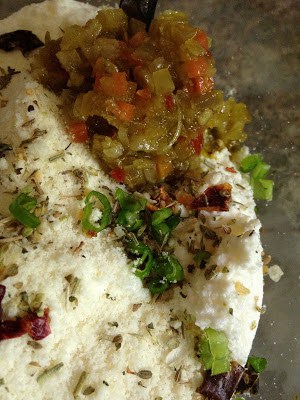 Stuffed Cherry Tomatoes with a Kick
Ingredients
24




cherry tomatoes

1 1/2 cups




whole ricotta cheese, drained

1 tablespoon




pizza seasoning

1/4 cup




Parmesan cheese

2 tablespoons




hot giardiniera relsih

2 tablespoons




finely chopped fresh chives

1/4 teaspoon each




salt and pepper
Cooking Directions
Using a serrated knife cut tomatoes in half.
Hollow out insides with a small spoon.
Place tomatoes, cut side down on a plate lined with paper towels, let drain.
In a small bowl, mix ricotta cheese, pizza seasoning, Parmesan cheese, hot giardiniera relish, chives, salt and pepper.
Cover and chill for 20 minutes.
To stuff tomatoes:
Spoon filling into ziplock bag, snip off one corner.
Pipe filling into tomatoes or using a small spoon, spoon filling into tomatoes.
Stuffed Cherry Tomatoes are made with Marconi 
Looking for more delicious recipes?? Give these a try. Greek Orzo Salad and Cabbage, Okra and Tomatoes.