Strawberry Surprise Cake
We may earn money or products from the companies mentioned in this post.
Strawberry Surprise Cake🍓
I recently made Strawberry Surprise Cake when my grandkids were here for a visit. After we finished frosting the cake and they decorated the cake with sprinkles…lots and lots of sprinkles…my grandson leaned forward, bent down over the cake, closed his eyes and took a deep breath….he then said, "Grandma, this strawberry cake smells just like a girl-friend!"  I started to laugh and said, "Well, I guess you're going to have a very 'sweet' girlfriend someday."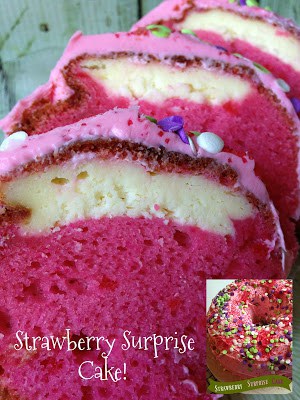 Cake Mix Creation
This yummy cake starts off with a packaged strawberry cake mix. The addition of strawberry extract adds an extra punch of flavor and pink gel food coloring adds that extra splash of color. A few tablespoons of strawberry jam or a couple of fresh mashed strawberries are added to the cake batter giving this cake even more strawberry flavor. If you love anything strawberry, you are going to find this cake hard to resist. It's strawberry perfection.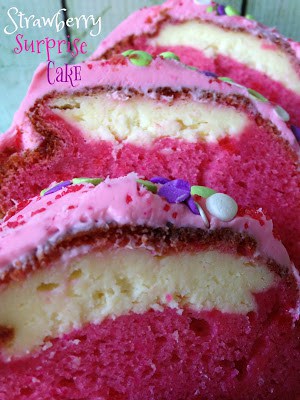 Cream Cheese Surprise
The 'surprise' in this strawberry surprise cake is a cream cheese filling. Soften cream cheese, sugar and an egg are beaten together. Half of the cake batter is poured into the bottom of a prepared bundt pan, the cream cheese filling is spooned over the batter, the remaining cake batter is spooned over the cream cheese filling and in about 45 minutes, you'll have a strawberry cake with a cream cheese surprise in the middle. On top of that, your whole house will smell like strawberries.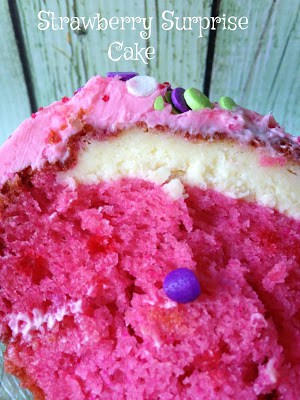 Strawberry Frosting
After the cake has baked and cooled, it gets topped with a canned strawberry frosting. To add an extra blast of flavor, stir in a few drops of strawberry extract into the canned strawberry frosting. Some of you might be thinking, "Wow, isn't that way, way, way too much strawberriness." Maybe it is and Maybe it isn't. You decide, but…. How good does this cake sound….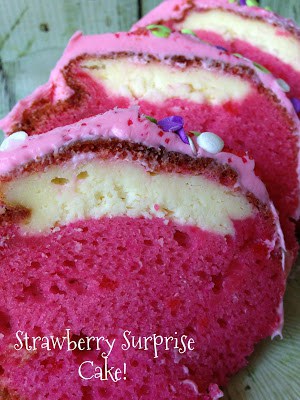 Strawberry Surprise Cake🍓 is the perfect springtime dessert. If you're looking for a Strawberry Dessert to serve for Easter Dinner, this Strawberry Surprise Cake is for you. Serve this cake with sliced, fresh strawberries and a dollop of whipped topping.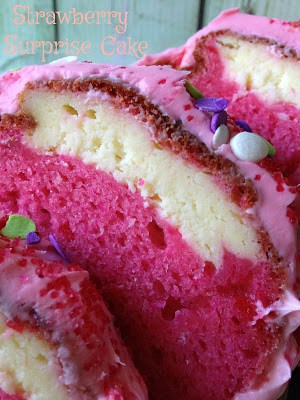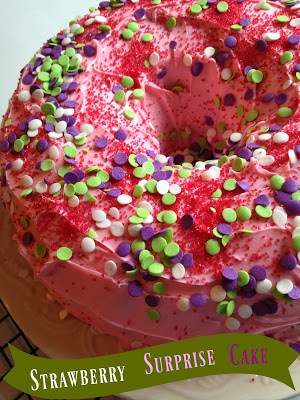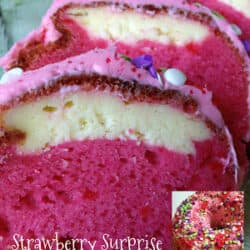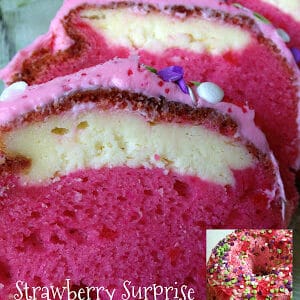 trawberry Surprise Cake🍓
Ingredients
1

15 oz package

Strawberry Cake Mix

3/4

cup

water

1/2

cup

oil

3

eggs

1/2

teaspoon

strawberry extract

2

drops

rose pink soft gel paste food coloring, optional

1/4

cup

strawberry jam or fresh hulled diced strawberries

Cream Cheese Filling:

1

8 oz package cream cheese, room temperature

1/4

cup 

sugar

1 

egg

Strawberry Frosting:

1

container strawberry frosting

1/4

teaspoon

strawberry extract

Sprinkles

,

garnish
Instructions
Preheat oven to 350 degrees.

Grease and flour a 10-inch bundt pan. Set aside.

In a mixing bowl, beat cream cheese and sugar. Add egg; mix well.

Refrigerate while preparing cake batter.

Beat cake mix, water, oil, eggs and strawberry extract in bowl with mixer on medium speed for 2 minutes. Beat in 2 drops of rose pink gel food coloring and strawberry jam.

Pour 3 cups batter into greased and floured 10-inch bundt pan.

Spoon cream cheese mixture over batter. Top with remaining batter.

Bake at 350º F for 35 to 45 minutes or when a toothpick inserted in the center comes out clean. Cool in pan 5 minutes. Carefully remove cake from pan. Cool completely on a wire rack.

Transfer canned strawberry frosting into a small bowl.

Stir in strawberry extract. Frost cake.
Notes
Recipe Note: If you wan to use fresh strawberries instead of the strawberry jam, go ahead! Simply take around 4 large fresh hulled strawberries and dice. Add to the cake batter.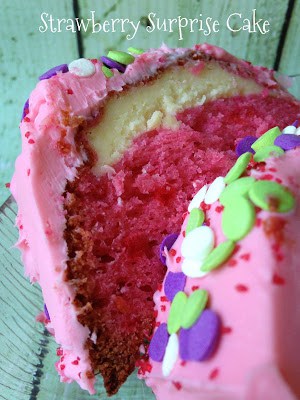 Recipes On Tap:
Banana Bundt Cake with Maple Rum Butter Glaze