Strawberry Spinach Salad
We may earn money or products from the companies mentioned in this post.
Strawberry Spinach Salad
I recently went through the drive-thru at a fast food restaurant, something I very seldom do, and ordered a Strawberry Spinach Salad. The salad was ok but it lacked oomph. Which brings us to this recipe. This salad is packed full of flavor. The homemade vinaigrette along with the fresh vegetables makes for a delicious and unique salad.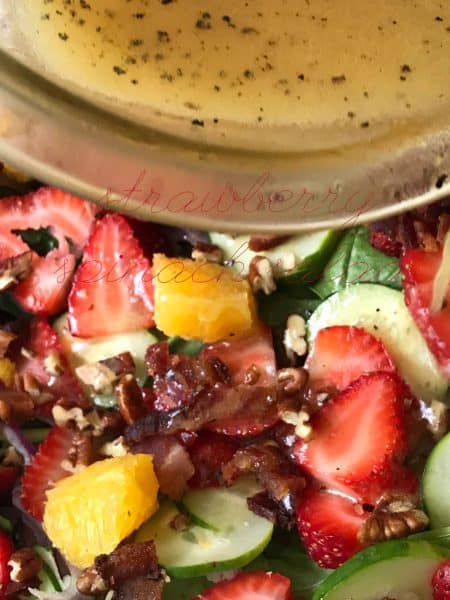 Full of Flavor
This salad is full of so much flavor. Most strawberry salads are made with only strawberries, spinach and bacon. But we stepped it up a bit by adding cucumber slices, oranges, red onion and pecans. This mix of salad ingredients combined with the tangy orange vinaigrette is a win win combination. We just started incorporating oranges into our lettuce salads and the fresh burst of flavor from the oranges is refreshing and delicious. This is the method that we use when preparing oranges for a salad. First peel the orange, preferably a navel orange, cut the peeled orange across the belly, as Aggie would say, into fairly thick slices. Cut the oranges into sections and remove the membrane. You'll be left with sections of juicy oranges, ready to put in any salad.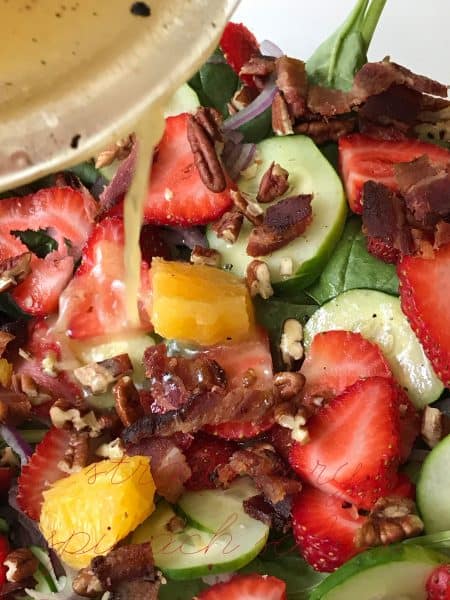 Tasty Vinaigrette
If you have been reading Turnips 2 Tangerines for any length of time, you're well aware of the fact that we like and use bottled vinaigrette whenever possible. Many salads work just fine with a bottled vinaigrette but there are times, like this one, where a tangy homemade vinaigrette is needed. This simple vinaigrette, made with rice vinegar, honey, oil, Dijon mustard and fresh squeezed orange juice adds that extra pucker punch.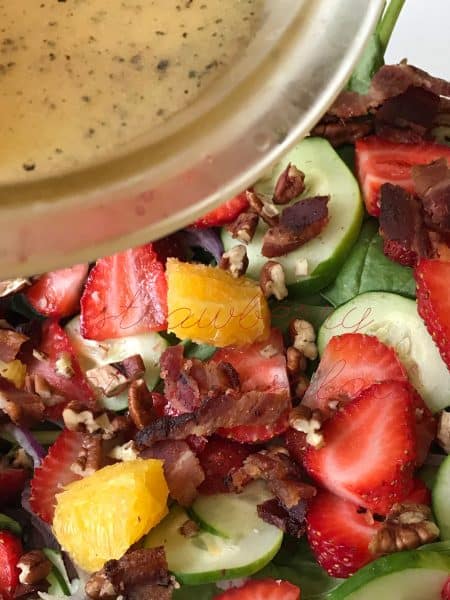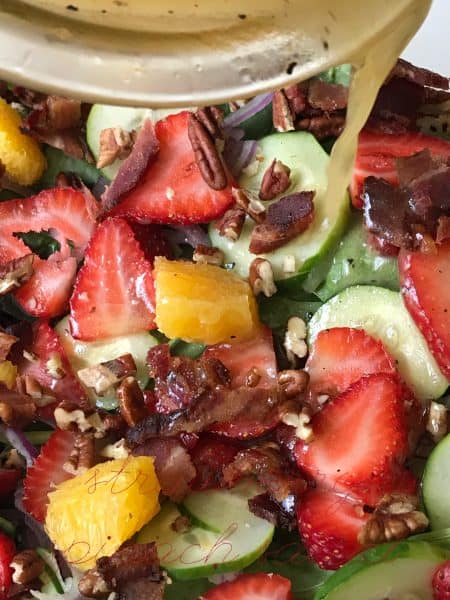 What Is A Vinaigrette?
Vinaigrette [vihn-uh-GREHT] A basic oil and vinegar combination, generally used to dress salad greens and other cold vegetable, meat or fish dishes. In its simplest form, vinaigrette consists of oil, vinegar, (usually 3 parts oil to 1 part vinegar), salt and pepper. More elaborate variations can include any of various ingredients such as spices, herbs, shallots, onions, citrus, mustard and so on. All homemade vinaigrette's benefit from a few extra grinds of fresh cracked black pepper.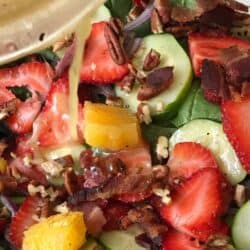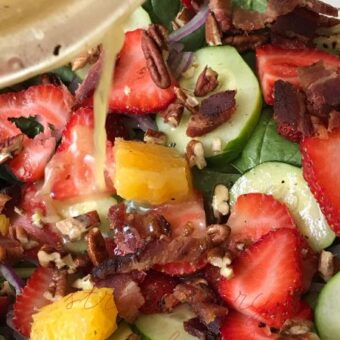 Strawberry Spinach Salad
This salad is so delicious and easy to prepare, you'll never order it out again.
Ingredients
4

strips

bacon, chopped

3

tablespoons

rice vinegar

3

tablespoons

honey

5

teaspoons

olive oil

1

teaspoon

Dijon mustard

1/2

teaspoon

pepper

1/4

teaspoon

salt

1

6 oz package

fresh baby spinach

2

medium

navel oranges, peeled, separated and chopped

1

tablespoon

fresh orange juice

1/2

teaspoon

fresh orange zest

6

fresh

strawberries, sliced

1/2

cup

thinly sliced cucumber

1/2

cup

thinly sliced red onion

1/2

cup

chopped pecans, toasted
Instructions
In a small skillet, cook bacon over medium heat until crisp. Remove to paper towels with a slotted spoon to drain. Set aside.

In a small bowl, whisk together the vinegar, honey, oil, mustard, pepper, salt, orange juice and orange zest. In a large bowl, combine the spinach, oranges, strawberries, cucumber, and onion. Pour dressing over salad and toss to coat. Sprinkle with pecans and bacon. Serve immediately.
Nutrition
Serving:
1
g
,
Calories:
137
kcal
,
Carbohydrates:
13
g
,
Protein:
3
g
,
Fat:
9
g
,
Saturated Fat:
1
g
,
Cholesterol:
4
mg
,
Sodium:
150
mg
,
Potassium:
132
mg
,
Fiber:
2
g
,
Sugar:
10
g
,
Vitamin A:
100
IU
,
Vitamin C:
23.3
mg
,
Calcium:
22
mg
,
Iron:
0.3
mg
Try this Strawberry Caprese Salad too. Strawberry Spinach Salad is made with Grey Poupon.