Strawberry Cheesecake Muddy Buddies
We may earn money or products from the companies mentioned in this post.
Strawberry Cheesecake Muddy Buddies
Oh do I love me some Muddy Buddies. You would think then, that my recipe box would be loaded with muddy buddy recipes. The truth is I don't dare make them. When it comes to muddy buddies, I have absolutely no self-control. (Frankly, cookies fall into this category as well) I could literally eat pounds of muddy buddies. I found this out to be true the first time I made a batch of muddy buddies,  a batch of peppermint muddy buddies. A big mistake! I couldn't stop eating them, one batch, then another and another. I was starting to get worried that I'd have to join a MB support group!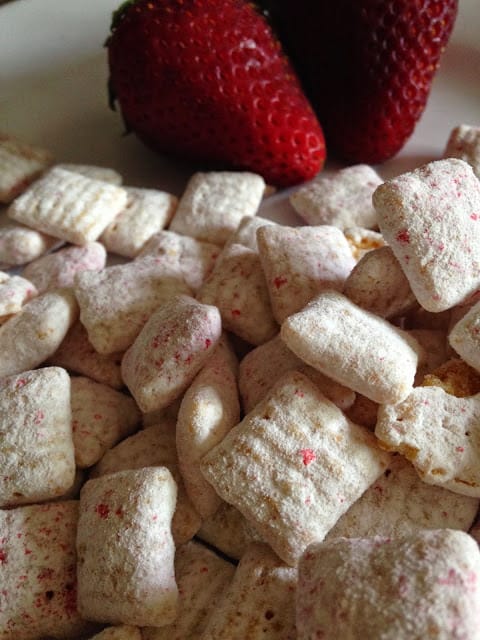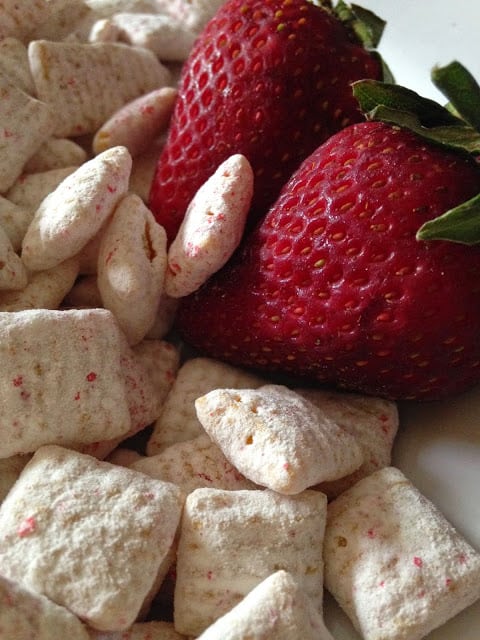 Strawberry Time
It's Strawberry Time!! Make a big batch of Strawberry Cheesecake Muddy Buddies and make some friends! After all, muddy buddies are meant to be shared with your buddy. Even though this recipe doesn't contain any "real" strawberries, you could certainly add some crushed freeze dried strawberries for that added strawberry flavor and crunch. Add the crushed freeze-dried strawberries after pouring the melted white chocolate over the cereal and proceed with the recipe.
Dry Jello Pudding Mix
This recipe is made with two flavors of dry Jello pudding and pie filling mix. Half a package of dry strawberry flavored jello pudding and pie mix is used along with half a package of cheesecake flavored jello pudding and pie mix. This gives the muddy buddies a more authentic strawberry cheesecake flavor. Combine the remaining dry pudding and pie mixes together and make according to package directions for a delicious pudding snack.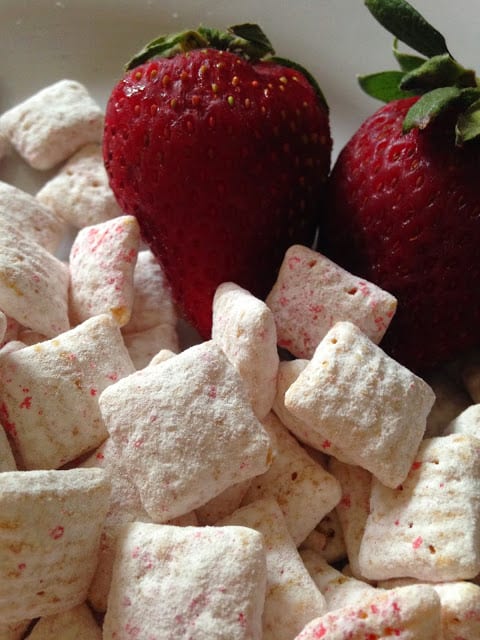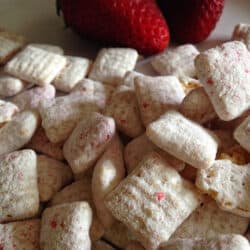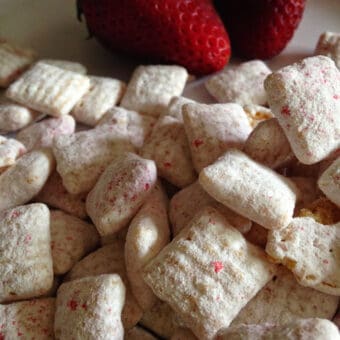 Strawberry Cheesecake Muddy Buddies
Delicious and addictive like all muddy buddies!
Ingredients
6

cups

rice chex cereal

2

cups

white chocolate chips

1/2

small box

strawberry flavored jello pudding mix, dry

,

set aside remaining pudding mix for another use

1/2

small box

cheesecake flavored jello pudding mix, dry

,

set aside remaining pudding mix for another use

1/2

cup

powdered sugar

2

graham cracker sheets, broken into small pieces

pink sprinkles
Instructions
lace cereal in a large bowl. Whisk together jello pudding mixes in a small bowl.

In a microwave safe bowl, melt chocolate chips. (Microwave for 1 minute on half powder, then microwave 20 seconds at a time, stirring after each interval until smooth). Pour chocolate over chex cereal. Use a large spoon or a rubber spatula to toss cereal with chocolate until well coated. Transfer chocolate coated cereal to a large zip lock bag.

Pour dry pudding mixes into bag. Seal and toss until well coated. Open bag, add powdered sugar, seal bag and toss to coat. Add graham crackers and pink sprinkles. Store in airtight container.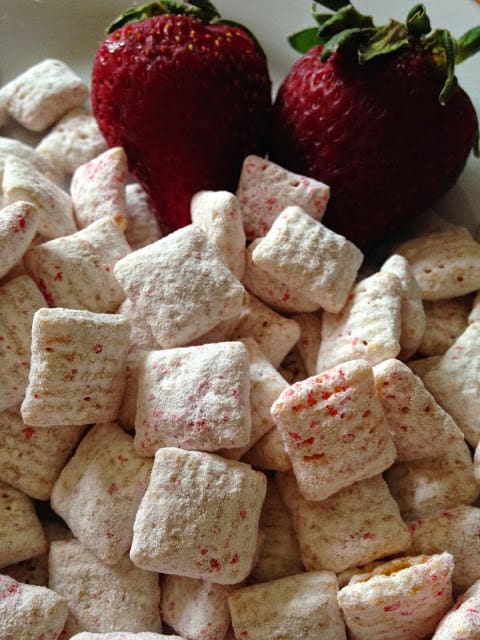 Recipe Notes:
This recipe was made with Corn Chex Cereal, and Jello Pudding and Pie Mix. We have many recipes here on Turnips 2 Tangerines made with chex cereal. Chex'icago Chex Mix  is one of our favorites and Peanut Butter Chocolate Delight Snack Mix is another addictive snack mix. Try them both and see what you think! We're pretty sure you'll love them all.