Strawberry Crisp with Strawberry Pie Filling
We may earn money or products from the companies mentioned in this post.
Strawberry Crisp with Strawberry Pie Filling
Easy Strawberry Crisp made with Homemade Strawberry Pie Filling is delicious, fantastic and easy. Strawberry Pie Filling made with fresh picked strawberries is really not difficult at all to make. The taste and texture of homemade Strawberry Pie Filling doesn't even compare to canned. Don't get me wrong, I like canned strawberry pie filling but let's face it, fresh strawberry pie filling is excellent and not that difficult to make.
Homemade Strawberry Pie Filling
Homemade Strawberry Pie Filling is the Crème de la Crème of strawberry pie filling. Once you make your own strawberry pie filling and start using homemade in recipes you'll never go back to canned. The recipe below makes 1 quart of strawberry pie filling. You can easily double, triple, quadruple this recipe depending on how much you want to make.
Rhubarb and Strawberries
Rhubarb and Strawberries are meant for each other. To make your own rhubarb/strawberry filling go here: 
Rhubarb Strawberry Filling. 
For more information about pick your own go to: 
Pick Your Own
. Pick Your Own is a fantastic website. You will find a world of information and best of all a website full of fantastic recipes too.
Strawberries
Red, juicy and conically shaped, the strawberry is a member of the rose family. It's grown wild for centuries in both the Americas and Europe. The most common American variety is the result of several centuries of crossbreeding. The wild Virginia strawberry, North America's main native strawberry and a Chilean variety. It's probably today's most hardy berry and is able to withstand both shipping and storage.
Exquisitely sweet wild strawberries of France known as 'fraises des bois' or strawberries of the woods. They're considered by many to be the 'queen of strawberries.' Strawberries vary in size, shape and color. in general, the flavor of the smaller berries is better than that of the larger varieties since the larger strawberries are often more watery. Fresh strawberries are available in some locations, with the peak season being from April to September.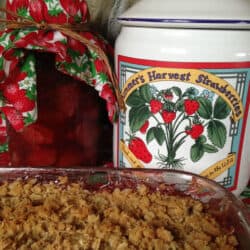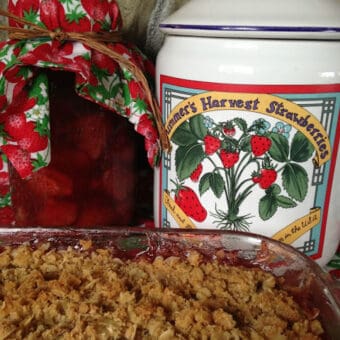 Easy Strawberry Crisp
Delicious and refreshing. Made with homemade strawberry pie filling.
Ingredients
1

quart

strawberry pie filling, homemade or canned

1

cup

old fashioned oatmeal

1

cup

flour

1

cup

packed brown sugar

pinch

of salt

1/2

teaspoon

ground cinnamon

1/3

cup

chopped walnuts or pecans

1/2

cup

1 stick cold butter
Instructions
Mix together oatmeal, flour, brown sugar, salt and cinnamon. Add nuts.

Cut in cold butter with a pastry blender until crumbly.

Spray an 8 x 8 inch square baking dish with non-stick cooking spray.

Pour strawberry pie filling into prepared dish.

Cover strawberry filling with crumb topping, lightly pat down.

Bake at 350 for 45 to 55 minutes.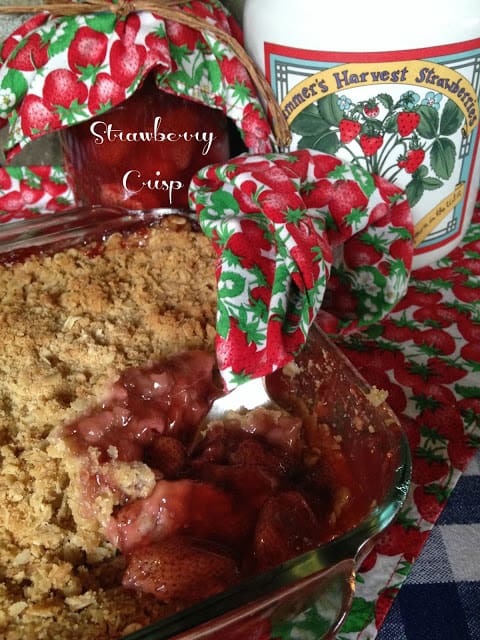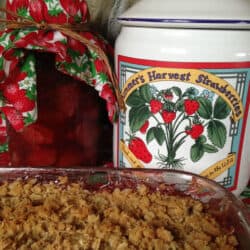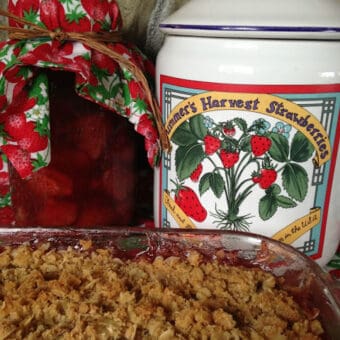 Homemade Strawberry Pie Filling
Ingredients
3 1/2

cups

fresh strawberries

3/4

cup

sugar

1/4

cup

plus 1 tablespoon dry clear jel starch

1

cup

cold water or strawberry juice

3 1/2

teaspoons

bottled lemon juice
Equipment
canner, jars, lids and rings
Instructions
Step 1: Select strawberries, fresh or even frozen can be used. Of course, pick your own when in season.

Step 2: Wash canning jars, and lids in hot, soapy water. Rinse well with hot water.

Step 3:  Sort, wash and hull the strawberries.

Step 4: Blanch the strawberries. Place strawberries (up to 7 cups at a time) in a large pot, with at least 1 gallon of boiling water. Boil each batch for 1 minute after the water returns to a boil. You're not "cooking" the strawberries, just blanching them. Blanching helps the strawberries retain their color, shape and flavor.

Step 5: Mix 1/4 cup plus 1 tablespoon of the ClearJel starch with the 3/4 cup of sugar in a large saucepan. Add 1 cup of water or juice and heat on the stove until the mixture thickens and begins to bubble. Then add the 3 1/2 teaspoons lemon juice, stirring constantly

Step 6: Combine the liquid with the strawberries. Fold the berries into the hot liquid gently.

Step 7: Fill the sterilized jars with strawberry filling. Fill to within 1 inch from the top. Wipe any spilled strawberry filling off the top. Place on the lid and tighten the band.

Step 8: Process the filled jars in a water bath canner. Put filled jars in canner. Keep the jars covered with at least 1 inch of boiling water. Process for 30 minutes.

Step 9: Remove the jars and cool, undisturbed overnight. Store cooled jars.
Notes