Strawberry Bread with Pink Glaze
We may earn money or products from the companies mentioned in this post.
Strawberry Bread with Pink Glaze
Make this wonderful Strawberry Bread with Pink Glaze for your Easter Dinner. The pink powdered sugar glaze gives the bread a festive touch and adds a touch of sweetness. Eating a slice of strawberry bread is like eating a slice of spring. Made with mashed fresh strawberries, this bread is not only delicious but it's also easy to make. Make this super delicious bread when strawberries are in season for an even fresher strawberry flavor.
Perfect Springtime Bread
If you're looking for the perfect springtime or early summertime bread, then don't look any further. This bread is made with freshly picked strawberries that have been hulled and mashed. The taste of fresh strawberries really shines through in this bread. An easy glaze is made with powdered sugar, milk, vanilla extract and pink gel food coloring.  Another big plus, this recipe makes two 8 x 4-inch loaves of bread.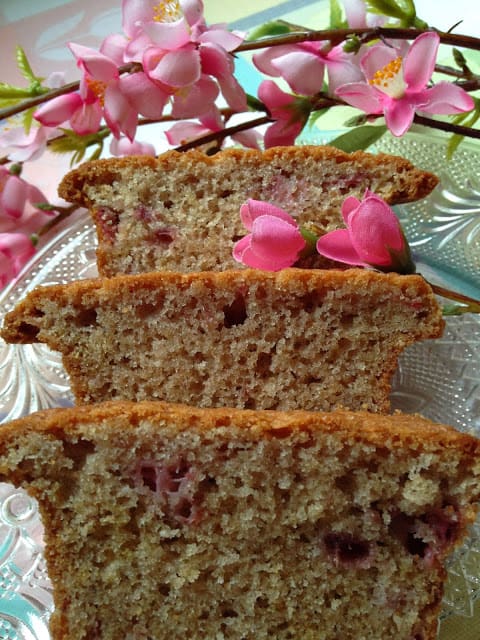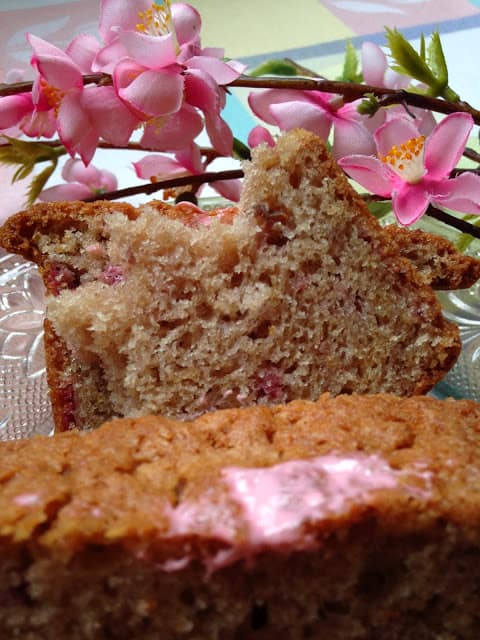 Made With
This bread is made with fresh picked strawberries from Berryland. Pick some extra berries and freeze some for later when you get the urge to make this bread again. If you don't have time to pick your own strawberries, don't worry! Driscolls Strawberries are a great substitute. You can find Driscoll's strawberries at most grocery stores. If you can't find Driscoll's use whatever kind of strawberries your store offers.
What's A Quick Bread?
Quick breads are so called because they require no kneading and use baking soda, baking powder or eggs to leaven the bread. As the name implies, quick breads are relatively quick to make. Recipes for quick breads call for a handful of ingredients and usually ingredients most of us have on hand. Flour, sugar, salt, baking powder, eggs and a 'wet' ingredient. Milk, cream applesauce and mashed bananas are most often used.
Recipe Note:
To add an extra layer strawberry flavor to this already tasty bread, use strawberry extract. Replace the vanilla extract used in the bread and glaze recipes with strawberry extract. It will add extra flavor with little to no effort. We like to use extracts from Watkins.  Watkins is located in Plainview MN. They have been making Watkins products at the same factory for over one hundred years.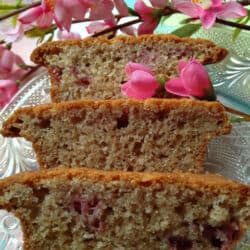 Strawberry Bread with Pink Glaze
A delicious springtime bread made with fresh strawberries.
Ingredients
3

eggs

2

cups

sugar

1 1/2

cups

vegetable oil

1 1/2

cups

mashed strawberries

1

teaspoon

vanilla extract

3

cups

all-purpose flour

2

teaspoons

ground cinnamon

2

teaspoons

baking powder

1/2

teaspoon

baking soda

1/2

teaspoon

salt

Powdered Sugar Glaze:

1

cup

sifted powdered sugar

1

tablespoon

milk

,

plus additional if needed

1/2

teaspoon

vanilla extract

few drops red or pink food coloring
Instructions
Glaze:

Combine powdered sugar, 1 tablespoon milk and vanilla or almond extract. Stir in additional milk, 1 teaspoon at a time, until of drizzling consistency. Add a few drops of red or pink food coloring to tint pink. Stir well. Set aside.

Bread:

Grease and lightly flour two 8 x 4 x 2 inch loaf pans

In a large bowl, beat eggs with an electric mixer on medium high speed for 4 to 5 minutes, until thick and lemon-colored. Add granulated sugar; beat about 1 minute longer. Add oil and almond or vanilla extract; beat just until combined. Fold in mashed strawberries. Set aside.

Stir together flour, cinnamon, baking powder, baking soda, and salt. Add dry ingredients to strawberry mixture, stirring just until moistened. Divide batter evenly between prepared pans.

Bake at 350º for 50 minutes for or until toothpick inserted in the center comes out clean. Cool in pans 10 minutes. Loosen edges with a narrow metal spatula. Remove bread from pans; cool completely on wire rack. Wrap and store overnight before slicing.

Unwrap bread, drizzle with pink powdered sugar glaze.
Nutrition
Serving:
1
g
,
Calories:
248
kcal
,
Carbohydrates:
52
g
,
Protein:
4
g
,
Fat:
3
g
,
Saturated Fat:
2
g
,
Cholesterol:
31
mg
,
Sodium:
121
mg
,
Potassium:
108
mg
,
Fiber:
1
g
,
Sugar:
33
g
,
Vitamin A:
45
IU
,
Vitamin C:
7.9
mg
,
Calcium:
36
mg
,
Iron:
1.4
mg
Willow Turns One and a Cake from Monzu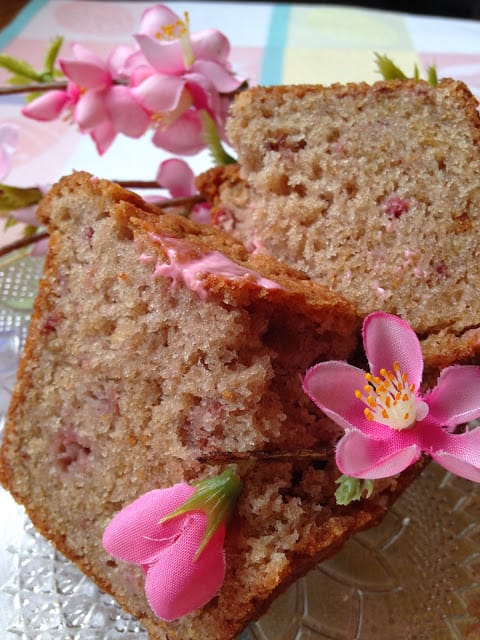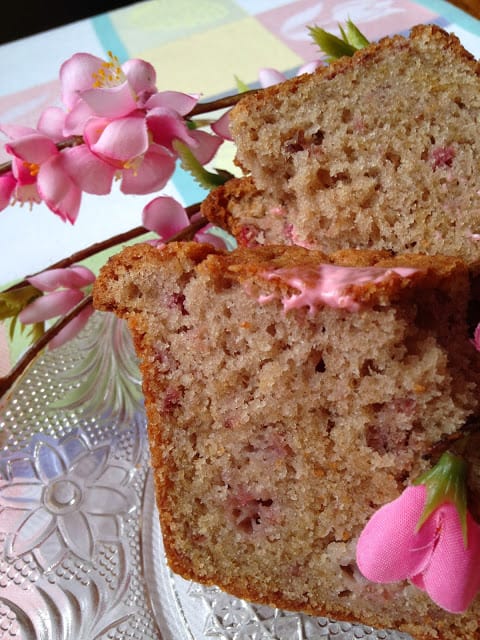 Healthy Note: Replacing saturated fats with unsaturated fats from nuts may help lower blood cholesterol. But nuts are high in calories so keep portions small.