Strawberry Banana Jell-o Salad
We may earn money or products from the companies mentioned in this post.
Strawberry Banana Jell-o Salad
My sister Barb gave me this recipe for strawberry banana jell-o salad, when I first got married, many years ago. I have been making it ever since. It was the very first jell-o salad I learned to make as a new bride. It has turns out every time and I always bring home an empty dish whenever I bring it to any function. I still make this jell-o salad, though not as often as I should. Thanks Barb, for a recipe that has definitely stood the test of time.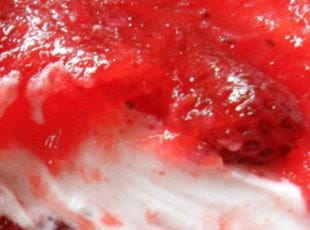 Strawberry Banana Jell-o
We enjoy making this salad for Easter and throughout the summer months too. Now that I think about it we like this salad at Thanksgiving and during the Christmas holidays too. It's one of those jell-o salads that everyone seems to like and therefore it never goes out of style. Another recipe that my sister Barb gave me many years ago, is this recipe for: Cherry Pretzel Dessert Another winner in my book.
Jell-o Trivia
The first four jell-o flavors were orange, lemon, strawberry and raspberry. Lime was introduced in 1930. The people of Salt Lake City consume more lime jell-o than any other city in the United States. Fruits that float are: fresh fruits such as apples, bananas, orange and grapefruit sections, sliced peaches and pears, strawberries and fruit packed in light syrup. Fruits that sink: seedless grapes, fruits in heavy syrup such as apricots, fruit cocktail, peaches and pineapple.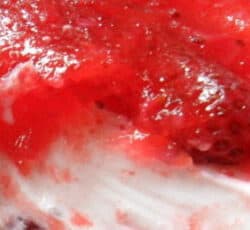 Strawberry Banana Jell-o Salad
A delicious jello salad that I have been making and enjoying for over 30 years.
Ingredients
1

6 oz package

strawberry or strawberry-banana jell-o

1

cup

boiling water

2

10 oz. packages frozen

sweetened sliced strawberries, partially thawed

1

20 oz can

crushed pineapple, drained

1

cup

mashed firm bananas, about 3 medium

1/2 to 3/4

cup

chopped walnuts

1

16 oz. container

sour cream

1/2

teaspoon

sugar

1/4

teaspoon

vanilla extract
Instructions
In a large bowl, dissolve gelatin in boiling water.

Stir in strawberries, pineapple, bananas and nuts.

Pour half the mixture into a 13 x 9 glass baking dish.

Refrigerate for 1 hour or until set.

Set remaining gelatin mixture aside.

Combine the sour cream, sugar and vanilla extract. Mix well.

Spread over chilled gelatin.

Chill for 30 minutes to an hour.

Spoon remaining gelatin mixture over top.

Chill overnight.
Notes
We used Jello in this recipe.
Products Needed: