Strawberry and Cream Fudge
We may earn money or products from the companies mentioned in this post.
Strawberry and Cream Fudge
Welcome Back to Fudge on Friday! Ready for another fudge recipe? You'll love this yummy and fresh tasting Strawberry and Cream Fudge made with O'Donnell's Strawberry and Cream sold exclusively at Aldi. I've been known to sip a glass of Irish Cream a time or two but I've never had the Strawberry and Cream variety before. Just like most things, cream liqueurs can now be found in every flavor under the rainbow. That's a great thing:)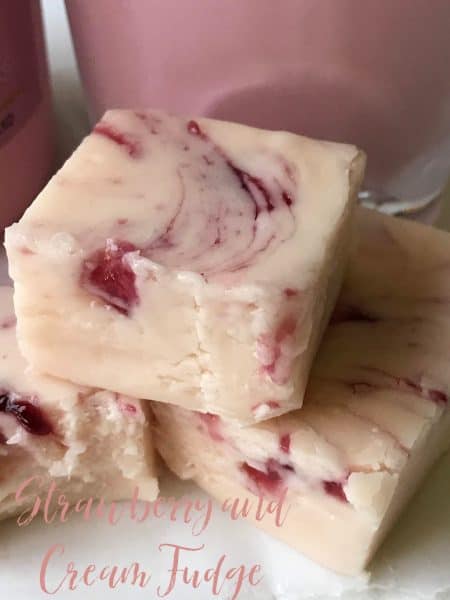 Taste Tester
I'm not much of a drinker anymore but I will take a sample taste test from time to time. My hubby on the other hand is the drinker in the family. Let me rephrase that, my hubby likes a beer or two, here and there but his drink of choice is a nice bottle of very dry red wine. If I do happen to come across something 'different' he'll definitely give it a try. He's my official taste tester and has sampled all of my creations, the good, bad and ugly!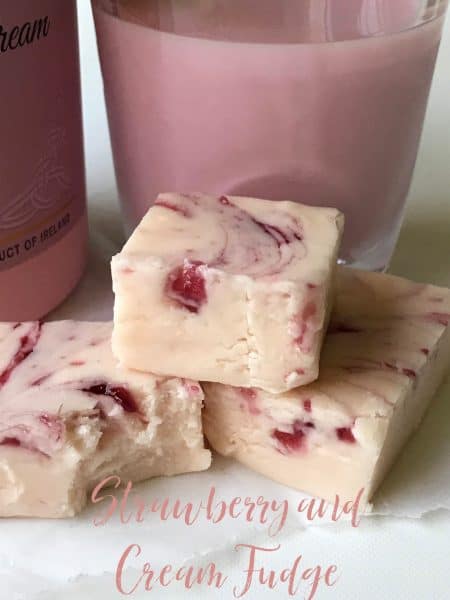 Few Facts
O'Donnell's Strawberry Cream is produced and bottled by R.A. Merry and Company in County Tipperary Ireland. R.A. Merry creates Irish Cream liqueurs and Irish Country Cream liqueurs for several different brands. They produce a full line of Irish Cream Liqueurs under the Merrys label. I had thought that O'Donnell's Strawberry Cream was a liqueur but it's actually a grape wine. I didn't realize until after I read the label when I got home that it was a wine and not a liqueur. Not that it matters either way:)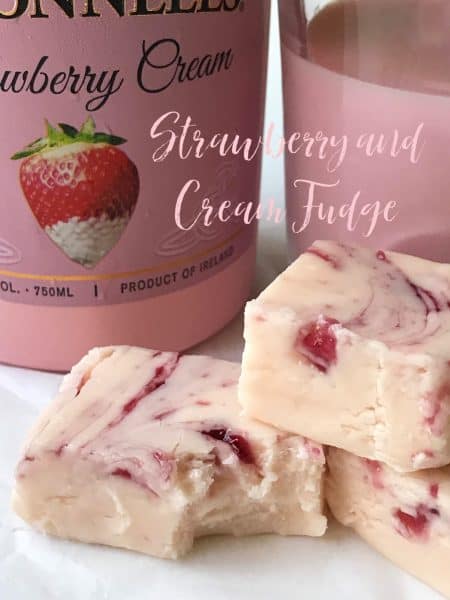 Creamy Smooth
Strawberry Cream is definitely not as strong as cream liqueurs, probably because it isn't a liqueur.  It has a nice mellow, mild fruity flavor. The strawberry flavor is subtle and the cream gives this wine a rich and creaminess you don't expect. If I had to explain what Strawberry Cream tastes like I would say it's similar to Philadelphia Brand cream cheese strawberry spread.
In my humble culinary opinion, Strawberry Cream has profile characteristics similar to ChocoVine that I sampled at Three Lakes Winery . Smooth, Creamy, Subtle. When poured into a glass, Strawberry and Cream looks like Nestle Strawberry Quik or Pepto Bismol. I can assure you, it doesn't taste anything like pepto bismol and is much stronger than a glass of Nestle strawberry quik!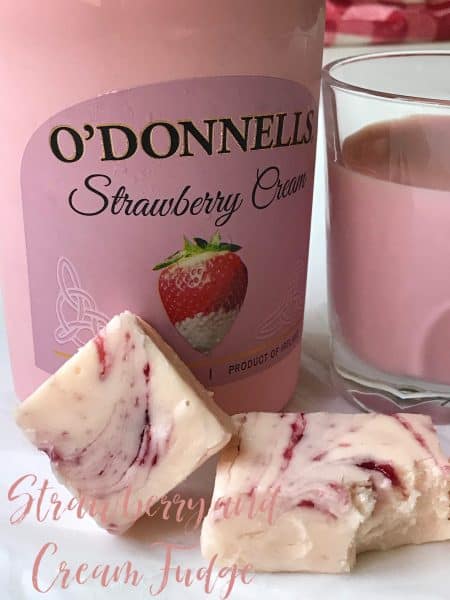 Extra Strawberry Flavor
In this recipe we added a teaspoon of strawberry extract to add a burst of strawberry flavor. If you don't have strawberry extract, you can substitute vanilla extract. To give this fudge even more strawberry flavor, one tablespoon of strawberry jam is warmed in the microwave and randomly spooned onto the surface of the fudge. A butter knife is used to swirl the jam through the fudge, giving the fudge a marbled effect. Doing so deposits tiny pockets of strawberry jam throughout the fudge.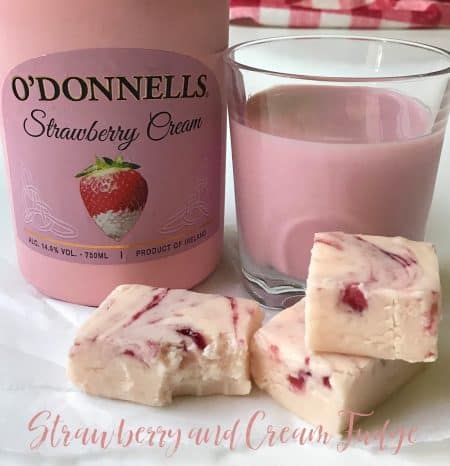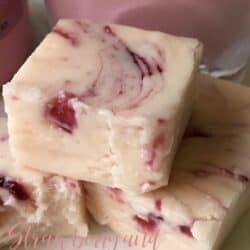 Strawberries and Creme Fudge
Ingredients
1 1/2

cups

sugar

2/3

cup

Strawberry and Creme Liqueur

2

tablespoons

butter

2

cups

mini marshmallows

1

12 oz bag

bag premier white chocolate chips

1

teaspoon

strawberry extract

1

tablespoon

strawberry jam
Instructions
Line 8-inch square baking pan with foil. Lightly butter. Set aside.

Combine sugar, strawberry and cream (liqueur), butter and a pinch of salt in medium, heavy-duty saucepan. Bring to a full rolllng boil over medium heat, stirring constantly. Boil, stirring constantly for 4 to 5 minutes. Remove from heat.

Stir in marshmallows, white chocolate chips, and strawberry extract. Stir vigorously for one minute or until marshmallows are melted. Pour into prepared baking pan.

Heat strawberry jam in a small, microwave safe bowl. Heat for 10 to 15 seconds on high. Stir. Spoon warmed jam, 1/4 teaspoon at a time, randomly over surface of fudge. Using a butter knife, pull the knife through the jam in a swirling motion. Refrigerate several hours or overnight.

Lift from pan; remove foil. Cut into pieces.
Notes
Recipe Note: This recipe was made with O' Donnell's Strawberry Cream Wine/Liqueur.
Nutrition
Serving:
1
g
,
Calories:
188
kcal
,
Carbohydrates:
36
g
,
Protein:
1
g
,
Fat:
4
g
,
Saturated Fat:
2
g
,
Cholesterol:
5
mg
,
Sodium:
24
mg
,
Sugar:
33
g
,
Vitamin A:
60
IU
,
Vitamin C:
0.2
mg
Here are a few of our favorite recipes containing strawberries. Strawberry Banana Jello Salad, Strawberry Spinach Salad and Strawberry Bread with Pink Glaze