Spicy Roast Duck with Cherry Sauce
We may earn money or products from the companies mentioned in this post.
Spicy Roast Duck with Cherry Sauce
Spicy Roast Duck with Cherry Sauce is super delicious. There are several steps to this recipe but the extra effort is well worth it. The first step or flavor layer is to make a dry rub. The dry rub, made with 10 different dried herbs and spices, is rubbed over the entire duck before roasting.
The second flavor layer is twofold, shallots and whole peeled garlic cloves are placed inside the duck cavity and the duck is then roasted on a bed of orange wedges. Now, on to the cherry sauce. Didn't I say this duck recipe was well worth it!!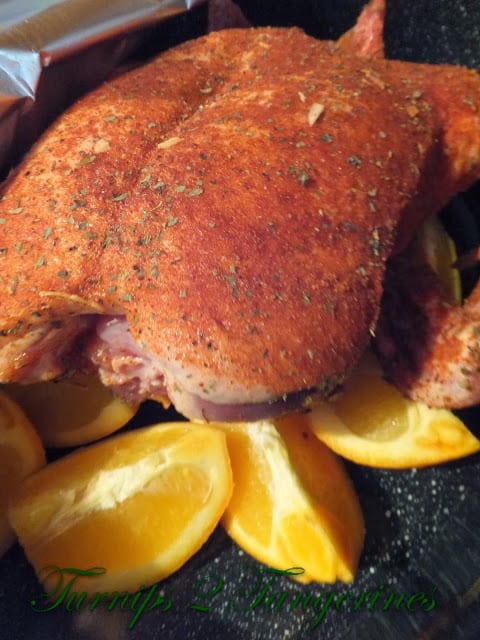 Poultry All Kinds
For those of you who aren't fans of duck or live in an area where duck is considered "seasonal," you can still make this recipe. Replace the duck with a large roasting chicken, a whole turkey or turkey breast. If your fortunate enough to have a hunter in your family and can supply you with fresh game fowl then you're in for a real treat. The dry spice rub makes a fair amount, enough to sufficiently cover a duck, large roasting chicken, turkey or even several Cornish game hens, quail or pheasant.
Raspberry Sauce
The third layer of flavor in this recipe is the cherry sauce. The sauce is made extra special with Door County Cherry De-Lite Preserves. Cherry De-lite preserves is made with Door County cherries. The cherries that made Wisconsin famous. If you're unable to find cherry de-lite preserves, use your favorite brand. You can also order cherry preserves online.
*This recipe was made using Maple Leaf Farms Duck
Recipe Idea:
This recipe is the perfect opportunity to make the duck, chicken or game bird used in this recipe into what is called "spatchcock." Spatchcock is an older cooking term that's recently come back into culinary "vogue." The term means basically to split a bird down the back, then opening out and flattening the two sides like a book. It's similar to the term butterfly. Spatchcock refers to only fowl, whereas butterflying applies to boneless cuts such as meat, poultry, fish and so on. In other words, a bird that's split and spread in preparation for roasting or broiling.
Spicy Roast Duck with Cherry Sauce
Ingredients
1

duck

,

trimmed of all fat and excess skin

4 to 6

oranges

,

each orange cut into 4 wedges

2

shallots

,

peeled and cut in half

6

cloves

garlic

,

peeled

Dry Rub Mix:

2

tablespoons

salt

1/4

cup

dry onion soup mix

1

tablespoon

cayenne pepper

1

tablespoon

black pepper

2

tablespoons

paprika

2

tablespoons

dried basil

2

tablespoons

brown sugar

1

tablespoon

dry mustard

1

teaspoon

cumin

1

teaspoon

garlic powder

Cherry Sauce:

8

ounce

jar cherry preserves

1/2

cup

sugar

1

cup

water

2

tablespoons

orange juice

2

tablespoons

cranberry juice cocktail

1/2

cup

teriyaki sauce

2

tablespoons

cornstarch
Instructions
Heat oven to 400º Blend all dry rub ingredients together.

In a roasting pan place oranges. Put shallots and garlic in duck cavity. Dust the duck with dry rub seasoning. Cover the pan with heavy duty foil. Bake at 400º for 2-1/2 hours.

Prepare Cherry Sauce:

Mix together cherry preserves, sugar, water, orange juice, and cranberry juice in a 2-quart saucepan.Stirring constantly, bring mixture to a boil. Reduce heat, simmer 10 to 15 minutes. Mix together the teriyaki sauce and cornstarch. Add to raspberry jam mixture and heat until thick.

Uncover duck, drain excess fat in bottom of roaster.

Baste duck with sauce and cook 45 minutes longer, uncovered, basting with sauce every 10 minutes. Left-overs make a yummy sandwich.
Recent Recipe: Super Bowl Party Tips and Tricks
German Christmas Stollen is a fantastic holiday recipe. Christmas just wouldn't be the same without German Stollen!