Spicy Dark Chocolate Fudge
We may earn money or products from the companies mentioned in this post.
Spicy Dark Chocolate Fudge
Welcome Everyone to Choctoberfest, a week long celebration of everyone's favorite, Chocolate. Turnips 2 Tangerines has joined over 100 Choctoberfest Bloggers to bring you recipes made with chocolate. Think of it as taking a weeks vacation in chocolate heaven. We will be sharing recipes using Forte Chocolate and Imperial Sugar, #Choctoberfest sponsors.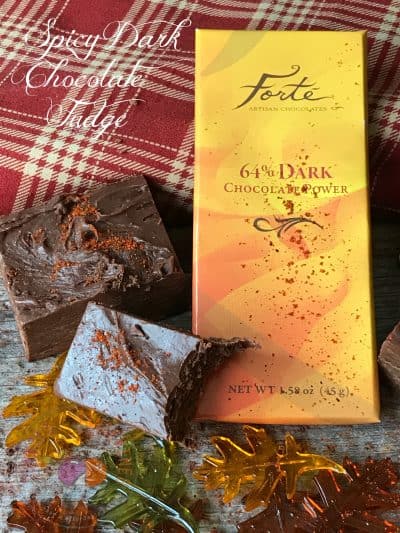 Forte Artisan Chocolates
This is my first year participating in Choctoberfest and we have the privilege to be inspired by Forte Artisan Chocolates. Forte Artisan Chocolates  motto is: "Celebrate Life With Chocolate" I couldn't agree more! Their goal is to inspire people to create chocolate baked goods and to embrace using chocolate in savory dishes too. Let the many different chocolate flavor combinations be your inspiration to "Celebrate Life With Chocolate."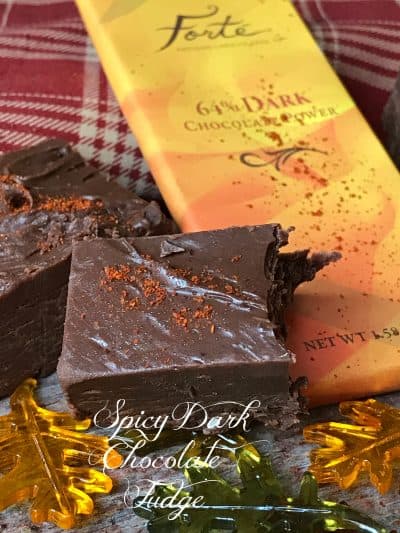 Forte Dark Bar
Spicy Dark Chocolate Fudge is made with Forte 64% Dark Bar, a dark chocolate bar that is an award winner. Made with rich dark chocolate, specially blended to create a symphony of complex flavors. Complete with a smooth fresh aroma, sweet and fruity middle and a rounded finish, making this fantastic dark chocolate perfectly paired with the firey flavor of cayenne pepper.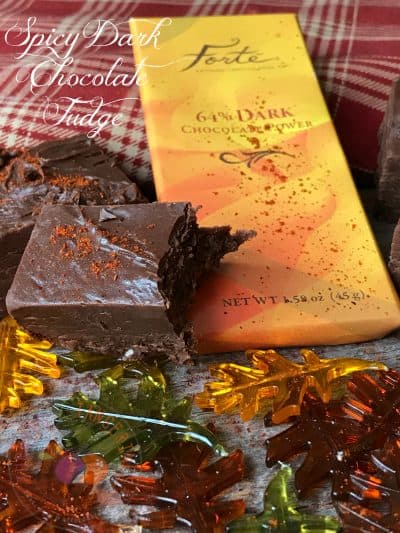 Mexican Vanilla and Mexican Cinnamon
In this recipe, we used both Mexican vanilla extract and ground cinnamon. I was given both as a gift so when this recipe came to mind, I thought it was about time to use them both. You can use regular vanilla extract and ground cinnamon for this recipe, so don't run out and buy Mexican vanilla extract or ground Mexican cinnamon unless of course you want too. You'll want to make this recipe either way, it's that good!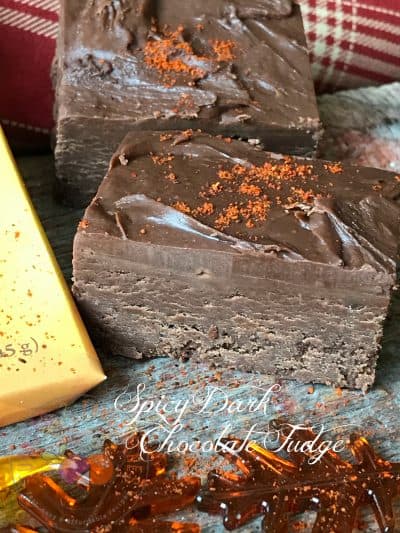 What is the difference?
Mexican cinnamon is actually the bark of a tree, a type of cinnamon from Sri Lanka called Ceylon but known as canela in Mexico. It's considered a "true" cinnamon, whereas cassia, the widely marketed cinnamon found in grocery store spice aisles in the US, is a native to Indonesia and has a harsher flavor. Canela is much softer and flakier than cassia and is easier to grind into a fine powder. It can literally be crumbled with your fingers.
Cinnamon
Cinnamon is used in both sweet and savory dishes in Mexico, like in moles and Mexican hot chocolate. If you use regular ground cinnamon (cassia) in a Mexican recipe, use about half the amount as you would for canela (Ceylon) or Mexican ground cinnamon. Mexican cinnamon is found in Latin markets or you can order it online at Badia in the form of sticks or ground.
Vanilla
Mexican pure vanilla extract is made from premium selected beans cultivated in Mexico, the original birthplace of the vanilla plant. Most often cold pressed, to gently draw out and preserve the vanilla's more than 250 flavor compounds. This practice results in one of the world's most exceptional vanillas. The Mexican vanilla profile has both sweet and woody notes with a deep, creamy, spicy-sweet character similar to cloves or nutmeg.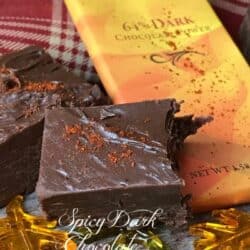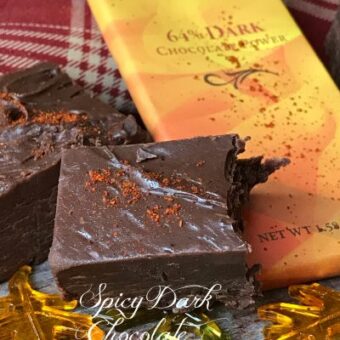 Spicy Dark Chocolate Fudge
This super delicious dark chocolate fudge is rich and creamy with a slight firey bite.
Ingredients
1 1/2

cups

sugar

2/3

cup

evaporated milk

2

Tablespoons

butter

1/8

teaspoon

chili powder

1/4

teaspoon

cayenne pepper

1/4

teaspoon

ground cinnamon (Mexican)

1/8

teaspoon

salt

2 1/2

cups

miniature marshmallows

1

12 oz

package special dark chocolate chips

2

1.58 oz bars

dark chocolate, coarsely chopped

,

Forte

2

teaspoons

Mexican vanilla extract

cayenne pepper for garnish, optional
Instructions
LINE 8-inch-square baking pan with foil. Lightly butter.

COMBINE sugar, evaporated milk, butter, chili powder, cayenne pepper, ground cinnamon and salt in medium, heavy-duty saucepan. Bring to a full rolling boil over medium heat, stirring constantly. Boil, stirring constantly, for 4 to 5 minutes. Remove from heat.

STIR in marshmallows, chocolate chips, dark chocolate and vanilla extract. Stir vigorously for 1 minute or until marshmallows are melted. Pour into prepared baking pan; refrigerate for 8 hours or until firm. Lift from pan; remove foil. Cut into 48 pieces. Lightly sprinkle pieces with cayenne pepper before serving, optional.
Notes
This recipe is made using Forte Dark Chocolate. 
I like to let fudge set up for at least 8 hours before cutting into pieces. 
Fudge Recipes: White Chocolate Cherry Walnut Fudge, Candy Cane Fudge, Triple Mint Chocolate Fudge and Easy Peanut Butter Fudge.