Southern Pecan Pie
We may earn money or products from the companies mentioned in this post.
Southern Pecan Pie
This year for Thanksgiving, my son requested a pecan pie. I haven't made a pecan pie in many years and was happy to make one for him. Southern Pecan pie is really very easy to make and is so delicious! The ingredient list for pecan pie is short and sweet. Butter, eggs, sugar, corn syrup, vanilla extract and of course, pecans. Since a pecan pie has so few ingredients, try to use the freshest and high quality ingredients as possible. That simply means use the highest quality of butter, corn syrup, eggs and pecans as possible.
Made From Scratch
The secret to a good pecan pie in my humble culinary opinion, is to make a from scratch crust. Only a few ingredients make up a pecan pie therefore it's imperative to put this nutty, sweet and delicious filling into an equally deserving crust. There are times when a packaged, pre-made crust is sufficient and then there are times, like this one, when a made from scratch crust is needed.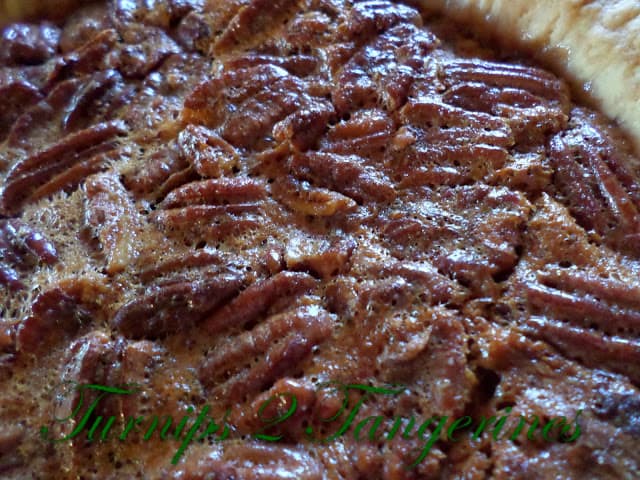 Some Facts
This Native American nut is a member of the hickory family and has a fat content of over 70 percent. Pecan trees prefer temperate climates and are widely grown in Georgia, Oklahoma and Texas. Pecans are favorites for eating out of hand, as well as for using in a variety of sweet and savory dishes. Southern pecan pie is probably the most well known and much loved southern classic pecan dessert.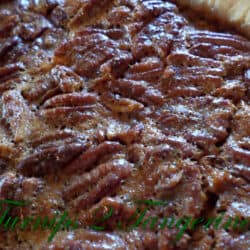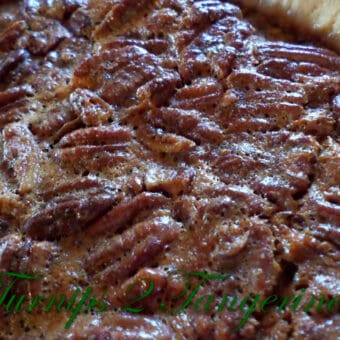 Southern Pecan Pie  
Southern Pecan Pie is a classic pie served during the holidays.
Ingredients
2

cups

flour

1

teaspoon

salt

3/4

cup

well-chilled all-vegetable shortening

4-8

tablespoons

ice cold water

1

cup

pecan halves

2

tablespoons

butter, melted

1/2

teaspoon

salt

1

cup

sugar

1

cup

dark corn syrup

1

tablespoon

brandy

1

teaspoon

vanilla extract

3

large eggs, lightly beaten
Instructions
Blend flour and salt in a large bowl. Cut shortening into flour mixture with a pastry blender until coarse crumbs form. Stir in enough water with fork just until dough holds together.

Shape dough into one large 1/2-inch thick disc. Wrap in plastic wrap. Chill 30 minutes.

Roll out disc 2 inches larger than 9-inch pie plate on lightly floured surface. Line pie plate with crust. Cut any excess crust overhanging pie plate with scissors. Flute crust. Set aside.

Preheat oven to 350º

In a small bowl, combine pecans with 1 tablespoon melted butter and salt. Spread on a baking sheet and toast until fragrant, 8 to 10 minutes. Set aside to cool.

In a medium bowl, combine sugar, corn syrup, brandy, vanilla extract and remaining butter. Stir in eggs. Add toasted pecans. Pour filling into pie crust.

Place on bottom rack in oven until the center of the pie feels gelatin-like when pressed with the back of a spoon. Bake about 50 to 60 minutes. Transfer pie to wire rack to cool.

Serve with whipped cream if desired.
For this recipe we used Fischer Nuts