South Dakota German Kuchen, Plum Kuchen
We may earn money or products from the companies mentioned in this post.
South Dakota German Kuchen, Plum Kuchen
German Kuchen from South Dakota, (pronounced ku-gen) is a rich custard dessert with fruit poured into a sweet dough for the crust. Every region in Germany, Russia and here in North America have their preference. However, kuchen comes in a wide variety of flavors using fruits like apple, prunes, apricot, peach, and rhubarb. South Dakota Kuchen was brought here by Germans who were living in Russia. Some Germans from Russia added dry curd cottage cheese for cheese kuchen called kasekuchen.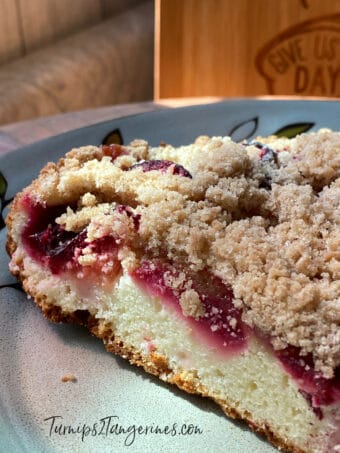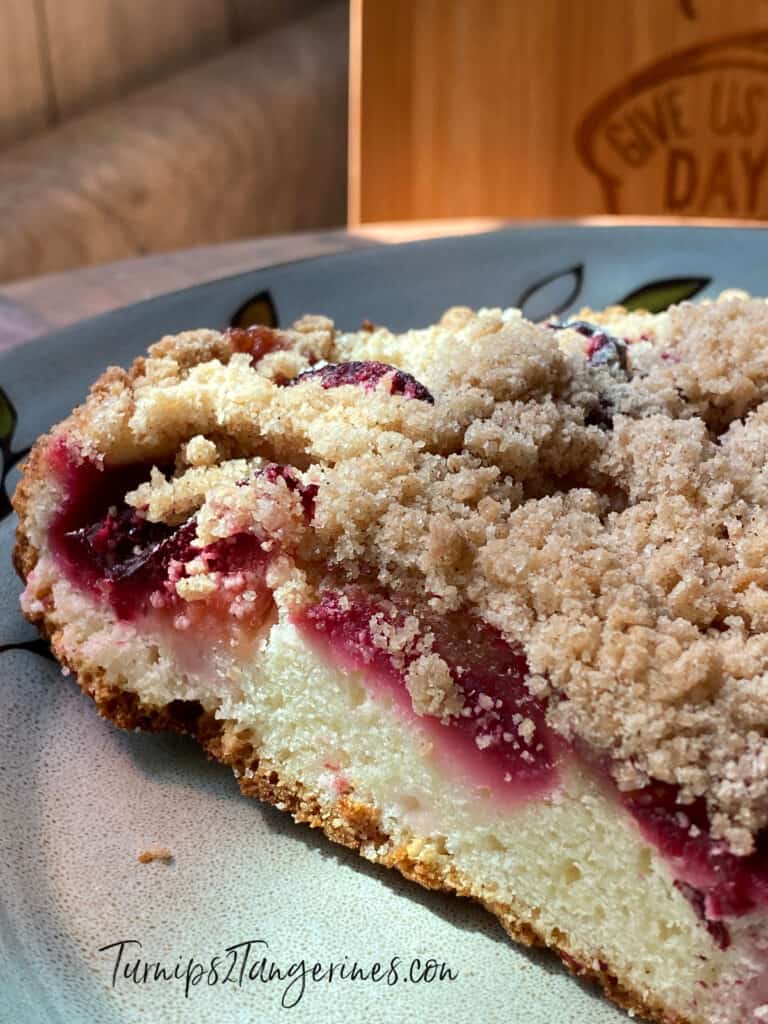 Kuchen is Rich in History
Kuchen is a tradition that dates back to the original home-steaders. They immigrated from parts of Russia and Germany then settled in the Dakotas. At that time, kuchen was primarily made for weddings. Specific ingredients, such as sugar and fruit, were hard to come by. This was mainly due to rationing in places like the Black Sea where they lived before emigrating. In the Dakotas during the Great Depression, German immigrants would fill kuchen with items available on their Midwestern farms.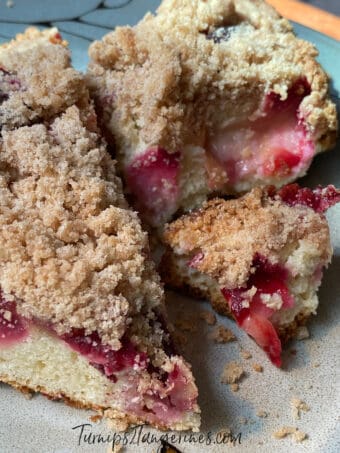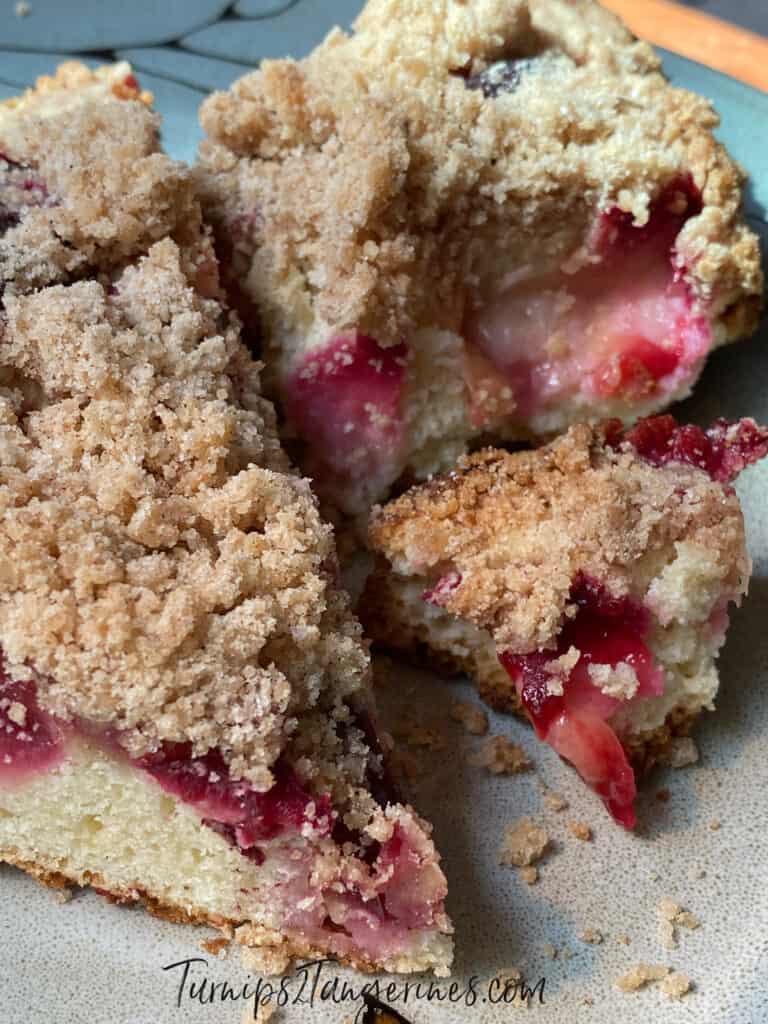 Kuchen History 101
In German, kuchen literally means cake. Generally when speaking German, if you say kuchen, you simply mean a non-specific cake. A South Dakota Kuchen refers to a very specific kind of cake. South Dakota kuchen has both Russian and German roots. It's made more like a custard-y fruit pie verses a fruit topped coffee cake that has a streusel topping. South Dakota's Kuchen arrived with Volga German immigrants in the 1800s. A recipe that was no doubt handed down through generations. It was once said, that the perfect bride can make a kuchen from scratch without using a recipe! Hmm, to my way of thinking, this means they eat A LOT of kuchen in Germany.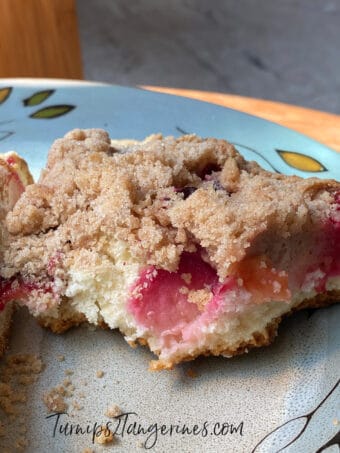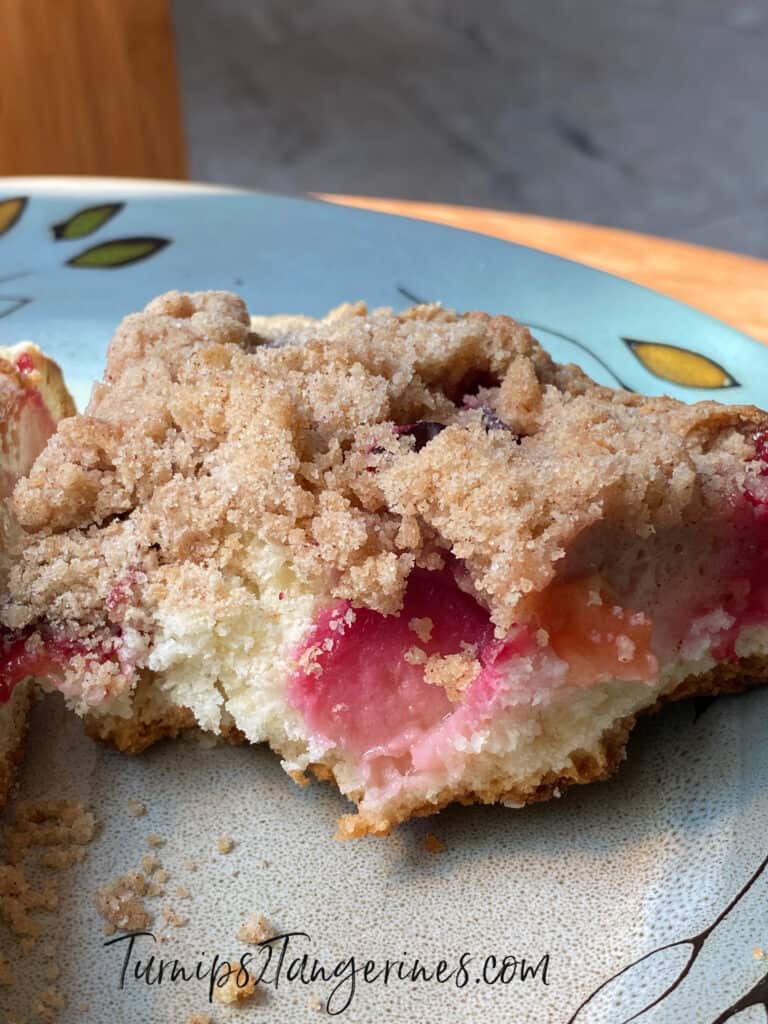 Many Variations
There are as many variations of kuchen recipes, as there are cooks who prepare them. If you were to compare potato salad recipes to kuchen recipes, the list would be never ending. Kuchen is meant to be shared and savored. Like Germans in Germany, South Dakota Germans take time to sit down with a cup of coffee and enjoy a slice of kuchen. An afternoon ritual that still continues today. In the spring of 2000, the South Dakota State Legislature passed a bill declaring kuchen the official dessert of The Mount Rushmore State.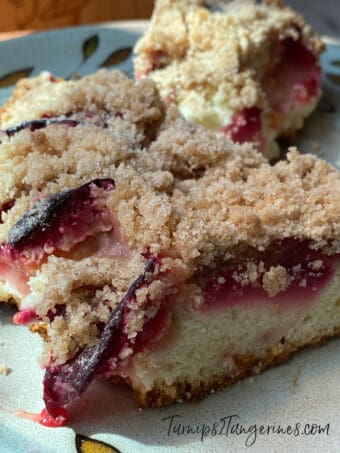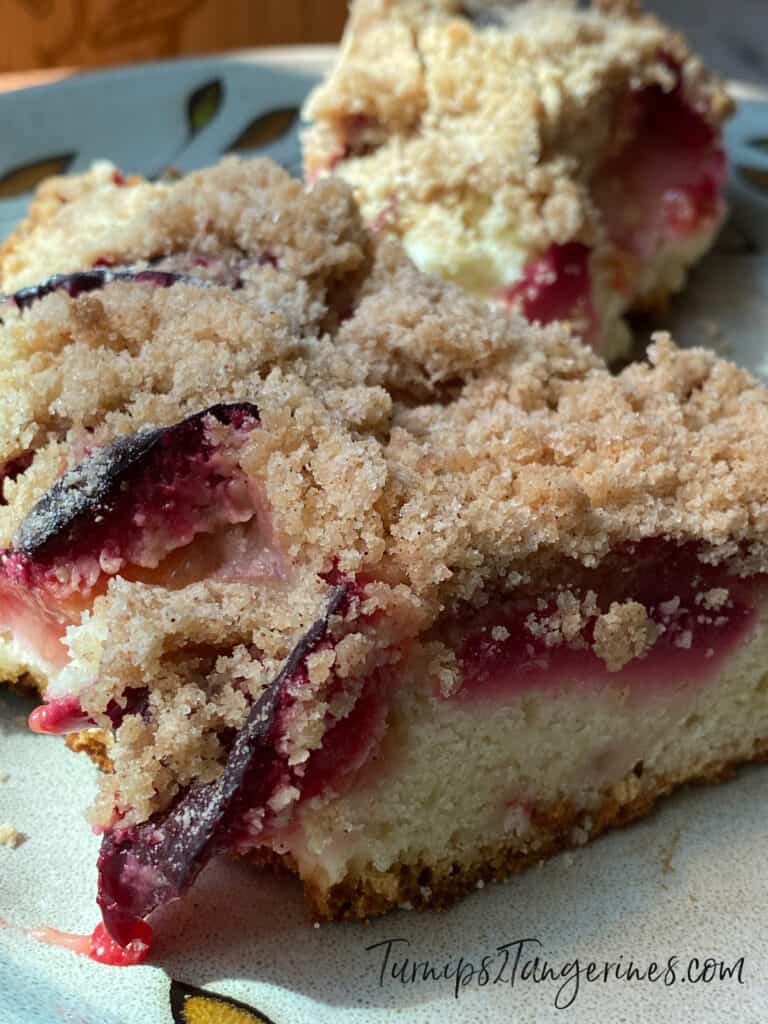 When German immigrants arrived, they baked their kuchen with whatever they had on hand. However, after a generation or two of making the recipe a certain way, it became a family tradition. "Oma made it like this, so this is how it should be made." It is amazing to think about how far this recipe traveled, while still holding onto its German roots.
Look at Volga Germans
The Seven Year War (1756-1763) involved all of Europe with Germany as the battlefield. When the dust settled, most Germans were left in poverty, fields and farms destroyed, and only a makeshift government to enforce the rules. Catherine the Great, former German princess, but current Czarina of Russia, had a plan. War with the Ottomans left the Volga region of her country barren. She needed farmers.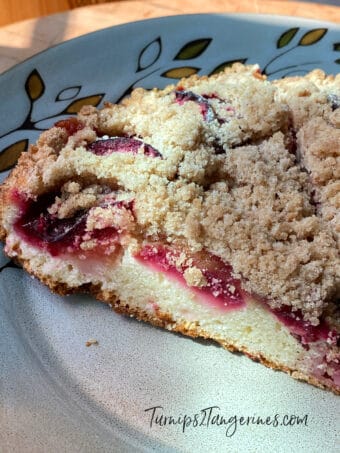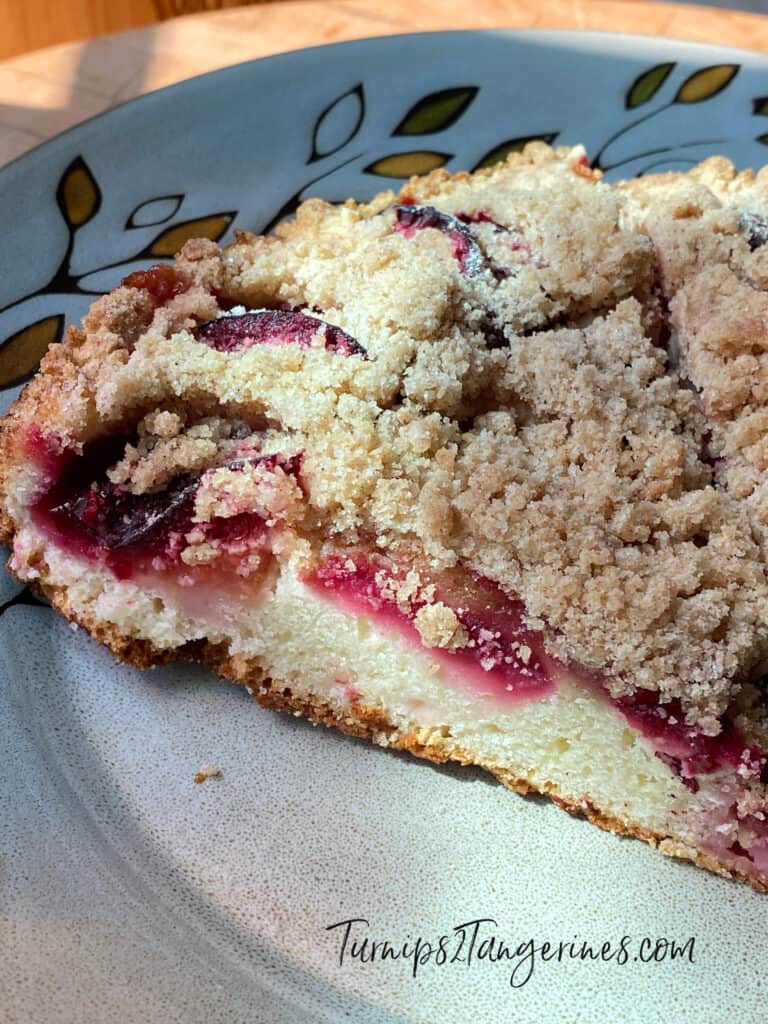 Catherine the Great knew firsthand just how hard Germans work. So she devised a great plan; invite Germans to fill the area with productive farms. Her plan or manifesto enticed many poor farmers from the Rhineland with offers of autonomy and land. Flyers went up all over Germany, with special agents to recruit Germans to come live in the Volga region. What started as a trickle of a few thousand settlers in 1767 became a Tidal Wave. Germans established hundreds of small villages along the Volga River.
They set up schools, churches, and even their own form of government. The language spoken was German. By 1869, there were over 250,000 Volga Germans living within Russia. Russians grew frustrated with the special treatment these "Germans" were given, primarily the exemption from military service. Slowly these rights were chipped away, and by the 1880s, many Volga Germans looked toward North America for the freedoms they wanted.
Welcome to the Breadbasket
The first Volga Germans arrived in the Dakota Territory in 1872. They wanted to take advantage of the Homestead Act which promised any adult male 160 acres of land for only $10. With a few stipulations; that they build a house, raised crops, and survived 5 years. This was a bet the Germans were happy to make, and they came by the thousands. With them they brought their family treasured kuchen recipes. Over time, the area would become the Breadbasket of the New World.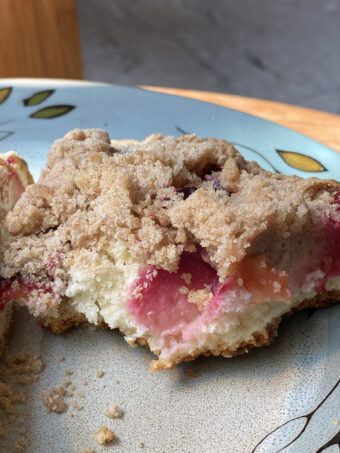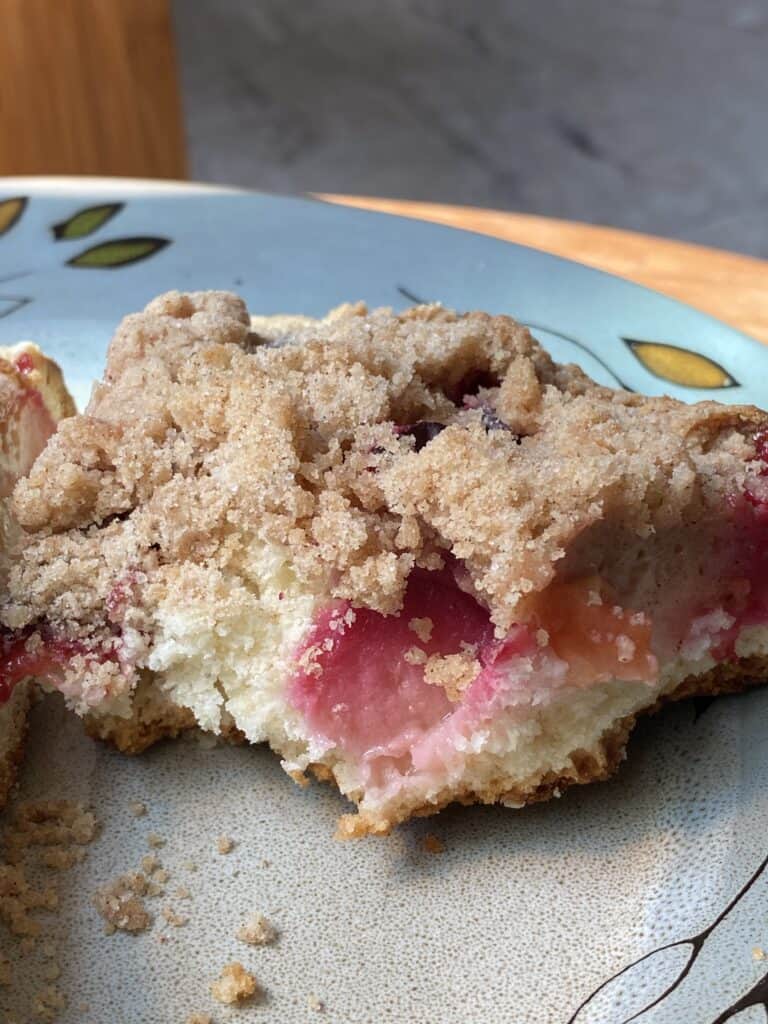 People ate what could be grown or found on their farm. Most farmers would have a cow for milk and butter, chickens for eggs and game for meat. Fruit such as apples, pears, plums and peaches, were grown in small family orchards. Wild berries like raspberries, blackberries, huckleberries and the like were gathered in patches near their homes. Maple syrup was tapped from trees on their property and honey was harvested from bees and used in place of sugar. Canning and preserving food became essential for insuring winter survival.
Up Next: French Toast Stick Breakfast Bake
Looking for More Kuchen recipes?
*Some post information from a wonderful German blog called: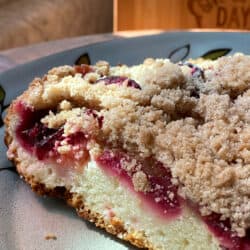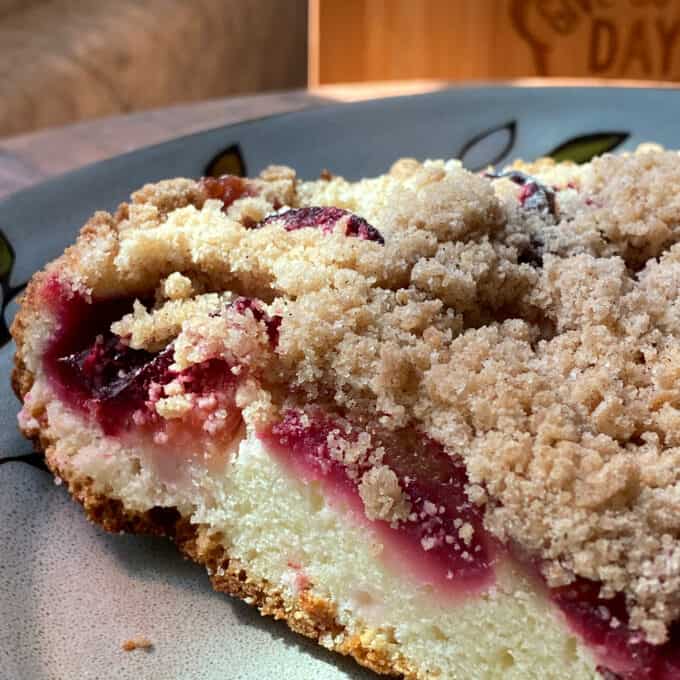 German Plum Kuchen
This tender kuchen/coffee cake has buttery streusel topping and is made with fresh summer plums!
Ingredients
1 ½

cup

all purpose flour

1

teaspoon

baking powder

pinch

salt

6

tablespoons

unsalted butter, room temp.

⅓

cup

sugar

1

lemon

finely grated zest

1

egg, room temp.

⅓

cup

half and half

1

teaspoon

pure vanilla extract

6

plums or enough plums of your choice to cover the dough, cut into wedges

½

cup

plain all purpose flour

4

tablespoons

unsalted butter cool but not cold

¼

cup

sugar

1

teaspoon

ground cinnamon

pinch

salt
Instructions
Preheat oven 400ºF and grease and line the base of a 9 inch springform cake pan

Whisk together the flour, baking powder and salt.

In the bowl of a stand mixer beat the butter until smooth.

Add the sugar and beat for 2 or 3 minutes. Add the lemon zest, egg and vanilla extract, beat well.

On low speed, alternately add flour mixture and milk on low speed (end with flour). Mix until just smooth.

Spread the batter over the base of the baking pan using the back of a spoon.

Arrange the plums decoratively over the dough.

Put flour, sugar, butter, cinnamon and salt into a bowl (it's fine to use the bowl you made the cake in without cleaning it). Rub the butter into the other ingredients forming a crumbly streusel.

Bake for 35 to 40 minutes until a skewer inserted comes out clean. Always adjust cooking time if your oven is hotter or cooler.

Allow to cool for 10 minutes before unclipping the sides of the springform pan and removing carefully. Cool for at least another 30 minutes.

Serve warm.