Sourdough Pancakes
We may earn money or products from the companies mentioned in this post.
Sourdough Pancakes
A Week of Sourdough Recipes
Good Morning Everyone. Let's make some sourdough pancakes! This fast and easy recipe for sourdough pancakes is adapted from the cookbook; Simply Sourdough, The Alaskan Way by Kathy Doogan. This super cookbook has given me many delicious sourdough recipes. I've tried over half of the 40 recipes featured in the cookbook. Each and every recipe has turned out. All of the recipes that we have shared during our week long series; A Week of Sourdough Recipes, only one recipe 'Big Batch Sourdough Biscuits' isn't from Simply Sourdough.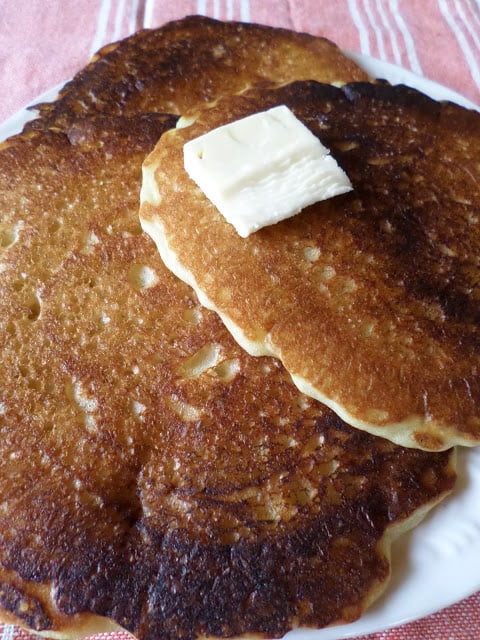 Sourdough Pancakes
Everyone loves pancakes and pancakes made with sourdough are extra special. Sourdough pancakes can be made with a fed or active starter but can also be made with the discard. Add ins such as fruit  chocolate chips, nuts or any favorite add ins can be added to the batter.
Serve With
Serve these delicious pancakes with what else, maple syrup. Pure, 100% maple syrup. Living here in Wisconsin, I have plenty of access to real maple syrup but if you don't there are a few things to remember. Keep in mind when buying real maple syrup, the only ingredient listed should be maple syrup. No sugar, corn syrup, brown sugar, molasses or any other ingredients. No, No, Never, Ever! Maple syrup is made from the clear sap of the maple tree. The sap is boiling down, letting the moisture evaporate and reduce down into a thick delicious amber hued syrup.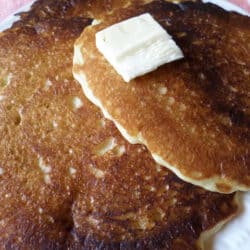 Sourdough Pancakes
Ingredients
2

cups

sourdough starter

2

tablespoons

sugar

1

egg

4

tablespoons

oil

1/2

teaspoon

salt

1

teaspoon

baking soda

1

tablespoon

warm water

,

mix together baking soda and warm water right before needed
Equipment
large flat topped electric griddle
Instructions
In a large bowl, add sourdough starter, sugar, egg, oil and salt. Mix well; set aside.

Important: Only add the baking soda/water mixture to the pancake batter just before you are ready to cook the pancakes. Make certain everything is ready and the griddle is hot and heated to 350º to 375º

When ready to cook, gently fold the baking soda/water mixture into prepared pancake batter.

Let the mixture bubble and foam a minute or two before using.

Lightly grease hot griddle, pour batter onto hot griddle, turn pancakes over when bubbles appear on the surface. Flip and cook until golden brown. Serve with maple syrup.
Health Note: Spinach contains folic acid for the formation of healthy red blood cells. The iron it contains helps red blood cells carry oxygen to tissues~
Another sourdough recipe you'll love; Sourdough Monkey Bread