Sourdough Naked King Cake
We may earn money or products from the companies mentioned in this post.
Sourdough Naked King Cake
Sourdough Naked King Cake has been a New Orleans tradition dating back to the 1800's. A coin, bean or tiny plastic baby pressed into the risen dough before baking is said to bring the recipient good luck and once determined the Mardi Gras queen. Colored sugar toppings in the traditional colors of purple, green and gold stand for justice, faith and power. Sourdough King Cake is made with a sourdough starter instead of rapid-rise yeast. This yeast/sourdough sweet cake is an ideal part of any breakfast or brunch menu as well as a fitting end to a Mardi Gras dinner celebration.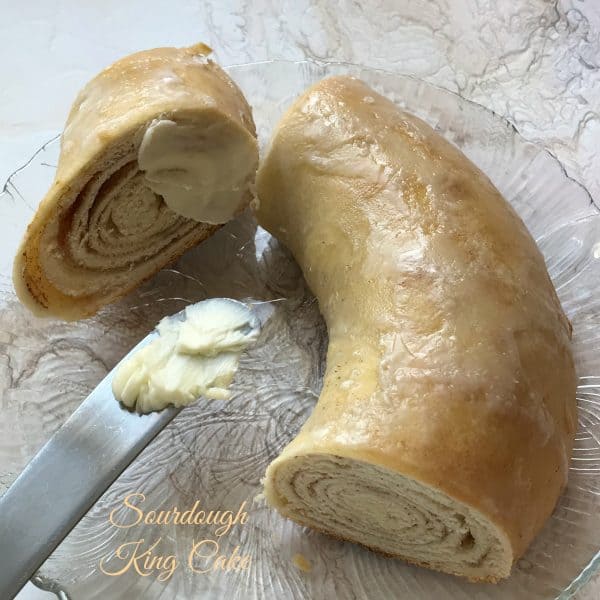 Naked King Cake
Since we are still watching what we eat here in my household, I decided to skip the traditional king cake toppings of thick, powdered sugar frosting and layers of colored sugar. Now I can assure you, I would have loved to have eaten a big piece of king cake with thick frosting and layers of colored sugar. I could eat a whole bowl of frosting with a spoon about right now but I held back. That's the reason I'm calling this king cake 'naked.' A king cake without all the bells and whistles.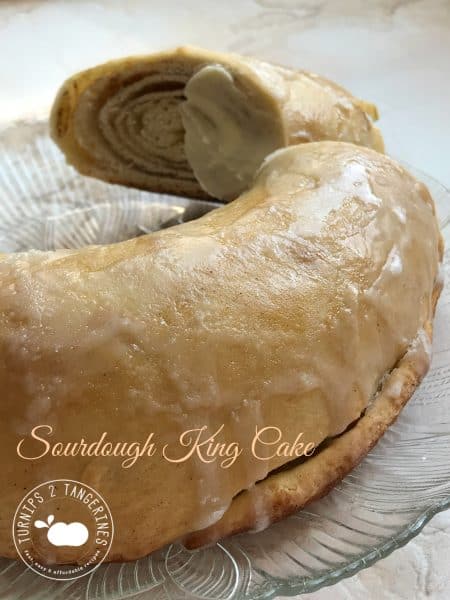 Lemon Glaze
Naked King Cake simply means is naked from the thick frosting & colored sugar but is still topped with a glaze. A very thin, light and lemony glaze. A delicious glaze, one I've used many times before to top cookies, muffins and scones. It adds just the right amount of sweetness without taking away from the finished product. Sourdough starter add an extra layer of yum to the already super dough. This recipe is from Sourdough Home via Southern Living.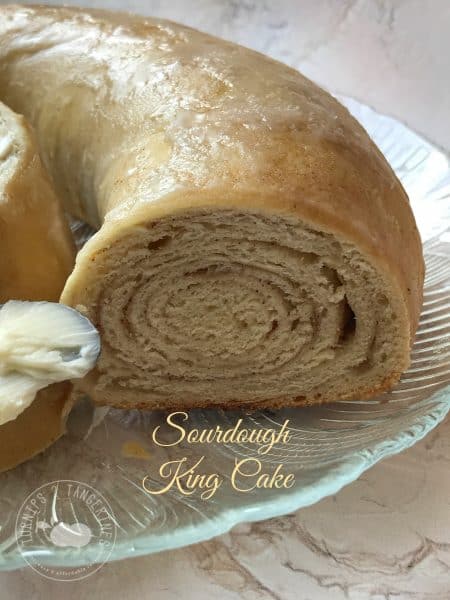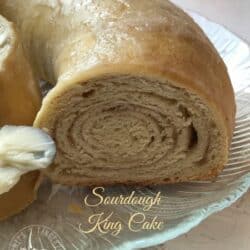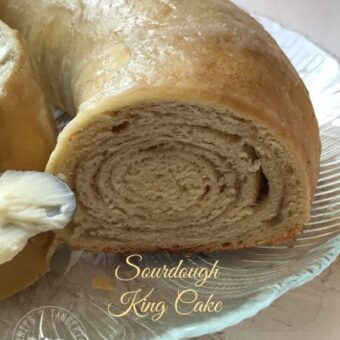 Sourdough King Cake
This recipe is for 2 king cakes.
Ingredients
1/4

cup

butter

1

16 oz

container sour cream

1/3

cup

sugar

1

tsp

salt

2

ice cubes

3/4

cup

active sourdough starter

2

eggs

5 1/2

cups

all-purpose flour

1/2

cup

sugar

1 1/2

teaspoons

ground cinnamon

1/3

cup

melted butter

1

cup

confectioners' sugar

2 to 4

tablespoons

milk

1

teaspoon

lemon extract
Instructions
Put the butter, the sour cream, the sugar, and the salt into a skillet and heat over medium heat, stirring often, until the butter is melted. Remove from heat and toss in the two ice cubes. Stir, and let the mixture cool to 100 to 105 F. (The ice cubes are partly there to help cool the butter mixture, and partly to add just a little more moisture to the cake. When I converted the recipe, the program said I needed .07 cups of water. Right. Let's use two ice cubes instead.)

Put the starter into your mixer, fitted with a dough hook. Break in the two eggs. Start the mixer. Add two cups of flour, and then the cooled butter/sour cream mixture. Once this mixes together, add about 3 more cups of flour, one cup at a time. You want a soft, pliable dough. Let the mixer knead it about 2 minutes.

Turn out the dough onto a lightly floured surface and knead another 10 minutes or so. You may add some more of the flour if needed. You want a soft dough, pliable, and smooth.

Form the dough into a ball, put into an oil ed bowl, turn the dough to cover it with oil, then cover the dough and let rise until doubled. How long this will take will depend on your starter and the temperature of the area where the dough will be rising.

Mix together 1/2 cup sugar and 1 1/2 tsp ground cinnamon. Set aside.

Once the dough has doubled, punch down the dough and divide it in half. Put one half onto a lightly floured work surface and roll it out until it's about 28" by 10".

Spread 1/2 of the reserved butter on the rectangle of dough. Cover that with 1/2 of the saved cinnamon-sugar mix.

Put the plastic baby, the large dried bead, or even a plastic coin onto the rectangle of dough. Roll the 28" side like a jelly roll. Form into a ring, making sure the edge is down, and around the center of the roll - you don't want the seam to show. Moisten and pinch the edges to seal them. Repeat with the other dough.

Cover the king cakes and allow to rise until doubled in volume in a warm place. Then bake 15 to 20 minutes in a 375 F oven until the cake is golden.

In small glass bowl whisk together confectioners' sugar, milk and lemon extract. Drizzle mixture over warm cakes.
Mardi Gras King Cake, Traditional is a traditional recipe for king cake, that includes the frosting and colored sugar. Here is another recipe for a New Orleans favorite Sourdough Beignets.