Sourdough Monkey Bread
We may earn money or products from the companies mentioned in this post.
Sourdough Monkey Bread
A Week of Sourdough Recipes Who doesn't like monkey bread?? Made with a sourdough sweet dough, filled with brown sugar & ground cinnamon, your choice raisins, chocolate chips or nuts and drizzled with a vanilla glaze, what's not to like!! Sourdough Monkey Bread is wonderfully delicious. We have been featuring Sourdough recipes with a week long celebration. This recipe is super delicious!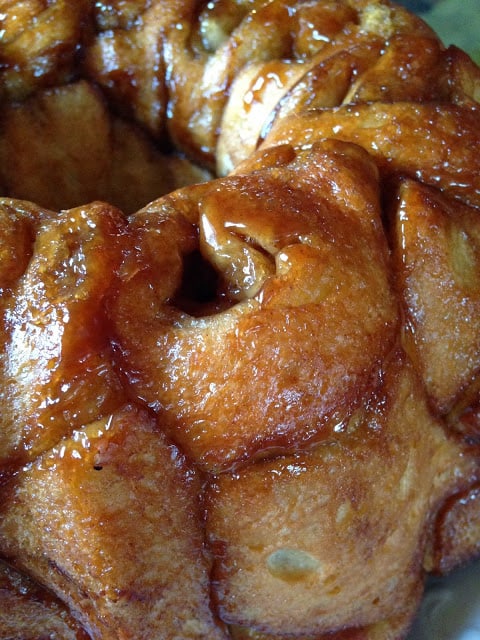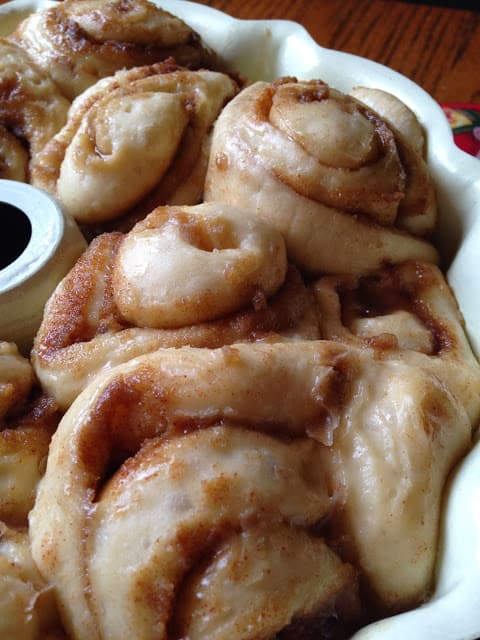 What is Monkey Bread?
Monkey Bread is a sweet yeast bread formed by arranging small clumps of dough, which are dipped into melted butter first. Then stacked in 3 or 4 overlapping layers in a pan. The pan can be round, oblong or tube shape. After baking, the clumps cling together to form a solid piece. Monkey bread can be sweet and flavored with raisins, nuts, cinnamon and sugar or savory often made with grated cheese. Sourdough Monkey Bread is fabulous!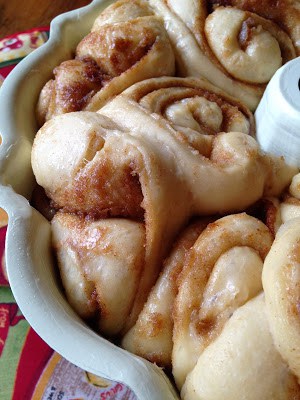 A Brief History of Sourdough
Sourdough; sourdough bread is a bread with a slightly sour, tangy flavor created by using a special yeast (airborne) starter as the leavener. San Francisco is known for its superior sourdough bread. Many stores in the area sell packages of dry sourdough starter for home bread bakers. Though most sourdoughs are made from all-purpose flour, there are many delicious variations including those made from whole-wheat or rye flour.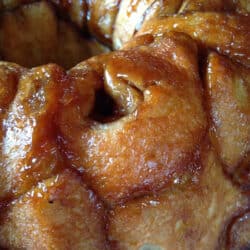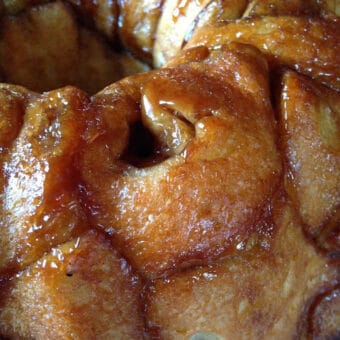 Sourdough Monkey Bread
Monkey Bread made with Sourdough? Delicious!
Ingredients
1

cup

sourdough starter

3/4

cup

water

3

cups

flour, divided

1/4

cup

vegetable oil

1/4

cup

brown sugar, firmly packed

2

eggs

1

teaspoon

salt

1/2

teaspoon

baking soda

1

teaspoon

baking powder

1/2

cup

butter, melted

Filling:

1

cup

brown sugar

2

teaspoons

ground cinnamon

1

cup

chopped walnuts or pecans, optional

1/2

cup

raisins, optional

1/2

cup

mini chocolate chips, optional

Icing:

1

cup

confectioners' sugar

2 to 4

tablespoons

milk

1

teaspoon

vanilla extract
Instructions
In a large bowl, stir together starter, water and 1-1/2 cups of the flour. Cover loosely and leave at room temperature to proof at least 8 hours or overnight. When starter has proofed, mix the oil, sugar and eggs in a small bowl; add to the starter mixture. Stir in remaining 1-1/2 cups flour, salt, baking soda, and baking powder. Turn dough out onto a floured board and knead 5 to 8 minutes, or until smooth. Cover loosely and let rest about 10 minutes. Roll out dough into a rectangle approximately 8 x 18-inches. Brush entire surface with half of the melted butter.

In a small bowl, mix filling ingredients; sprinkle evenly over dough. Roll up along the 18" side, forming a log. Using a sharp knife dipped in flour, cut the roll into 24 pieces, then form into balls. Dip balls into remaining melted butter and place into a lightly greased bundt pan, stacking one on top of each other. Set in a warm place and let rise until doubled, 1 to 2 hours.

Bake at 375º for about 30 to 40 minutes. Remove from oven and flip pan upside down on serving plate. Mix together icing ingredients until desired drizzle consistency.

Drizzle icing over warm sourdough monkey bread.
Recipe Notes:
Sourdough Zucchini Nut Bread is another recipe in A Week of Sourdough Recipes. Sourdough Monkey Bread turned out to be one of our favorite recipes that we made during this week of sourdough recipes. This yummy monkey bread is made with some of our favorite ingredients too. Hershey's Mini Chocolate Chips,  and Sun-Maid Raisins.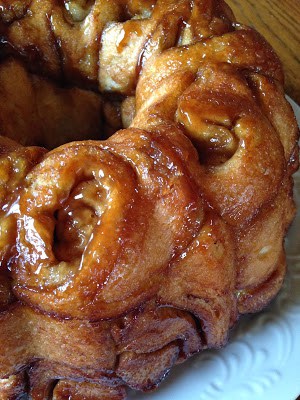 Another super sourdough recipe: Carrot Raisin Sourdough Muffins