Sourdough Blueberry Muffins
We may earn money or products from the companies mentioned in this post.
Sourdough Blueberry Muffins
There is nothing better than getting up early on a Saturday morning, sitting down at the table and enjoying a hot cup of coffee and a warm, homemade sourdough blueberry muffins. Especially if it's made with fresh blueberries. The flavor of fresh blueberries can't be beat. Adding any 'in season' fresh berry to a muffin batter is a favorite here on Turnips 2 Tangerines. Blueberries, blackberries, raspberries, mulberries, it's all good!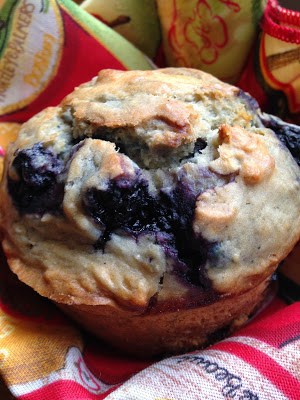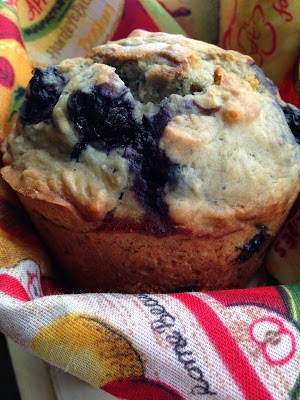 Wake Up
The smell of  sourdough blueberry muffins baking in the oven will certainly wake the sleepy heads in your family. They'll come running to the table. This recipe is another wonderful recipe from the cookbook: "Simply Sourdough ~The Alaska Way~ by Kathy Doogan. This recipe uses a sourdough starter to make blueberry muffins. After all, who doesn't like Blueberry Muffins? For this recipe we used a jumbo muffin tin pan to make these delicious muffins, which has about one cup capacity, per opening.
Make Your Own
Want to make your own sourdough starter and begin making your own sourdough goodies? For more information check out our other posts on sourdough: Sourdough Coffee Cake and a Start, Rye Sourdough Bread, Sourdough Starters, and Sourdough Love. Another super sourdough website to visit is Breadtopia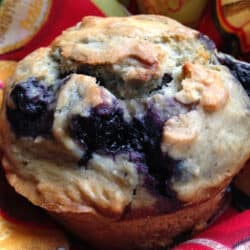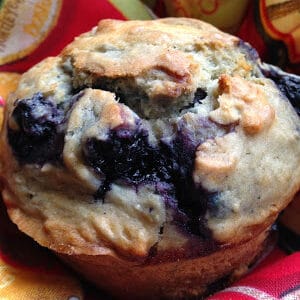 Sourdough Blueberry Muffins
Packed full of blueberries, these sourdough jumbo muffins are super!
Ingredients
1

cup

sourdough starter

1/2

cup

vegetable oil

3/4

cup

water

1

egg

1/2

cup

brown sugar

1

teaspoon

grated lemon zest

2

cups

flour

1/2

teaspoon

salt

1/2

teaspoon

baking soda

1/4

teaspoon

ground cinnamon

1 1/2

cups

blueberries

,

fresh or frozen*
Instructions
In a large bowl, stir together starter, oil, water, egg, brown sugar and lemon zest.

Stir together flour, salt, baking soda and cinnamon.

Stir into sourdough mixture, just until combined, do not over mix. Gently fold in blueberries.

Spoon batter into greased jumbo size muffin tin pan* Fill cups about 2/3 full.

Bake at 375º for 30 to 35 minutes. Makes 6 jumbo muffins.
Recipe Note:
*If using frozen berries, do not thaw before folding in. Muffins can be made in a regular muffin tin also*
Sourdough Battered Fried Frog Legs Looking for a new and different way to use your sourdough starter? This recipe for sourdough battered fried frog legs should fit the bill. My hubby loves frog legs but me on the other hand, I'm not a fan:( Sorry all you frog leg eating lovers out there.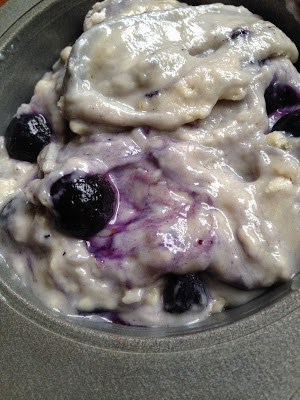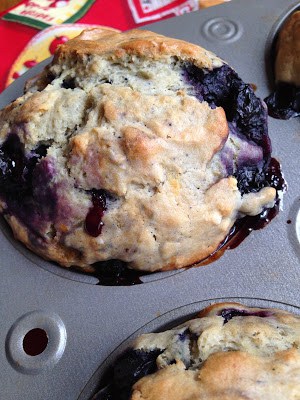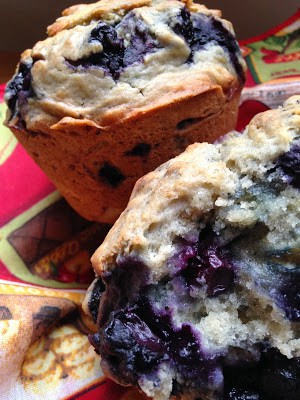 Health Note: Dairy foods such as nonfat milk and low-fat yogurt often contain bone-building nutrients like vitamin D and calcium. Be sure to read labels and compare to get the best bone benefits in every bite~