Sourdough Beignets
We may earn money or products from the companies mentioned in this post.
Sourdough Beignets
A Week of Sourdough Recipes
Laissez les bons temps rouler!! Sourdough Beignets are a traditional New Orleans yeast pastry that is deep-fried and served hot with a generous dusting of powdered sugar. The name comes from the French word for "fritter." Savory beignets, such as herb or crab, are also very popular.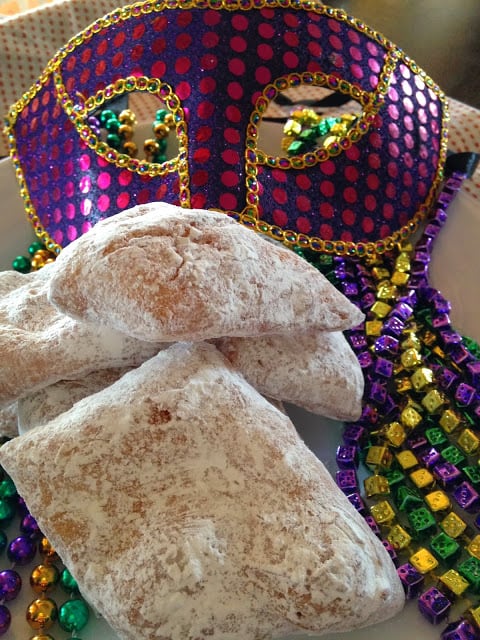 Bon Mardi Gras
Mardi Gras, The name evokes visions of music, parades, floats and food! Everyone wears the colors of Mardi Gras. Purple- represents justice , Green-represents faith and Gold- represents power. Long colorful beads are thrown from beautiful floats. Sourdough Beignets along with King Cake is served and enjoyed.
Fat Tuesday
Mardi Gras is French for Fat Tuesday, that is the the final day before the penitential season of Lent, which begins on Ash Wednesday. Fat Tuesday is referring to the practice of the last night of eating before Lent. Mardi Gras stems from pagan fertility rituals and celebrations in honor of Springs Arrival. Mardi Gras found it's way to Louisiana by way of French settlers. It dates back to the Middle Ages. The date on which Mardi Gras falls depends on Easter, Mardi Gras is always 47 days before Easter.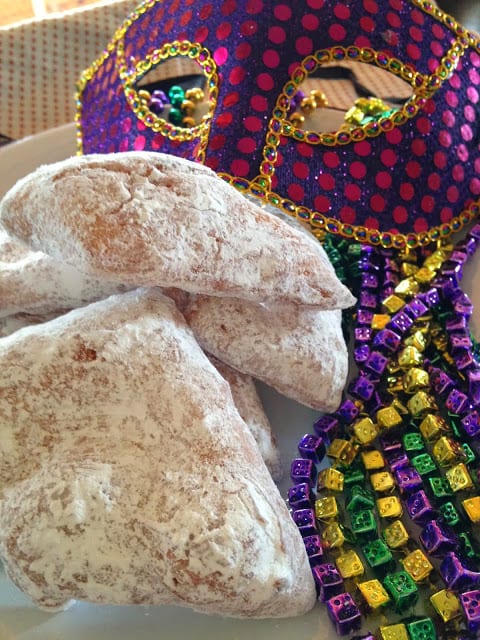 Decisions, Decisions
King Cake, Beignets?  Beignets, King Cake? I had a difficult time deciding which one to make. I have never made either one. King Cakes are the ultimate symbol of Mardi Gras. Traditionally made from brioche dough, then shaped into a ring. King Cakes are decorated with a sweet icing and colored sugars, Mardi Gras colors. There is a plastic baby doll hidden inside each King Cake. The person who gets the baby provides the next King Cake. The plastic baby decided it for me. I had no idea where I was going to find a plastic baby to put inside the King Cake. Since that seemed to be an important part of the King Cake, I didn't want to leave it out, so Beignets it is.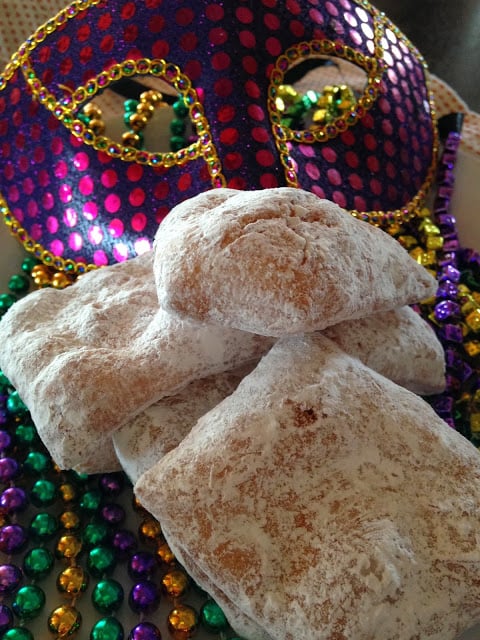 Beignets
Beignets were brought to Louisiana by the Acadians.
They were more like fried fritters, sometimes filled with fruit. Today, the beignet is a square piece of dough, deep-fried and covered with powdered sugar. They are delicious…and I mean delicious!! I'm not sure if traditional beignets are made with a sourdough starter but I wanted to make this wonderful recipe for sourdough beignets that I found in Simply Sourdough by Kathy Doogan. I hope I haven't offended any beignet connoisseurs out there but the addition of sourdough made these sourdough beignets "extra" spectacular.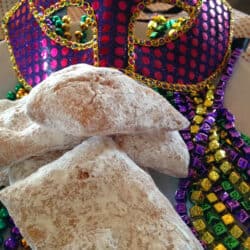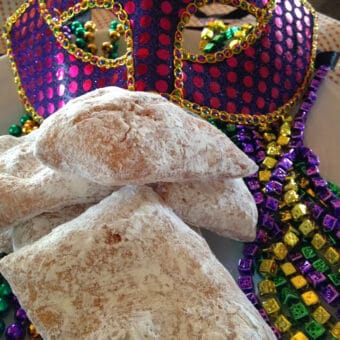 Sourdough Beignets
Ingredients
1

teaspoon

yeast, rapid rise

1/2

cup

warm water

1

cup

sourdough starter

1/4

teaspoon

salt

1/4

cup

sugar

1/2

teaspoon

oil

1

egg

1/2

cup

evaporated milk

2 1/2 to 3 1/2

cups

flour

oil for frying

powdered sugar
Instructions
In a mixing bowl, sprinkle yeast over warm water, stir in 2 teaspoons of the sugar until dissolved. Set aside for about 10 minutes or until small bubbles form. Add the remaining sugar, starter, salt, egg, oil and evaporated milk. Mix well. Stir in 1 1/2 cups flour, then beat until smooth. Add remaining flour, a little at a time, until dough pulls away from sides of the bowl and becomes to stiff to stir with a spoon.

Turn dough out onto a floured board. Form into a ball and transfer to a clean, lightly greased bowl turning to coat all sides of the ball. Cover with plastic wrap and let rise in a warm place for 1 1/2 to 2 hours or refrigerate over night and proceed the next day.

Roll dough to a thickness between 1/8 to 1/4 inch. Then cut into rectangles about 2 by 3 inches.

Heat the oil in a large deep cast iron pan to a depth of 3 to 4 inches to 360 degrees. Fry beignets, 3 to 4 at a time until they puff and become golden brown on both sides, about 2 to 3 minutes turning once or twice.

Drain on wire racks set over paper towels.

Sprinkle heavily with powdered sugar
Nutrition
Serving:
1
g
,
Calories:
574
kcal
,
Carbohydrates:
115
g
,
Protein:
17
g
,
Fat:
4
g
,
Saturated Fat:
1
g
,
Cholesterol:
33
mg
,
Sodium:
2870
mg
,
Potassium:
228
mg
,
Fiber:
4
g
,
Sugar:
11
g
,
Vitamin A:
90
IU
,
Vitamin C:
0.4
mg
,
Calcium:
79
mg
,
Iron:
6
mg
Cafe' Du Monde~The Original French Market Coffee Stand since 1862.
The Original Cafe' Du Monde Coffee Stand was established in 1862, in the New Orleans French Market. The Original Cafe' Du Monde is a traditional coffee shop. Its menu consists of dark roasted coffee and chicory, beignets, white and chocolate milk and fresh squeezed orange juice. The coffee is served black or au lait. Au Lait means it is mixed half and half, half coffee and half hot milk. Beignets are square, French-style doughnuts lavishly covered with powdered sugar. In 1988, iced coffee was introduced to the Cafe'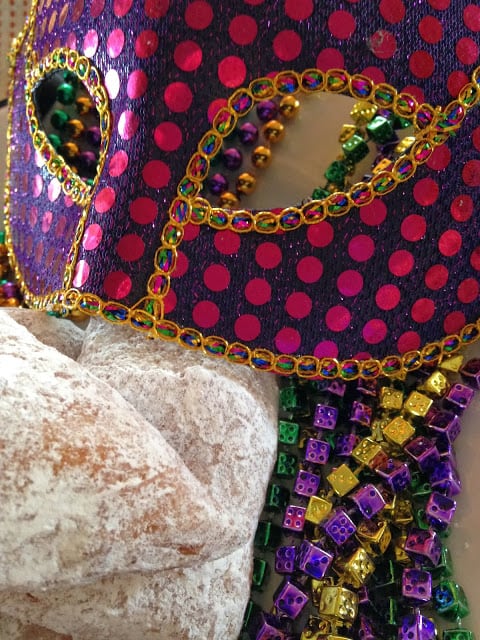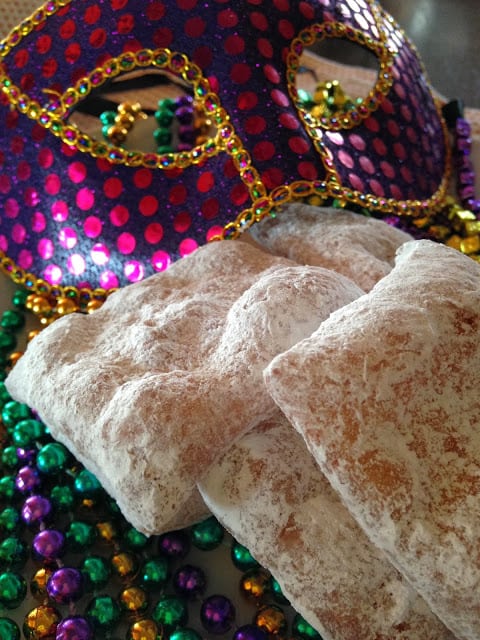 References from: Mardi Gras  Cafe' Du Monde
Health Note: Barley is loaded with fiber, the soluble kind that helps to lower blood cholesterol. If you're trying to add more fiber to your diet start slowly so your body can get used to it.
Sourdough Monkey Bread  and Sourdough Naked King Cake are just two sourdough recipes we have here on T2T.