Snickerdoodle Cookies
We may earn money or products from the companies mentioned in this post.
Snickerdoodle Cookies
An old time, classic cookie. Snickerdoodle Cookies are a cookie like no other cookie. Crisp on the outside, tender and chewy on the inside. Forming the dough into balls first then rolling them into a mixture of cinnamon-sugar gives the cookies their classic taste and appearance we have all grown to love. Snickerdoodles, Cowboy, Peanut butter  and Chocolate Chip cookies are four of my favorite childhood favorite cookies. You just can't go wrong with the classics.
Snickerdoodle
Snickerdoodle [SNIHK-uhr-doo-dl] Originating in 19th-century New England, this whimsically named cookie has a characteristically crackly surface and can be either crisp or soft. The dough sometimes contains nutmeg and cinnamon as well as raisins and nuts. Traditionally, snickerdoodles are sprinkled with cinnamon-sugar before being baked. The name appears to have no particular meaning or purpose…other than fun. Snickerdoodles cookies have a fun name but they're also delicious. Crisp on the outside, yet soft on the inside.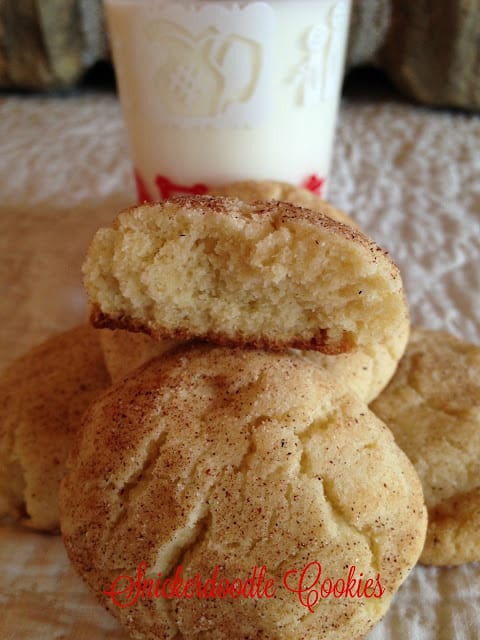 Cinnamon-Sugar
Part of the appeal of  Snickerdoodle Cookies is the cinnamon-sugar mixture that they are rolled in before baking. Certain recipes call for sprinkling the cookies with the cinnamon-sugar mixture before baking and other say to roll the cookie dough balls in the mixture. I like to roll them in the cinnamon-sugar mixture and completely cover them. To me that's one of the best parts of a Snickerdoodle Cookie.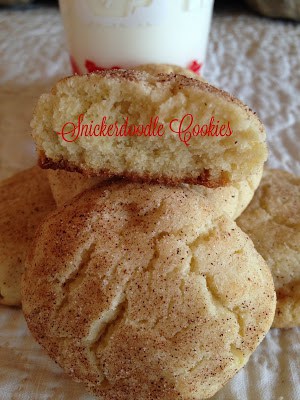 Ingredients
1 1/2 cups




sugar

1/2 cup




butter, softened

1/2 cup




shortening

2




eggs

1/2 teaspoon




vanilla extract

2 3/4 cups




flour

2 teaspoons




cream of tartar

1 teaspoon




baking soda

1/4 teaspoon




salt

1/4 cup




sugar

2 teaspoons




ground cinnamon
Cooking Directions
Heat oven to 400º
In a large bowl, cream together 1 1/2 cups sugar, butter, shortening, eggs and vanilla.
In a medium bowl, mix together flour, cream of tartar, baking soda and salt. Add flour mixture to creamed mixture. Shape dough into 1 1/4-inch balls.
Mix together 1/4 cup sugar and the cinnamon. Roll balls in cinnamon-sugar mixture. Place balls 2-inches apart on ungreased baking sheet.
Bake 8 to 10 minutes or until cookies are set. Remove cookies from baking sheet to wire rack.
Recipes On Tap
Welsh Tea Cookies are very similar to Snickerdoodle cookies except they contain dried/candied fruit.