Smoky Sun Dried Tomato Scones
We may earn money or products from the companies mentioned in this post.
Smoky Sun Dried Tomato Scones
Smoky Sun Dried Tomato Scones are made with Smoked Icelandic Sea Salt, Smoked Gouda Cheese, Sun Dried Tomatoes and Fresh Snipped Chives. A tasty mix of flavors that makes these scones irresistible. Nordur  Smoked Icelandic Sea Salt gives smokey sun-dried tomato scones that extra smokiness.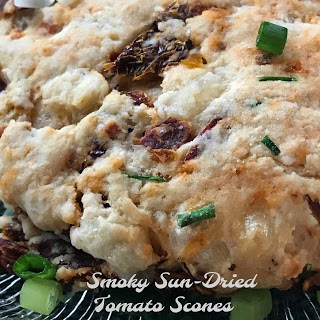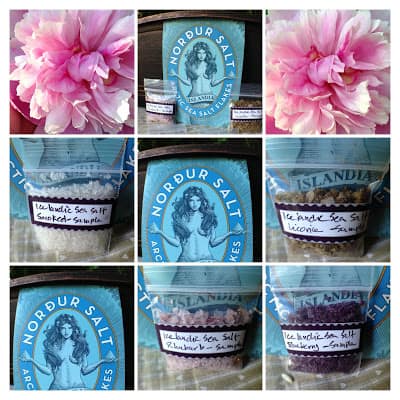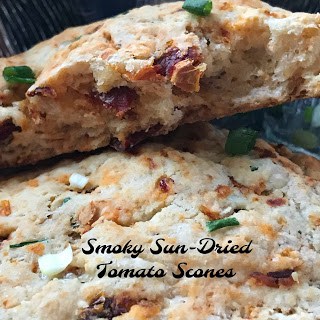 Scone Fan
If you're a fan of scones like we are, you will love these scones. Made with sun dried tomatoes, smoked sea salt and smoky Gouda cheese. Doesn't get much better than that! We like to serve smoky sun dried tomato scones with soup or stew but they are super served alongside any meal. Make a scone sandwich by cutting your scone in half and filling it with your favorite sliced meat or cheese. My hubby loves smoky sun dried tomato scones with his weekend eggs:)
Gouda Cheese 
Have lived in America's Dairyland all of my long life, it would be fair to say the I know a thing or two about good cheese. Not a day goes by that I don't eat some form of cheese. It's nothing for me to walk into the kitchen, open up the refrigerator, take out a block of cheese, slice off a chunk and eat it. I can drive south down on Hwy. 32 a few miles and stop at G G's Cheese Mart.
If you want to try an award-winning Gouda cheese, than you have to got to try Marieke Gouda. A Farmstead Gouda Cheese that is handcrafted with passion. Marieke Gouda is Holland's Family Cheese located in Thorp, Wisconsin. It's simply the best Gouda, ever. I try to purchase cheese at any of the many cheese factories dotted throughout Wisconsin. I'm so lucky to live in a state where fresh cheese is made practically in my own back yard.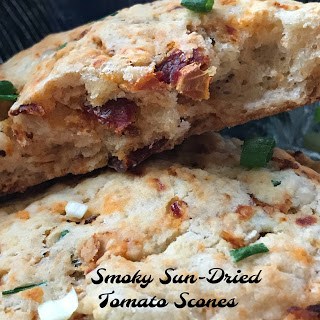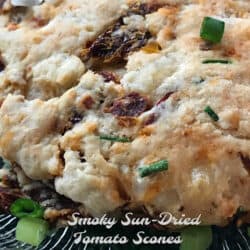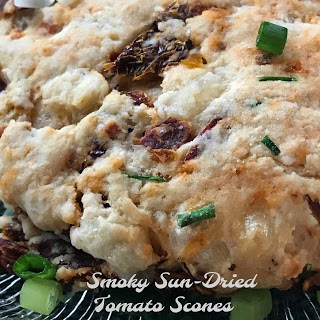 Smoky Sun-Dried Tomato Scones
Ingredients
2

cups

flour

1

tablespoon

baking powder

1/2

teaspoon

baking soda

1/4

teaspoon

smoked sea salt

2

tablespoons

sugar

1/4

cup

cold cubed butter

3/4

cup

plain Greek yogurt

1/2

cup

sun-dried tomatoes in oil, chopped

1/4

cup

fresh chives, snipped

1

cup

shredded smokey Gouda cheese
Instructions
Preheat oven to 425º

together chopped fresh chives and sun-dried tomatoes. Set aside.

Combine flour, baking powder, baking soda, salt and sugar.

Add cold cubed butter. Cut in with a pastry blender until size of small peas.

Fold in tomatoes, chives and cheese until they are distributed evenly.

Add yogurt, mix only until dough comes together but is not overly moist.

Do Not Over Mix Dough

Turn dough out onto a floured surface. Knead by hand 5 times. Pat out dough to 5/8" thick. Use a round biscuit cutter to cut out dough.

Place dough on a lightly greased baking sheet or baking mat.

Combine scraps and cut out more until all the dough has been used.

Place in the oven, reduce heat to 400º and bake for 15 to 18 minutes or until golden brown.

Cool on a wire rack for a few minutes then serve.
Here is another recipe featuring sun-dried tomatoes. Chicken Thighs in a Sun-Dried Tomato Sauce