Smoked Salmon Stuffed Mushrooms
We may earn money or products from the companies mentioned in this post.
Smoked Salmon Stuffed Mushrooms
If you're heading out Sunday to watch the Super Bowl or if you're just going to stay home and watch the game, why not make something easy! Smoked Salmon Stuffed Mushrooms are not only easy to make and super delicious, everyone loves them. Between my hubby and I, we can wipe out two dozen easily. Another advantage when making this recipe, you can make as many as you want too! Double the Recipe, and Double the Fun!
[easy-image-collage id=29587]
Boursin Cheese
Created In 1957 by Frenchman Frank Boursin, this triple-cream cheese is made with pasteurized cow's milk. Boursin Garlic & Fine Herbs has a smooth, creamy texture and a base flavor that is mild and delicate. There are several styles to choose from; garlic and herbs, black pepper, shallots and chives, and one with figs, raisins and nuts. In a nutshell, Boursin Cheese is simply delicious! Smooth, creamy and far superior to cream cheese.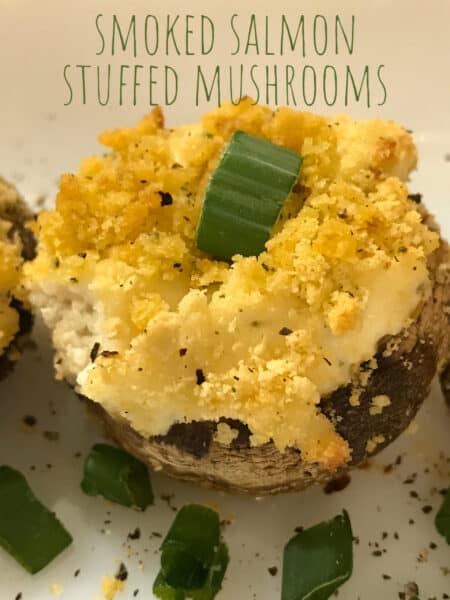 Mushrooms
For this recipe you can use either white button mushrooms or cremini mushrooms, which are really just baby portobello mushrooms. Before use, mushrooms should be wiped with a damp cloth or damp paper towel. Mushrooms should never be soaked in water or any liquid. They act like little sponges and absorb water. A lot of water! Therefore, this will cause the mushrooms to become extremely mushy. Nobody likes mushy, now do we.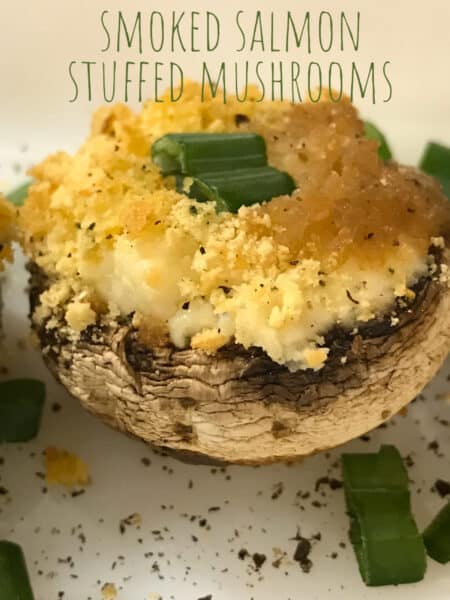 Smoked Salmon
Smoked Salmon is salmon that has undergone a smoking process, usually by by one of two methods. Hot-smoking or Cold-smoking. (sounds like something we did in the 70's.) Hot-smoking is a process by which the fish is smoked from 6 to 12 hours at temperatures ranging from 120 to 150 degrees. The time and temperature depends on the size of the fish, how close it is to the source of smoke and the degree of flavor desired.
Cold-smoking
In cold-smoking, a temperature of 70 to 90 degrees is maintained and the fish might remain in the smokehouse anywhere from 1 to 3 weeks. Probably the best known cold-smoked salmon is the European kippered salmon. It's a whole salmon that has been split, brined and cold-smoked. Another name for this type of brine-cured, cold-smoked salmon is Lox. Nova Scotia and Danish salmon are also cold-smoked.
Ritz Crackers
Ritz crackers are great, aren't they! I mean I love them. They're super with cheese spread, sliced cheese, and summer sausage. The holidays wouldn't be same without some kind of buttery crackers. Ritz crackers are great in all kinds of recipes too. Meatballs, meatloaf, dipped in chocolate… and my favorite way to use Ritz crackers, as a topping. Nothing compares to crushed Ritz crackers sprinkled on top of  vegetables, doted with butter and then baked. Super yummy!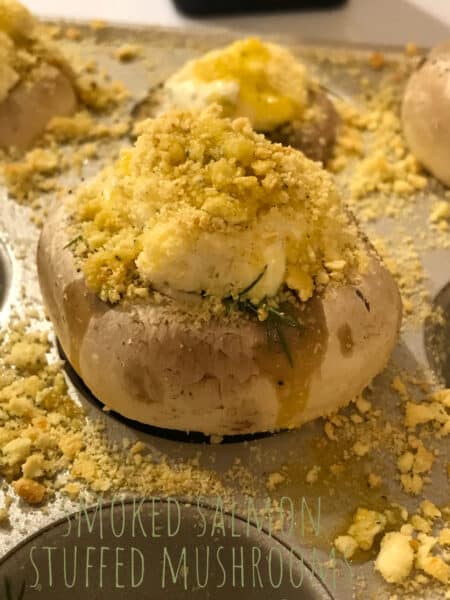 Fresh Dill
Fresh dill adds just the right amount of freshness to these super tasty stuffed mushrooms. Thankfully fresh herbs are now available year' round in the produce section of most grocery stores. It's so nice to add that little extra spark of freshness to a recipe, especially when you live in cold state like Wisconsin.  In the month of January, a little bit of fresh dill goes a long way. A good source for fresh herbs is Herbs From the Heartland
[easy-image-collage id=29599]
Recent Recipe: Old Fashioned Peach Crumble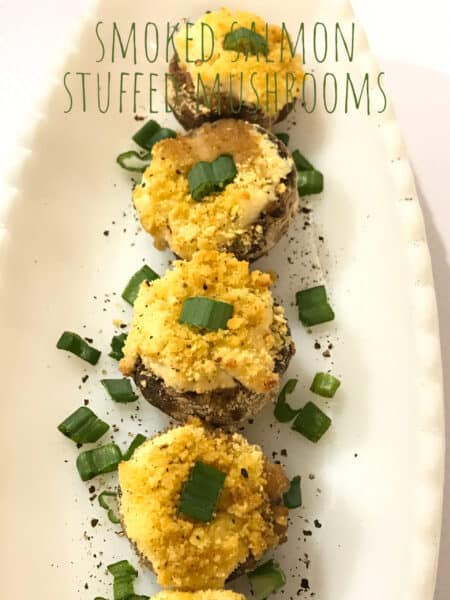 RECIPE TIP: To stuff fresh mushrooms easily and to make baking stuffed mushrooms easily, dig out that mini muffin tin/pan that is hiding in the back of the cabinet. (usually stored in that tiny cupboard above the refrigerator:) Mini muffin pans are the perfect receptacle for stuffed mushroom caps. No need to walk carefully to the oven, hoping that your baking sheet of stuffed mushrooms, don't go tumbling down to the floor. Most mini muffin pans have 24 openings. If you have two pans like I do, that's 50 stuffed mushrooms!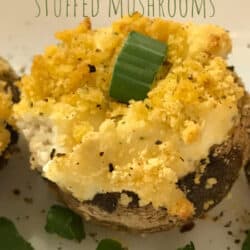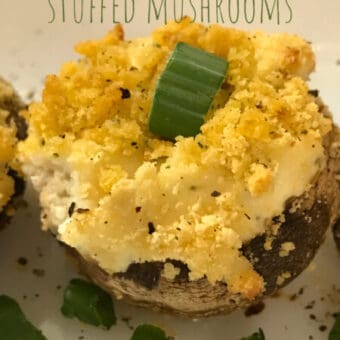 Smoked Salmon Stuffed Mushrooms
The perfect appetizer. Great to serve for Super Bowl Sunday!
Ingredients
2

16-oz containers

fresh mushrooms

1

package

Smoked Salmon, lox-style

sprigs of

fresh dill

1

small. container

Boursin Cheese

1

sleeve

Ritz crackers, crushed

olive oil

black pepper
Instructions
Preheat oven to 350° Remove stems from mushrooms; set aside for another use. Wipe mushroom caps off with a damp paper towel. Place mushrooms in mini muffin pan, cap side up.

Cut smoked salmon slices into thin strips. Fill mushroom caps with salmon strips. Top salmon with a small sprig of fresh dill.

Mound Boursin cheese on top of mushroom caps. Sprinkle crushed Ritz crackers on top of cheese. Drizzle a small amount of olive oil on each mushroom. Season with black pepper.

Bake in 350° oven for 45 minutes or until mushrooms are tender, cheese is soft and topping is golden.
For more stuffed mushroom recipes, give these a try; Bacon Stuffed Mushrooms and Rustic Tuscan Stuffed Tomatoes or Mushrooms. Or if you'd rather bring something a little more 'fancy', give this recipe a try; Blue Cheese and Mushroom Gougere