Smashed Cauliflower
We may earn money or products from the companies mentioned in this post.
Smashed Cauliflower
Smashed Cauliflower is simply delicious! Now that fresh cauliflower is in season here in WI, I couldn't wait to make this recipe over and over again.
Fresh is so much better than store-bought cauliflower but in a pinch, store bought will do just fine. I've used both fresh and store-bought cauliflower and it turned out fantastic both times. For this recipe  I used a super large head of cauliflower. I wanted a creamy yet slightly chunky, texture to the smashed cauliflower. That is why I only used 2 tablespoons of evaporated milk in this recipe but you can adjust this recipe however you and family tastes. Parmesan cheese or shredded cheese of your choice can also be added.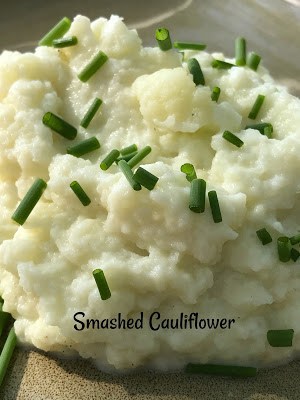 Cauliflower Is Smashing
In this recipe the cauliflower is steamed along with the garlic. All the ingredients are then blended together. Using an immersion blender works perfect for this recipe. My hand-held mixer has an immersion attachment feature, which I absolutely love. You can purchase a hand-held immersion blender, (a boat-motor, as Emeril calls them) anywhere and they are fairly inexpensive. In fact, I picked one up at a thrift store for $2.00. If you like to go thrift shopping, keep your eyes peeled. You will definitely find an immersion blender at a very reasonable price.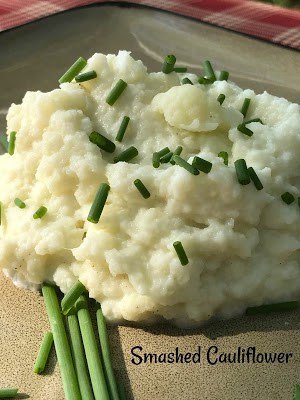 Substitute for Mashed Potatoes
Smashed Cauliflower is a great substitute for mashed potatoes, perfect if your on a low-carb diet or it you want to incorporate more vegetables into your diet. I have made smashed cauliflower so often that my hubby and I prefer it over mashed potatoes.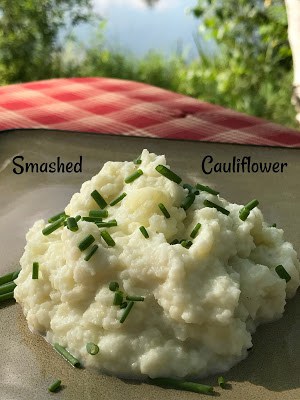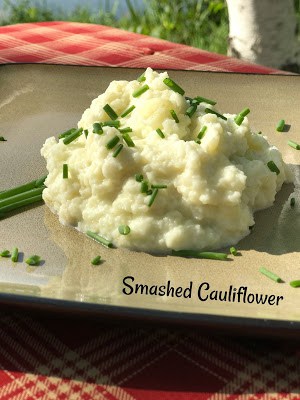 Make It Your Own
This recipe for smashed cauliflower is so forgiving. Meaning you can do just about anything to it and it will still taste good. You can top smashed cauliflower with any shredded cheese of your choice. You can replace the sour cream with softened cream cheese, add calories or subtract calories. The choice is up to you.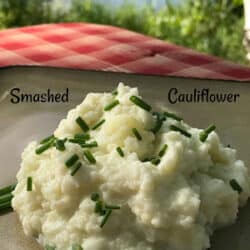 Smashed Cauliflower
Smashed Cauliflower is a great and healthy alternative to mashed potatoes.
Ingredients
1

 head of cauliflower

2

cloves

garlic, crushed

2 to 4

tablespoons

evaporated milk

2

tablespoons

sour cream, light

1

teaspoon

butter

1/4

teaspoon

salt

1/8

teaspoon

ground white pepper

2 to 4

tablespoons

sniped fresh chives, optional
Instructions
Place cauliflower and garlic in a steamer basket over boiling water, cover and steam until very tender, 15 to 20 minutes.

Place the steamed cauliflower and garlic into a large bowl, separate steamed cauliflower into florets. Discard center core. To the steamed cauliflower and garlic; add evaporated milk, sour cream, butter, salt and pepper. Using an immersion blender, pulse several times, then process until smooth and creamy. Transfer cauliflower mixture to a serving bowl, garnish with snipped chives. Serve hot.
Recent Recipe: Smashed Cauliflower