Slow Cooker White Beans with Smoked Ham Hocks
We may earn money or products from the companies mentioned in this post.
houSlow Cooker White Beans with Smoked Ham Hocks
This is inexpensive eating at it's best! Not only is Slow Cooker White Beans with Smoked Ham Hocks economical, this meal is hearty and satisfying. A great meal option when you want a big bowl of comfort. Once a year we order half a pig from some friends of ours that raise them. They always throw in extra smoked ham hocks and I use them to make soup and baked beans. This time I wanted to make something different.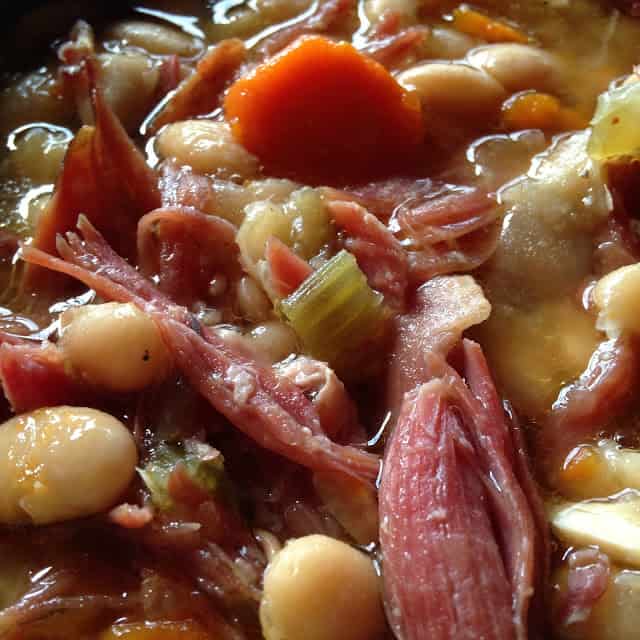 What are Ham Hocks Anyway???
Ham Hock is the lower hind leg of a hog. It's usually cured, smoked or both. It's used to add a smokey and salty flavor to soups and stews. Ham hocks consist of a lot of skin, tendons and ligaments so they require long hours of cooking through stewing or braising. They can be cooked with greens or other vegetables, made into soups, stews and to add flavor to sauces. Ham Hocks add distinctive flavor to any dish and are available year 'round
After cooking and once you remove the skin and fat, ham hocks actually contain more meat than you might realize. For this reason ham hocks not only add flavor but are very economical to use. In the US, ham hocks are used extensively in Soul cooking and the Pennsylvania Dutch use ham hocks to make scrapple. Ham hocks are used in many different countries as well; Golonka~ Polish, Eisbein~ German, Stelze~ Austria, Schweinshaxe~ Bavaria, Fläsklägg med rotmos~ Sweden, Wädli~Swirtzerland, just to name a few.
Cooks All Day
This dish is made in the slow cooker so you can head out the door in the morning and when you get home, supper will be waiting for you. I like to serve Slow Cooker White Beans with Smoked Ham Hocks with thick slices of buttered sourdough bread. This recipe is a winner. It's delicious, smokey, with big chunks of ham, vegetables and tender beans.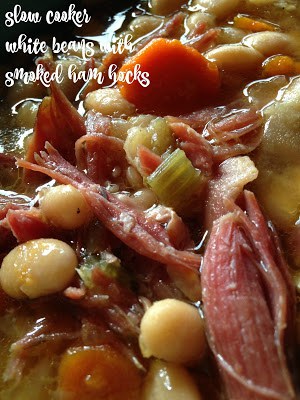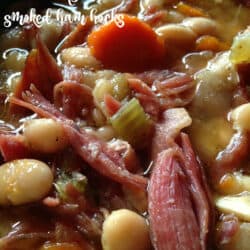 Slow Cooker White Beans and Smoked Ham Hocks
Comfort food at it's best!
Ingredients
2

tablespoons

olive oil

2

medium

onions, diced

2

large

carrots, sliced

3-4

stalks

celery, sliced

4

cloves

garlic, minced

1

teaspoon

dried thyme leaves

2

tablespoons

dried parsley flakes

1

teaspoon

salt

1/2

teaspoon

pepper

2

large

meaty smoked ham hocks

1

pound

dried great northern beans, soaked overnight

6 1/2

cups

chicken stock or water
Instructions
In a large skillet over medium high heat, add olive oil, onion, carrots, celery, garlic, thyme, parsley, salt and pepper. Cook, stirring frequently for about 10 minutes.

Place the vegetables, ham hocks, beans and chicken stock or water in a 6-quart slow cooker. Cook on low for 8 hours. About one hour before the cooking time is completed, remove the ham hocks from the slow cooker and let them cool until they can be handled. Remove and discard the bones, fat and skin from the ham hocks. Chop or shred the meat and return it to the slow cooker, cook until the beans are completely tender.
Great Northern Beans we used for this recipe are from Camellia Brand Beans. Another fantastic recipe to make for a stick-to-your-ribs meal is BBQ Bacon Wrapped Onion Bombs