Slow Cooker Tamale Pie
We may earn money or products from the companies mentioned in this post.
Slow Cooker Tamale Pie
Personally, I have never eaten a tamale. Nope, never. Hard to believe isn't it. That being said, tamales aren't something you see often on the menu here in Northern Wisconsin. Thankfully  that has changed somewhat over the years. I mean, who doesn't love good Authentic Mexican food?!? Now I know that this recipe is a far cry from real, authentic tamales but until I receive my order from Fat Mama's Tamales Slow Cooker Tamale Pie will have to do and do it does nicely.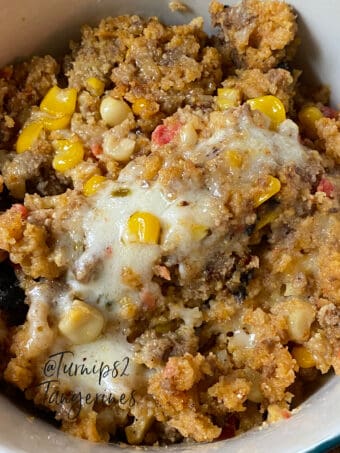 Tamales and Christmas
I have always been curious about the connection between tamales and Christmas. Every year, for the last few years, I've gone through this dilemma. So much so that I contacted my niece who has lived in Texas her whole life if she knew anything about this tradition….she did not. Hmmm, I asked my sister-in-law, who's hubby was born and raised in Texas. She said that tamales are eaten throughout the year and undoubtedly the best tamales are made at home by families.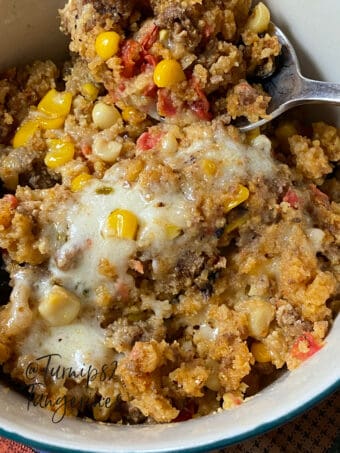 What is a Tamale?
Tamales are a traditional Mexican dish made with a corn based dough mixture that is filled with various meats or beans and cheese.  Tamales are wrapped and cooked in corn husks or banana leaves, neither of which are eaten. Making homemade authentic tamales is definitely time consuming. One thing tamales are not, and that's simple to make.
Any one who makes tamales will tell you that making the perfect tamale is a labor of love. From washing and soaking the husks, to perfecting the even spread of masa dough, to rolling up a secure wrap, to achieving the balanced seasoning of meats and beans. Making tamales is a process that takes days.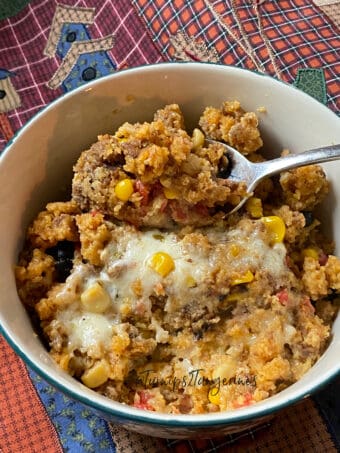 The More, The Merrier
In fact, many families throw a tamale-making party to make use of as many extra hands as possible. Making tamales in large assembly line fashion, makes preparation more efficient. Many families stay up all through the night on Christmas Eve to prepare the Christmas Day feast and tamales are included. Tamales have a special place in the colorful Mexican cuisine and culture.
In Mexico, the Southwest and for many Mexican-American families, Christmas time means tamale making time. Tamales are eaten all year, but during the holiday season which for Mexicans extends from the Feast of Our Lady of Guadalupe on Dec. 12 through Three Kings' Day on Jan. 6. Tamales are a family tradition, using recipes and methods that have been passed down from generation to generation.

Steps for Making Tamales 
There are several steps that are necessary for making tamales. Once mastered, these steps become easier however, this can take years. That is why the tradition of tamale making is passed down through families. Follow the steps below to get started on making tamales.
1. Soak the corn husks: Place corn husks in a bowl of very hot water for 30 minutes or until softened.
2. Prepare the desired fillings: You'll need about 3 ½-4 cups of filling for one batch of tamale dough. Usually a variety of fillings are prepared.
3. Make the masa dough: In a large bowl, use an electric mixer to beat the lard and 2 tablespoons of broth until fluffy, about 3-5 minutes. Combine the masa flour, baking powder, salt, and cumin in a medium bowl; stir into the lard mixture and beat well with an electric mixer.
Add the broth, little by little to form a very soft dough. Beat on high speed for several minutes. The dough should spread like creamy peanut butter and be slightly sticky. Cover the mixing bowl with a damp paper towel, to keep the dough from drying out.
4. Assemble the tamales: Lay a corn husk, glossy side up, on the counter with the wide end at the top. Scoop about ¼ cup of dough onto the top, center of the corn husk. Lay a piece of plastic wrap over the dough and use your hands to press and spread the masa into a thin layer, about ¼ inch thick. Keep the dough spread along the top half of the corn husk to allow plenty of room to fold the bottom husk up, when it's time.
Place 1-2 tablespoons of desired filling in a line down the center of the dough. (You don't want too much filling).Fold-in one long side of the husk over the filling. Fold in the other long side, overlapping the first (like folding a brochure). Fold the bottom of the husk up. Optional: Tear a long strip from an edge of one of the soaked corn husks and use it to tie the tamale, to hold it together.
5. Tie the tamales: Tying the tamales can help you differentiate them if making more than one filling. However, you don't have to tie a corn husk string around them to secure them, as they will hold together without it, stacked upright, side-by-side in the pot.
6. Steamer: Bring water to a boil (in Mexico they would often place a coin at the bottom of the steamer and when the coin started to tap in the pot you know the water was boiling.) Once boiling, reduce to a simmer and steam for 45 minutes to 1 hour. Check them after 45 minutes. Place tamales standing upright, with the open end up, just tightly enough to keep them standing. If using a steamer, lay a few soaked corn husks or a wet towel over the top of the tamales before closing the lid.
Brief History
Even though it is common for Mexican food to be served with a variety of sauces and salsas but tamales are the exception. They are usually eaten plain and simple without any sauces. One of the first records of tamales dates back to the 1550s when the Spaniards were served the dish by the Aztecs who made them with beans, meat, and chiles.
Today, the fillings can be anything from beans to chicken, fish, pork, hard cooked eggs, pumpkin seeds or squash.Tamales rojo (red tamales) are filled with shredded meat such as beef or pork in a red chili sauce. Tamales verde (green tamales) have the same meat and a different sauce made from sour cream and green tomatillos.
Slow Cooker Tamale Pie is a great recipe to try. Check out these other Mexican Inspired Dishes.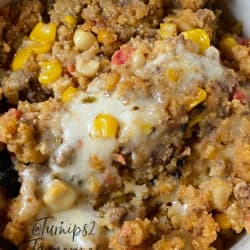 Slow Cooker Tamale Pie
Ingredients
1 ½

lbs

ground beef

I- 16 oz. box cornbread mix

,

Kodiak Cakes Homestead Style Cornbread Mix

2

eggs

⅔

cup

melted butter

1 ¾

cups

milk

1

can

,

15-¼ oz whole kernel corn, drained

1

can

,

14-½ oz diced tomatoes with green chilies, undrained

1

can

,

2-¼ oz sliced ripe olives, drained

1

envelope chili seasoning

1

teaspoon

seasoned salt

1

cup

shredded cheddar cheese
Instructions
In a skillet, cook beef over medium heat until no longer pink inside; drain. In a bowl combine cornbread mix and ingredients to make until smooth. Add corn, tomatoes, olives, chili seasoning, seasoned salt and ground beef. Transfer to a greased slow cooker. Cover and cook on high for 3 hours and 45 minutes. Sprinkle with cheese; cover and cook 15 minutes longer or until cheese is melted.
We hope you try this recipe for Slow Cooker Tamale. Check out our YouTube channel to watch all of our cooking videos!