Slow Cooker Lengua Tacos
We may earn money or products from the companies mentioned in this post.
Slow Cooker Lengua Tacos (Beef Tongue)
Don't let this cut of meat scare you away. You might be more than pleasantly surprised to find out how tender and tasty beef tongue can be. This relatively inexpensive cut of meat can be found at most Mexican markets or your local meat market. Once you get past the look of beef tongue, you'll soon discover the potential it has. The best way to prepare beef tongue is in the slow cooker. Slow cooking transform beef tongue into a very tender and flavorful cut of meat. Slow Cooker Lengua Tacos are super delicious!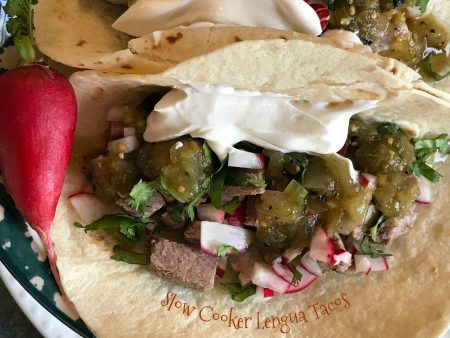 Each Year
Each year we purchase half a cow and/or pig. This year I asked the butcher to give us all of the offal meats. Offal meat, sometimes referred to as "variety" meat includes the meat most people past on. Oxtail, heart, soup bones, tripe, sweetbreads and of course beef tongue. Since I'm fortunate enough to have a hubby who will eat anything except green vegetables, trying out different variety meats is not a problem in my house.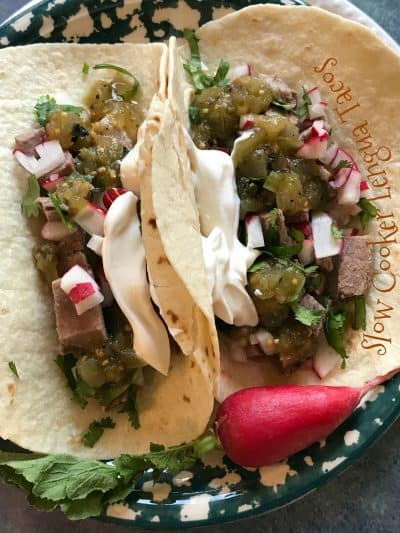 Rumba Meats
Recently Beth from Rumba Meats stopped by Turnips 2 Tangerines and shared an article on offal meats. Beth saw our blog post on oxtail stew and thought readers would be interested in a post on offal meats. It just so happened that when my hubby was on vacation the previous week, beef tongue was on the menu. At the time I had no idea how to prepare beef tongue, but after some research I learned the best way to prepare and serve beef tongue. Slow Cooking is THE way to go and Tacos are THE way to eat tongue.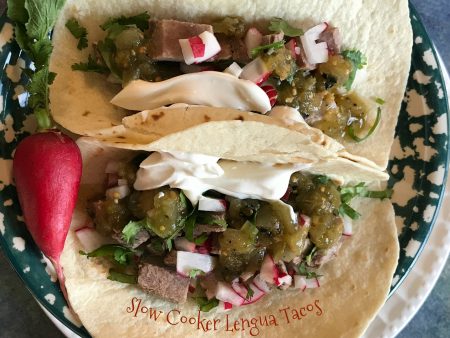 Long, Slow Cooking
Beef tongue or lengua tacos are very popular in Latin American, Cuban and Mexican cuisine. Another thing I discovered, beef tongue or lengua tacos are most often served for breakfast! Tongues of beef, veal, lamb and pork are nutritious and appetizing variety meats. They can be found fresh, pickled, smoked and corned. They can be prepared in a variety of ways and can be served hot and cold. All tongue is tough and requires long, slow cooking to make it tender.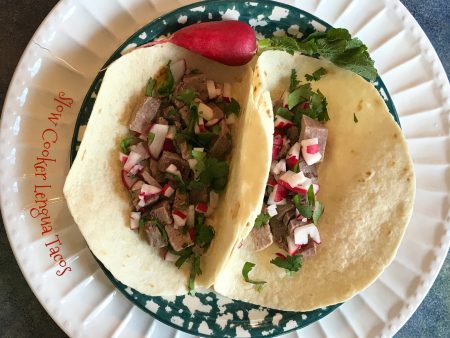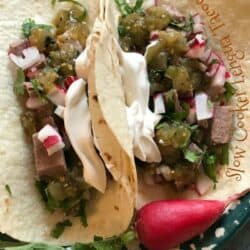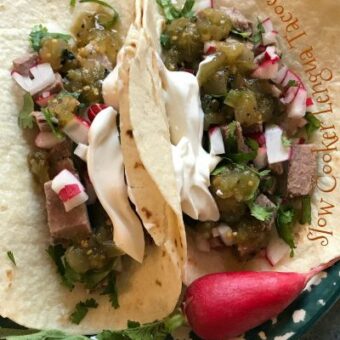 Slow Cooker Lengua Tacos
Tender, flavorful and delicious.
Ingredients
1

large

onion, chopped

4

cloves

garlic

2

bay leaf

salt and ground black pepper to taste

water to cover

1

tablespoon

butter

2

tablespoons

oil

large flour tortillas

chopped onion, diced radishes, cilantro, salsa verde and sour cream for serving
Instructions
Place beef tongue, onion, garlic, and bay leaf in a slow cooker; generously season with salt. and pepper.

Pour in enough water to cover beef mixture.

Cook on Low for 8 to 10 hours.

Transfer beef tongue to a work surface and cool slightly.

Peel outer layer of skin from beef tongue and remove rough end. Chop the meat into bite-size pieces.

Heat butter and oil in a skillet over medium heat; cook and stir beef tongue meat until lightly browned, 5 to 10 minutes. Season with more salt and pepper.

Serve beef tongue with flour tortillas, chopped onions, diced radishes, cilantro, salsa verde and sour cream
Try these tasty dishes too! Polish Kiszka or Blood Sausage, Slow Cooker Oxtail Stew, and read this article How to Prepare Offal Meats.