Slow Cooker Italian Mushrooms
We may earn money or products from the companies mentioned in this post.
Slow Cooker Italian Mushrooms
A few months ago I shared a recipe for Slow Cooker Ranch Mushrooms. This recipe is roughly the same except sliced onions are added to the slow cooker and dry Italian dressing mix is substituted for the dry ranch dressing mix. If you and your family love mushrooms as much as we do, you will definitely love this recipe for Slow Cooker Italian Mushrooms and also this recipe for 
Slow Cooker Ranch Mushrooms
.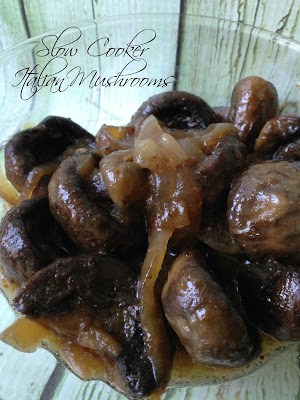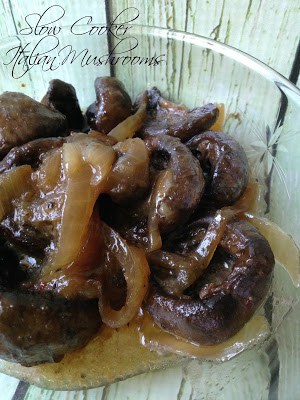 Side-dish
Slow Cooker Italian Mushrooms make an excellent side-dish. They go perfectly with grilled meat such as: grilled steak, chicken, chops and ribs. Left-over mushrooms, if there are any, can be chopped up and added to omelets, scrambled eggs or quiche. You can also eat them cold, straight from the refrigerator like I've been known to do from time to time. Most people don't think of mushrooms as a side-dish but one taste of these and you will definitely change your mind.
You can use cremini mushrooms, regular white button mushrooms or any mushroom you and family likes. One thing to keep in mind when cleaning fresh mushrooms. Do Not rinse in water. Mushrooms are like sponges and they'll absorb excess water. Simple take a damp paper towel and wipe the mushrooms off. You might need to use more than one damp paper towel, depending on how dirty the mushrooms are.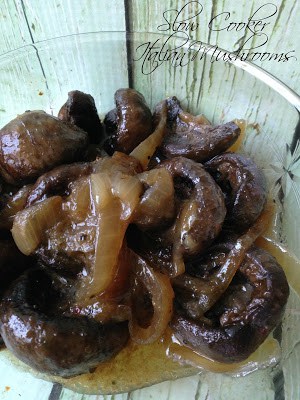 Cultivated Mushrooms
Early Greeks and Romans are thought to be among the first cultivators of mushrooms, using them in an assortment of dishes. Today there are literally thousands of varieties of this fresh fungus. Sizes and shapes vary tremendously and colors can range from white to black with a full gamut of colors in between. The cap's texture can be smooth, pitted, honeycombed or ruffled. Flavors range from bland to rich, nutty and earthy. The cultivated mushroom is what's commonly found in most grocery stores.
Wild Mushrooms
Exotic, wild mushrooms such as Cèpe, Chanterelle, Enoki, Morel, Puffball, Shitake, and Wood Ear. Because so many wild mushrooms are poisonous, it's vitally important to know which species are edible and which are not. Extreme caution should be taken when picking them yourself. Mushrooms are available canned, frozen or freeze-dried. Dried mushrooms are available either whole or in slices, bits or pieces.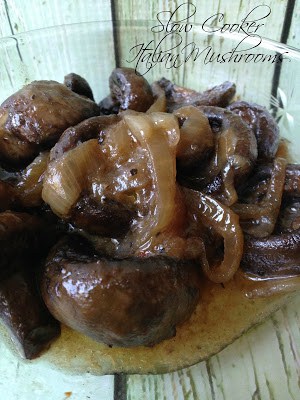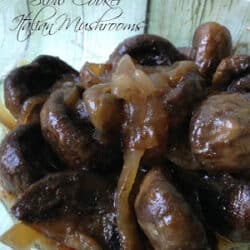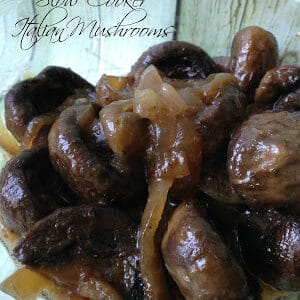 Slow Cooker Italian Mushrooms
Ingredients
1

pound

fresh mushrooms

1

large

onion, thinly sliced

1/2

cup

butter, melted

2

tablespoons

olive oil

1

envelope

Italian salad dressing mix (dry)
Instructions
Using a damp paper towel, wipe and clean mushrooms.

Remove stems and discard, if desired.

In a 3 quart slow cooker, layer mushrooms and sliced onions.

Combine butter, oil, and salad dressing mix; pour over mushrooms.

Cover and cook on low for 3 to 4 hours or until mushrooms are tender.
Nutrition
Serving:
1
g
,
Calories:
204
kcal
,
Carbohydrates:
5
g
,
Protein:
3
g
,
Fat:
20
g
,
Saturated Fat:
10
g
,
Cholesterol:
41
mg
,
Sodium:
175
mg
,
Potassium:
277
mg
,
Fiber:
1
g
,
Sugar:
3
g
,
Vitamin A:
473
IU
,
Vitamin C:
3
mg
,
Calcium:
13
mg
,
Iron:
1
mg
For this recipe we used Giorgio Fresh Mushrooms
Recent Recipe: Pinto Beans with Pork Neck Bones