Slim Italian Deviled Eggs
We may earn money or products from the companies mentioned in this post.
Slim Italian Deviled Eggs
If you're wondering what the heck your going to do with all of those colored hard-boiled eggs, as far as I can tell, you have one of two options. You can make egg salad or you can make deviled eggs. I'm going with the deviled eggs. Everyone in my family loves deviled eggs (except me) so it's never a problem getting rid of them. This year though I'm going with a slimmed down version of deviled eggs but I'm not going to tell anyone. (We'll see if they even notice the difference, hehe) Slim Italian deviled eggs are made with reduced-fat mayonnaise, the slim part and dried basil, oregano, parsley and Parmesan cheese is the Italian part.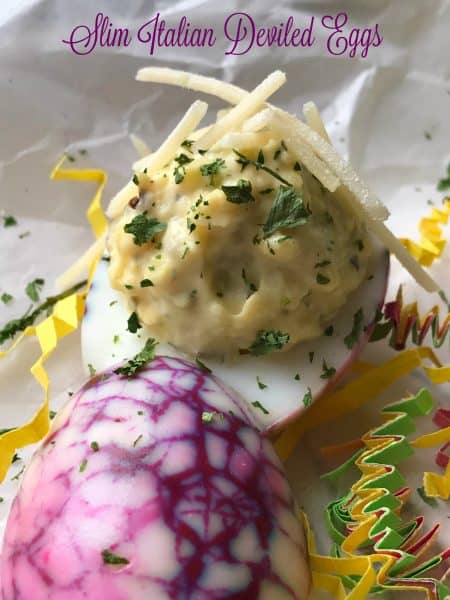 Coloring Eggs
I tried to think back and remember if we dyed eggs when I was a kid but try as I might, I can't. I don't ever remember coloring Easter eggs when I was growing up. Never. I wonder why? We did the Easter baskets with candy, the Easter outfits, and we went to Easter mass but I don't remember coloring eggs or Easter egg hunts. I'm not even sure if there were Easter egg hunts way back then. I think Easter was more of a religious day when I was growing up. Easter for me, was a sign that spring had officially started and warmer weather was here to stay.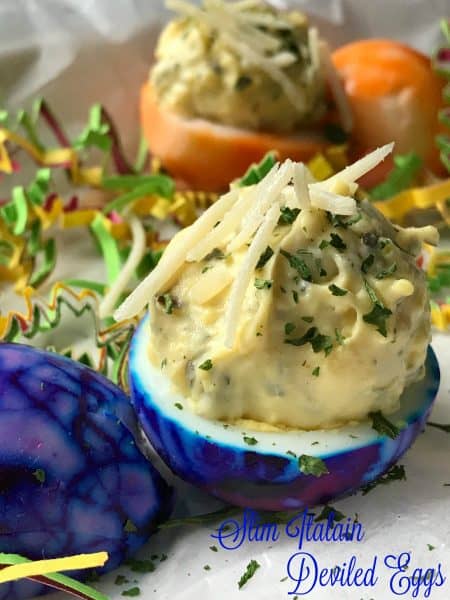 When My Kids Were Young
When my kids were young we colored eggs, let me rephrase that, my sister-in-law's Lynn and Theresa colored eggs with my kids. I have pictures of them coloring eggs at Lynn's house and Theresa's house but I don't remember being there. (I must have been working) Maybe because I didn't grow up coloring eggs, I never did it either or it could simply be because I'm not a big fan of hard-boiled eggs. Something tells me that that's probably the real reason why we didn't color eggs. We did the Easter baskets,  Easter egg hunts, went to see the Easter bunny and went to Easter mass. Easter dinner was Ham, Cheesy Potatoes,  Slow Cooker Broccoli , Strawberry Banana Jello Salad, and Chocolate Eclair Torte. Now I'm hungry:)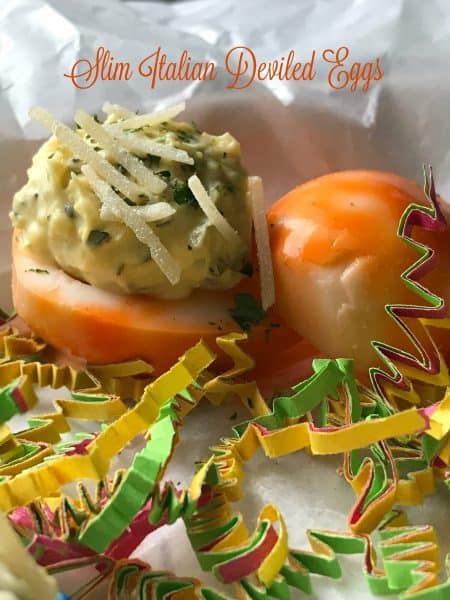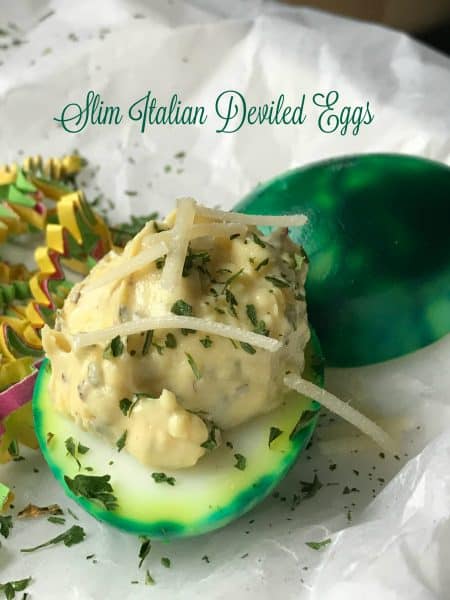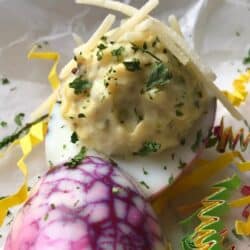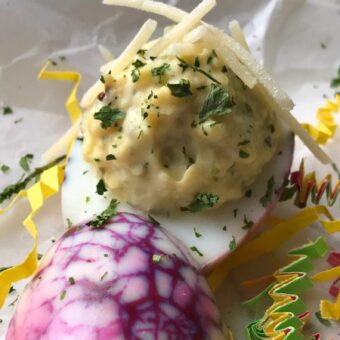 Slim Italian Deviled Eggs
Slim down version of the classic deviled eggs.
Ingredients
6

hard-cooked eggs

,

dyed eggs optional

4

tablespoons

reduced-fat mayonnaise

,

Kraft Reduced Fat Olive Oil Mayonnaise

1/4

teaspoon

dried basil

1/4

teaspoon

dried oregano

1/8

teaspoon

salt

1/8

teaspoon

pepper

shredded parmesan cheese, garnish

dried parsley, garnish
Instructions
Cut eggs in half lengthwise. Remove yolks; set aside egg whites. In a medium bowl, mash yolks. Stir in mayonnaise, basil, oregano, salt and pepper. Stuff or pipe into egg whites. Chill until serving. Garnish with parmesan cheese and dried parsley.
For this recipe we used Kraft Olive Oil Reduced-fat Mayonnaise
Impress your family and make traditional Easter bread this year. Easter Egg Bread. Recent Recipe: Memorial Day Picnic Favorites