Shrimp Salad Stuffed Avocado
We may earn money or products from the companies mentioned in this post.
Shrimp Salad Stuffed Avocado
I'm not sure why but it seems to me that everything taste a whole lot better when it's stuffed into an avocado. Shrimp Salad Stuffed Avocado is a real house favorite. Serve as an appetizer, light lunch, or late night dinner for two. All you'll need is a chilled of bottle Moscato and a beautiful sunset.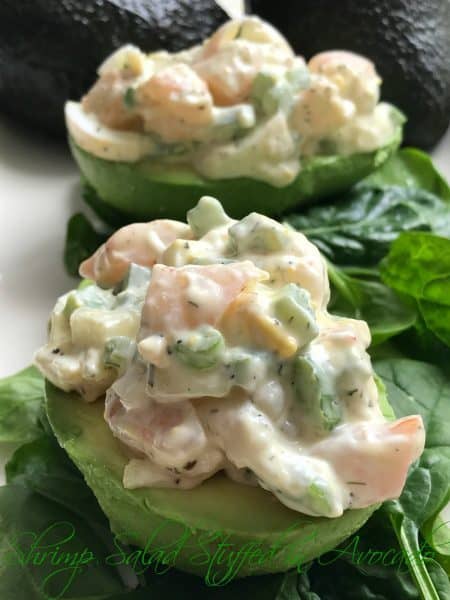 More About Avocado
Native to the tropics and subtropics, this rich fruit is known for its buttery texture and mild flavor. The fruit's name comes from abuacatl, the Nahuatl word for "testicle." It's assumed to be in reference to the avocado's shape. Florida was the site of the first US avocado trees in the 1830's. Now almost 80% of today's crop comes from California. The many varieties of today's avocado can range from round to pear-shaped.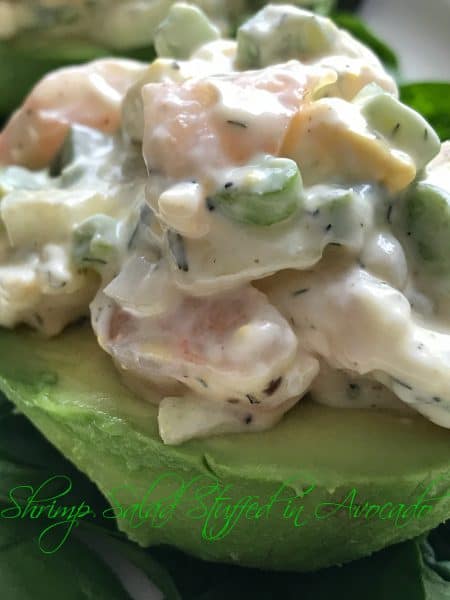 The skin can be thick to thin, green to purplish black and smooth to corrugated. The flesh is a pale yellow-green and subtle and soft. The two most widely marketed avocado varieties are the almost black Haas and the green Fuerte. Depending on the variety, an average avocado can weight as little as 3 ounces and as much as 4 pounds. There are even tiny Fuerte cocktail avocados that are the size of a green gherkin and weigh about 1 ounce.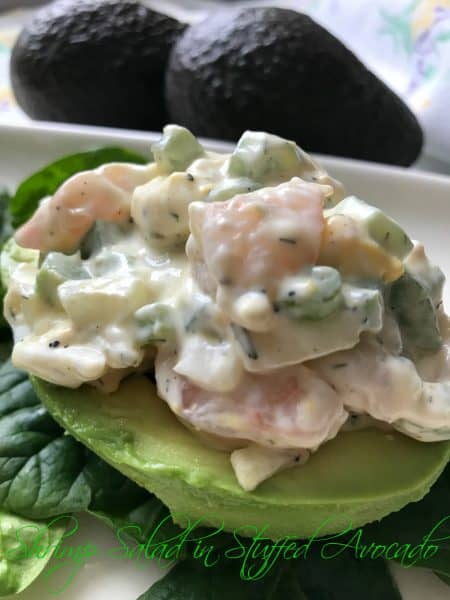 A Word About Shrimp
This delicious crustacean is America's favorite shellfish. Most of the shrimp in the US comes from bordering waters. Notably the Atlantic and Pacific Oceans and the Gulf Coast. There are hundreds of shrimp species. Most of which can be divided into two board classification, warm-water shrimp and cold-water shrimp. As a general rule, the colder the water, the smaller the shrimp and therefore more succulent.
Shrimp come in all colors including reddish to light brown, pink to bright red or from red to black when cooked. The general size categories of shrimp are as follows: colossal (10 or less per pound), jumbo (11-15), extra-large (16-20), large (21-30), medium (31-35), small (36-45) and miniature (about 100). In the US, jumbo and colossal shrimp are commonly called "prawns," though the prawn is, in fact, a different species.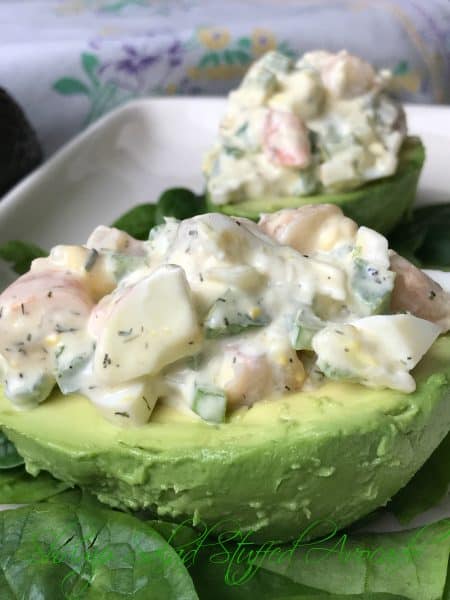 Shrimp Salad
Shrimp Salad Stuffed Avocados are super delicious. It's made with a blend of ingredients not always found in shrimp salad but the mix of ingredients work beautifully together. Making this a memorable shrimp salad. Shrimp salad is made with diced shallots or red onion, diced radishes, diced red bell pepper, celery and a diced hard-boiled egg. A simple dressing is made with olive oil mayonnaise, lime juice and dried dill weed. Yum!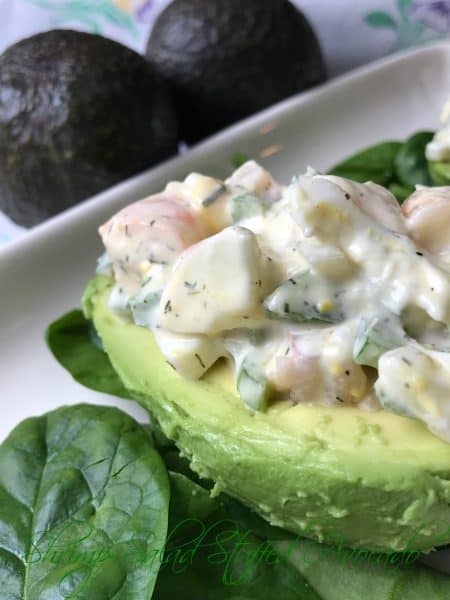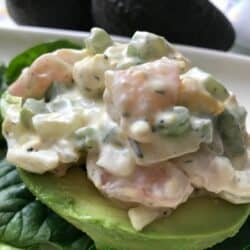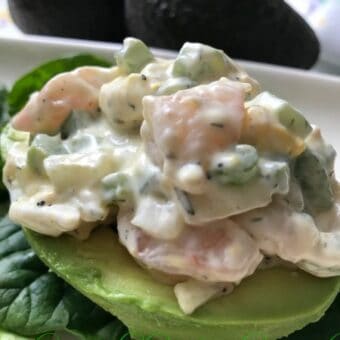 Shrimp Salad Stuffed Avocados
Delicious mix of flavors. For a spicier version, add 1 or 2 tablespoons diced jalapeno peppers.
Ingredients
2

firm ripe avocados

1/2

lb

medium sized cooked shrimp

2

tablespoons

diced shallot or red onion

2

tablespoons

diced radishes

2

tablespoons

diced red bell pepper

2

tablespoons

diced celery

1

hard-boiled egg, diced

2-4

tablespoons

olive oil mayonnaise

1

teaspoon

lime juice

1/2

teaspoon

dried dill weed

salt and pepper to taste

Chopped lettuce or Baby Spinach
Instructions
Cut the cooked shrimp into thirds.

Combine diced onions, radishes, bell pepper, celery, eggs, shrimp, lime juice, dill weed and mayonnaise in a bowl, mix well. Refrigerated one hour. Taste and season with salt and pepper.

Cut avocados in half, remove seed and peel carefully. Use a spoon to stuff avocados with shrimp salad filling.

Serve immediately on a bed of chopped lettuce or baby spinach.
Nutrition
Serving:
1
g
,
Calories:
257
kcal
,
Carbohydrates:
11
g
,
Protein:
15
g
,
Fat:
18
g
,
Saturated Fat:
3
g
,
Cholesterol:
185
mg
,
Sodium:
523
mg
,
Potassium:
602
mg
,
Fiber:
7
g
,
Sugar:
2
g
,
Vitamin A:
370
IU
,
Vitamin C:
20.2
mg
,
Calcium:
100
mg
,
Iron:
2.1
mg
Super Easy Shrimp Dip and Hot and Spicy Prawns will soon become a fast family favorite. Featured Recipe: No Bake Tropical Cereal Chews.