Shamrock Grasshopper Mint Pie
We may earn money or products from the companies mentioned in this post.
Shamrock Grasshopper Mint Pie
The combination of equal parts crème de menthe, crème de cacao, and cream is known as a Grasshopper. Visions of a vibrant green cocktail, which  hints at the cocktail's sweetness comes to mind. The Grasshopper's familiar flavors of minty goodness is made even better with the addition of an Oreo-crust, chopped oreo cookies, whipped cream and cream cheese. This concoction is called a Grasshopper or Shamrock pie.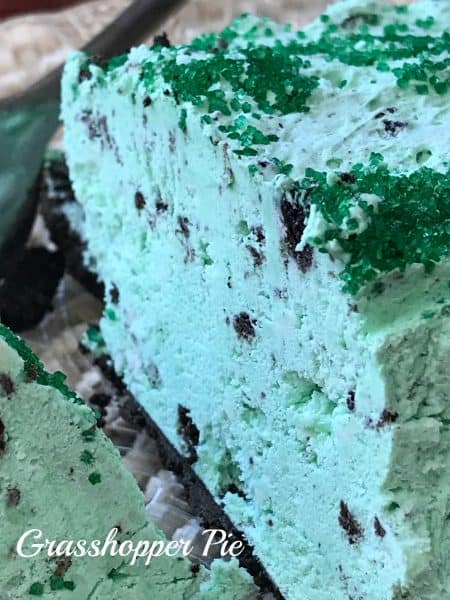 What is a Grasshopper?
Definition: Grasshopper, Grasshopper Pie; A cocktail made with cream, cream de menthe, and white crème de cacao. Because it's very sweet, a Grasshopper cocktail or slice of pie is usually served after dinner. Grasshopper Pie is flavored with crème de menthe and white crème de cacao, enriched by whipped cream and cream cheese. It typically has a graham cracker or cookie-crumb crust. That's the textbook definition of a Grasshopper or Grasshopper Pie but as the song goes, "Where I come from."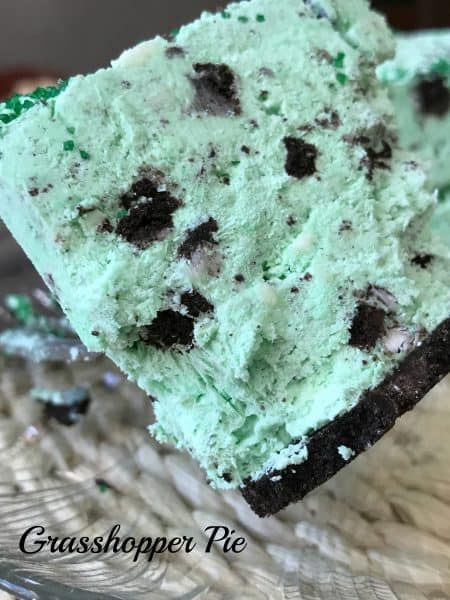 In My Neck of the Woods
In my neck of the woods, ask any cocktail aficionado about the Grasshopper and you'll get the version that has been popular here for decades. In Wisconsin we prefer the quintessential Grasshopper that is a blended ice cream drink, a glorified milkshake if you will, that substitutes ice cream for the regular cream used to make a classic Grasshopper.
Not Your Grandma's
Some people may regard ice cream cocktails as your Grandma's drink or an old ladies drink. They may feel that the Grasshopper and the like, are the ultimate guilty pleasure. A grown up milkshake that is slowly sipped after a delicious meal. Some feel that ice cream drinks are to be enjoy just because you want too, like other popular Wisconsin cocktails. Such as the Brandy Old Fashioned, Brandy Alexander, the Grasshopper, Golden Cadillac and/or the Pink Squirrel.
Pink Squirrel
The Pink Squirrel, a cousin of the Grasshopper, is a blend of crème de noyaux, crème de cacao and ice cream. The Pink Squirrel was invented at a cocktail bar in Milwaukee. The after-dinner ice cream cocktail is a cherished tradition here in Wisconsin. A true favorite among patrons of supper clubs all over the Dairy State.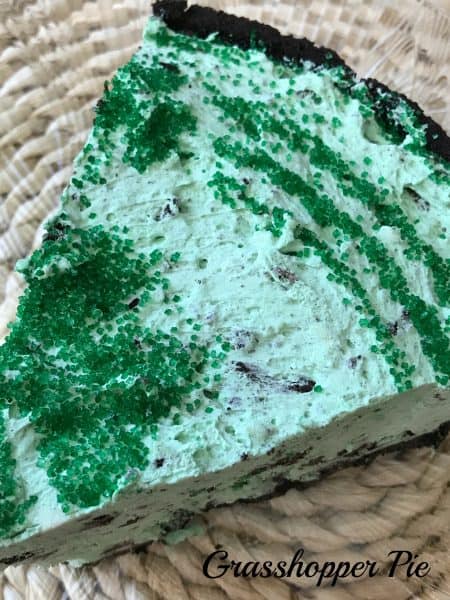 Jack's or Better Supper Club
When I was growing up, my Grandma Rose, Aggie's mom, would often take us to her favorite Supper Club called Jack's or Better located in Little Chute WI. Supper Clubs are a place you would go to for the night, meet up with friends for dinner or go out on Saturday for "date night." Back then, you didn't wear t-shirts, shorts or flip-flops to a Supper Club, oh no, never ever.
That attire was strictly reserved for the tavern or beach-style bars, after all you were going out to dinner not out drinking,,there is/was a difference. A Supper Club offered some sort of entertainment, usually a piano bar or a 3-piece band set up in the corner. Tables were covered in linen tablecloths and napkins were also linen. Candles would flicker on the table in the darken dinning room.  This was special.
Out to Dinner
We would go with my Grandma and Aggie when the Supper Club opened, usually around 4:00 in the afternoon. We were well out the door of the Supper Club before the night life started. Another thing, we had better behave or all hell would break loose on our way home. Now that I look back, it was a really good learning experience for us, we were being taught how to behave in public and to have good table manners. I felt so grown up.
I never remember having a kiddie cocktail, but Aggie would let us, (me, my brother and sister) share a Grasshopper or Pink Squirrel. Aggie always said, "It's not like they're going to get drunk or anything, it's ice cream for heaven's sake!" "It's not possible for a fish to get drunk on a grasshopper." Aggie had a way with words. We didn't know it at the time but our Grasshoppers were of the virgin kind. I ordered my first Classic Shrimp Cocktail at Jack's or Better and my first Grasshopper. Ahh, Supper Club Memories.
Good Food, Good Friends
What helps these establishments endure year after year? It's really quite simple, a Supper Club is part of the community. They are social places, meeting places, let's have a good time places. On Sunday morning you might see the same faces at church but a quick nod is all that is said. The next generation of Supper Club owner grows up and takes it over, thus continuing the Supper Club Family Legacy.
A Brandy Old Fashioned is a rite of passage to be enjoyed at your favorite Supper Club before dinner and a Grasshopper, Pink Squirrel, Brandy Alexander or Golden Cadillac is reserved as a rite of passage to be enjoyed after dinner. Supper Clubs all over the state of Wisconsin are known for their salad bars, steaks, prime rib, baked potatoes and dessert cocktails. With a line up like that, who needs fast food.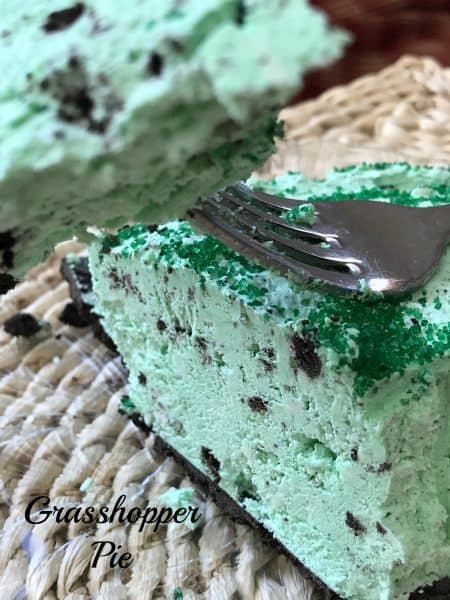 Ice Cream Sundae and the Blender
The town of Two Rivers, Wisconsin claims to be the birthplace of the ice cream sundae. The soda fountain proprietor Edward C. Berner was said to top a dish of ice cream with chocolate sauce back in 1881. The blender also originated in Wisconsin. Stephan Poplawski, whose family emigrated from Poland to Racine WI. invented the appliance in 1922. Both facts probably contributed to the popularity of blender drinks along with the fact that Wisconsin makes remarkably delicious ice cream.
Make someone smile today, make them a Grasshopper Mint Pie!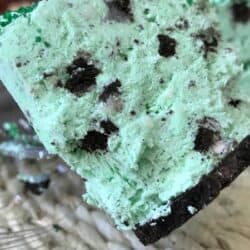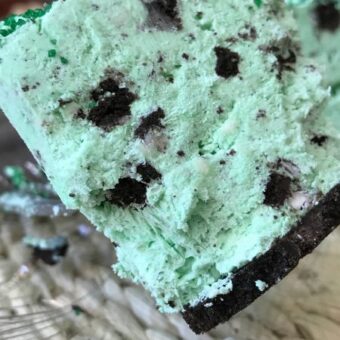 Shamrock or Grasshopper Mint Pie
A delicious frozen dessert pie that is cool, minty and refreshing. Perfect for St. Patrick's Day or any day!
Ingredients
1

(6 oz.)

(Oreo) cookie pie crust

1

(8 oz. package)

cream cheese, softened

,

1/3

cup

sugar or

1

(2.12 oz package)

Diplicious Candy Cane Delight Dessert

1/4

cup

hot water, if using Diplicious

4

drops

green food coloring

1/2

teaspoon

peppermint extract

1

(8 oz container)

whipped topping, thawed

1

(3 oz package)

Oreo mini sandwich cookies, coarsely crushed

reserve 6 mini cookies for garnish, optional

green sprinkles, optional

pie cake topper decoration, optional
Instructions
Beat cream cheese and sugar with electric mixer until well blended. Beat in green food coloring and peppermint extract. Slowly fold in whipped topping and mini cookies, crushed.

Spoon into chocolate crust. Freeze for 30 minutes. Remove pie from freeze, lay decorative cake topper on pie, sprinkle with green sprinkles, freeze for an additional 30 minutes. Remove pie from freezer and carefully remove cake topper.

Freeze overnight. Cut into slices, decorate with mini cookies and serve. Store in freezer.

Alternative directions if using Diplicious.

Candy Cane Delight Dessert: In a mixing bowl, dissolve the contents of package with 1/4 cup hot water. Add cream cheese and whisk until smooth. Whisk in green food coloring and peppermint extract. Slowly fold in whipped topping. Fold in coarsely crushed mini sandwich cookies. Spoon into chocolate crust. Freeze for 30 minutes. Remove pie from freezer, lay decorative cake topped on pie, sprinkle with green sprinkles, freeze for an additional 30 minutes. Remove pie from freezer and carefully remove cake topper.
Notes
Diplicious Seasoning Mixes can be purchased at Diplicious.
Please add my name, Lynn Huntley in the comments section when checking out so I will receive credit for the sale:) Thank-you in advance.