Scotcheroos
We may earn money or products from the companies mentioned in this post.
Scotcheroos
Scotcheroos are perfect for any occasion. Crispy, sticky, chewy, chocolaty, peanut buttery. All in one delicious bite. Scotcheroos are hands down one of my all-thyme favorite dessert bars but the sad part is, Scotcheroos never last long, at least not in my experience. That is why when I make scotcheroos, I always make two pans. Scotcheroos are sometimes known as Special K Bars (if you use special k cereal instead of rice krispie cereal)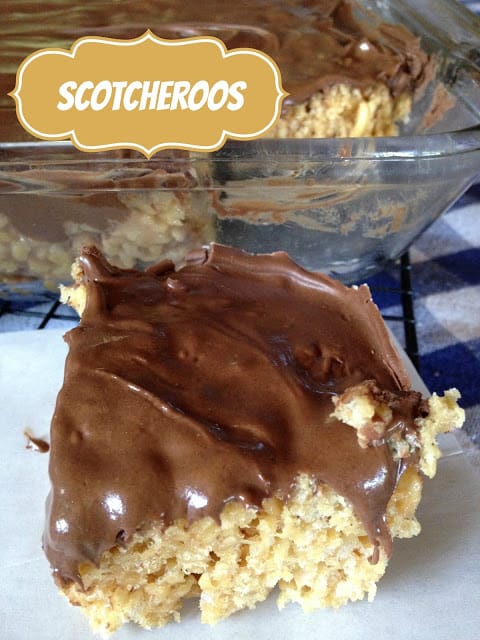 Butterscotch Chips
I believe that the secret ingredient to making scotcheroos so darn good are the butterscotch chips. Melting together chocolate chips and butterscotch chips and then topping off these already irresistible bars with the chocolaty butterscotchy concoction makes them perfect. Even if you think you don't like butterscotch chips, don't leave them out. The butterscotch chips add an extra layer of yum and creaminess. (just take a look at the photo above:)

Family Reunion
The first time I ever had a scotcheroo, ever heard of a scotcheroo, was at a family reunion. It was my then husbands family reunion that was held each and every year. (It's probably still going strong today) It was held every year at an aunt and uncles cottage on Bear Lake,  just outside of New London WI. My then husband and I only attended the family reunion twice, some 40 years ago. My then sister-in-law and brother-in-law, Lynn and Mike, attended the family reunion every year. I don't know for sure  but they still might attend the family reunion, even though some have pass on by now. Anyway, When I told Lynn that I had never had a scotcheroo before she was shocked. One bite and I was hooked. I'm pretty sure that between her and I we polished off a pan of scotcheroos.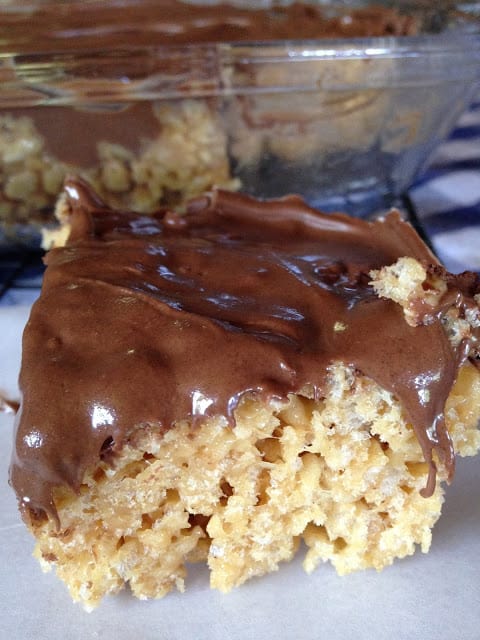 Ingredients
1 cup




white sugar

1 cup




light corn syrup

1 cup




peanut butter

6 cups




rice crispy or special k cereal

1 1/2 cups




milk chocolate chips

1 1/2 cups




butterscotch chips

butter for




baking dish
Cooking Directions
Butter 9 x 13 inch baking dish.
In a saucepan over medium heat, combine sugar and corn syrup. Bring to a rolling boil. Remove from heat, stir in peanut butter until smooth. Mix in the rice crispy cereal; stir until cereal is evenly coated. Press mixture into prepared pan.
In a glass microwave safe bowl, melt chocolate chips and butterscotch chips, stirring occasionally until smooth and well blended. Spread on top of bars.
Chill if desired.