Sausage Caramelized Onion Cheese Quiche
We may earn money or products from the companies mentioned in this post.
Sausage, Caramelized Onion Cheese Quiche
One of my favorite things about making a quiche, it's virtually impossible to mess them up. Combine your favorite ingredients with some beaten eggs and milk, pour the mixture into a pie crust and bake. In under an hour you'll be eating quiche. Sausage, caramelized onion and cheese quiche is not only fast and easy to prepare, it's delicious. Quiche can be served for brunch, lunch, dinner or even as a late-night snack.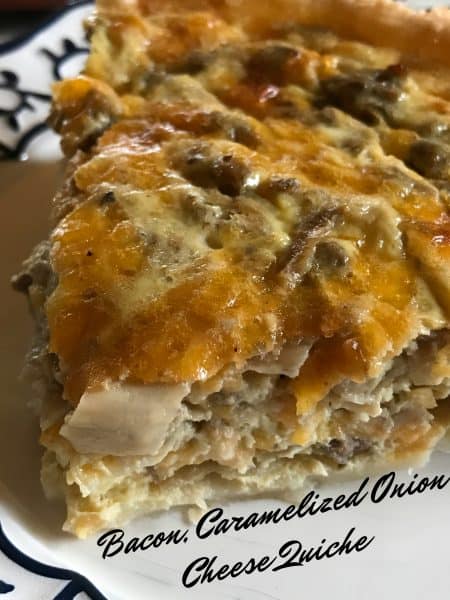 Convenient and Affordable
Quiche can be made with any number of ingredients. Almost any vegetable will work in a quiche, along with any type of meat and/or cheese. Quiche also is a great way to use up any left-overs you might have hanging out in your refrigerator. A few of our favorite left-over combinations are, Swiss cheese and wild rice or left-over taco meat, cheese, onions and black olives. Served with a side of taco sauce, delicious!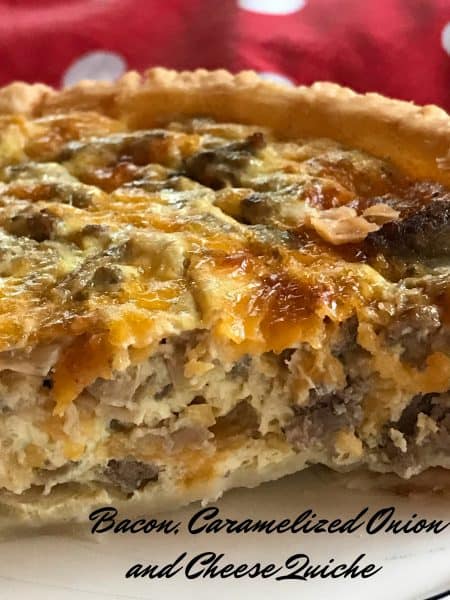 Turns Out Every Time
To make sure your quiche turns out every single time, make sure to saute your veggies first if they are raw. Vegetables contain a fair amount of water and they can make for a watery quiche, especially when using fresh mushrooms, so it's best to give them a quick stir in the skillet first. Same goes with meat, I like to brown and drain all meat before adding to the egg mixture. Be sure to cool both before adding to the egg mixture.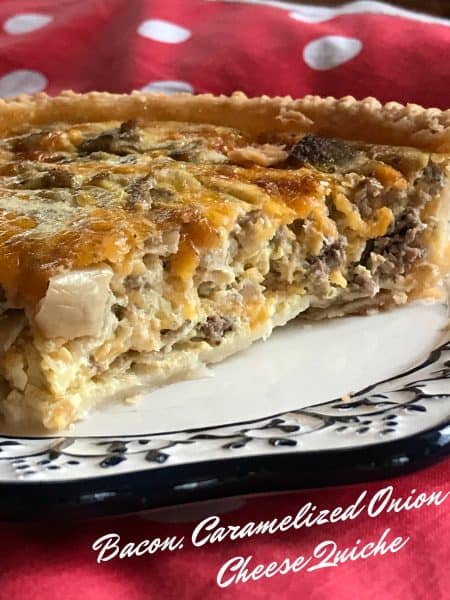 Make Your Own Crust or Pre-Made?
Quiche is usually made with a crust but there are recipes for crustless quiche. I've never made a crustless quiche, but I imagine they are just as delicious. Now, home-made crust vs pre-made crust…that is the question. In my humble culinary opinion, I don't think that the crust is all that important. I'm not eating a quiche for the crust, I'm eating a quiche for the filling. That being said, use your own judgement…make it the way you like.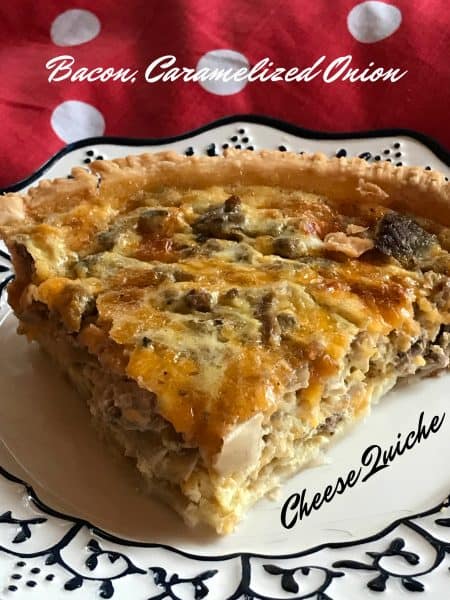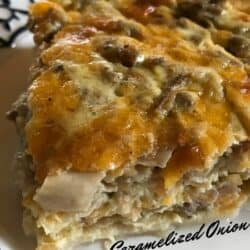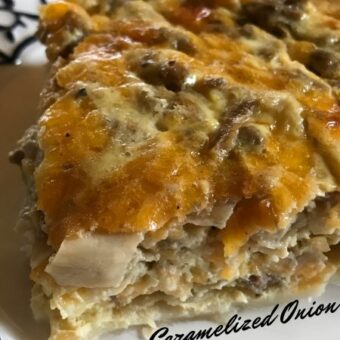 Bacon, Caramelized Onion and Cheddar Quiche
A fast, easy and affordable brunch, lunch or dinner.
Ingredients
2

tablespoons

butter

1

large

sweet onion, sliced

5

eggs, lightly beaten

1

cup

half-and-half

1/4

teaspoon

salt

1/4

teaspoon

black pepper

2

tablespoons

dried parsley flakes

1/2

lb

bulk sausage, browned and drained

2 1/4

cups

shredded cheddar cheese

1

deep dish frozen pie crust
Instructions
Preheat oven to 375 degrees.

Remove pie crust from freezer and set aside

Melt butter in a small nonstick skillet and cook onion until soft and light brown. About 10 minutes.

Let cool slightly.

In a large bowl, whisk together eggs, half-and-half, salt, pepper and dried parsley.

Stir in browned sausage and 2 cups cheese. Stir in browned onion.

Pour filling into pie crust, sprinkle top with remaining cheese, set on a baking sheet and place in oven for 40 to 45 minutes, or until set.

Serve warm or chilled.