Sauerkraut Casserole
We may earn money or products from the companies mentioned in this post.
Sauerkraut Casserole
I found this fantastic recipe on Cook Eat Share. A great place to find all kinds of delicious recipes. From regional to international recipes, Cook Eat Share is the place to find recipes. The name sauerkraut casserole my throw you off a bit but trust me, there is more to this recipe than just sauerkraut. Besides sauerkraut this recipe includes: ground beef, onions, tomato soup, egg noodles and Swiss cheese.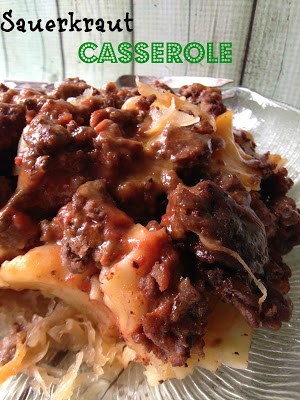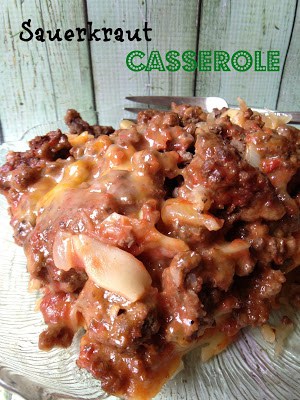 Get Stuffed
Sauerkraut Casserole is similar to the filling I use in my recipe for Stuffed Cabbage Rolls. The only real difference between the two is this recipe calls for egg noodles and the recipe for stuffed cabbage rolls calls for using rice. Of course, with this recipe you don't stuff anything with it…except yourself! I couldn't resist. You'll love how easy this casserole is to put together. Another thing, this dish reheats super, which is great for those busy weekdays.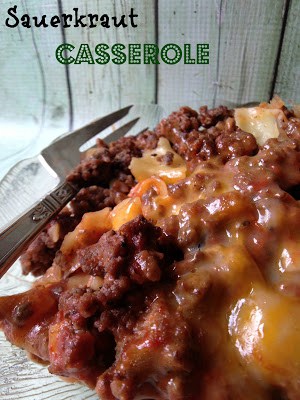 Family Friendly
If you're a sucker for a good casserole like me, than you're gonna love this recipe….Give it a try and let me know what you think🙂 I can promise you that you and your family will keep coming back for more. This casserole is a satisfying, family friendly, comfort food dish. It's super delicious and would be a great choice to bring to a potluck dinner or church dinner.
Sauerkraut
Although sauerkraut, German for "sour cabbage" is thought to be a German invention but actually the Chinese have been eating sauerkraut since laborers built the Great Wall. Chinese sauerkraut is made with shredded cabbage fermented in rice wine. Eventually it found its way to Europe where the Germans adopted it as a favorite. Today's sauerkraut is made by combining shredded cabbage, salt, and sometimes spices. It's then allowed to ferment.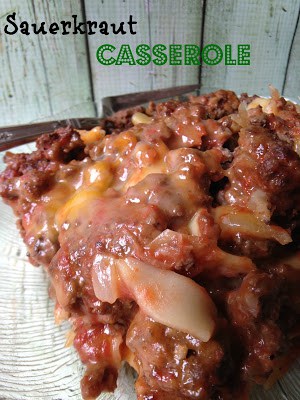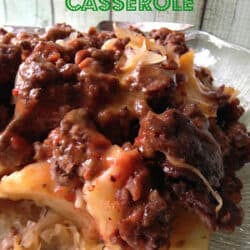 Sauerkraut Casserole
A super delicious casserole everyone will love!
Ingredients
2

pounds

ground beef, turkey or pork

1

medium

onion, chopped

2

cans

tomato soup

1

can

warm water

1

15 oz package

wide egg noodles

2

15 oz cans

sauerkraut, drained

3/4

cup

brown sugar

2

cups

Swiss cheese, shredded

1/2

cup

shredded cheddar cheese

1

teaspoon

garlic powder

salt and pepper, to taste
Instructions
Preheat oven to 350 F.

Brown ground beef, turkey or pork with chopped onion; season with garlic powder, salt and pepper until meat is no longer pink inside. Drain off any fat.

Prepare egg noodles according to package directions. You want the noodles slightly al dente. Drain but do not rinse.

Drain sauerkraut and spoon into the bottom of a greased 3-quart baking dish. Sprinkle with brown sugar. Pour egg noodles over kraut and brown sugar. Pour browned meat over egg noodles.

Mix 1 can of warm water with the 2 cans of tomato soup, stir until smooth. Pour over mixture in baking dish. Top with cheese.

Bake at 350 for 30 to 45 minutes or until cheese is brown and edges are bubbling.

Let stand 5 minutes before serving
Recipes On Tap
Old Fashioned Pork Spare Ribs and Kraut and Stuffed Chicken Breasts Reuben Style.
Sauerkraut Casserole is made with:
Franks Sauerkraut  and Campbell's.