Rustic Tuscan Stuffed Tomatoes or Mushrooms
We may earn money or products from the companies mentioned in this post.
Rustic Tuscan Stuffed Tomatoes or Mushrooms
Hi Guys! I'm back today with the second of three recipes featuring Giorgio BLENDABELLA . This is the second recipe that I've entered in the BLENDABELLA Summer Blogger Recipe Challenge. Rustic Tuscan Stuffed Tomatoes or Mushrooms is an Italian inspired recipe that features Giorgio Rustic Tuscan BLENDABELLA. Italian sausage, mozzarella cheese, BLENDABELLA and a Tuscan Grain Salad are combined together to make this delicious filling.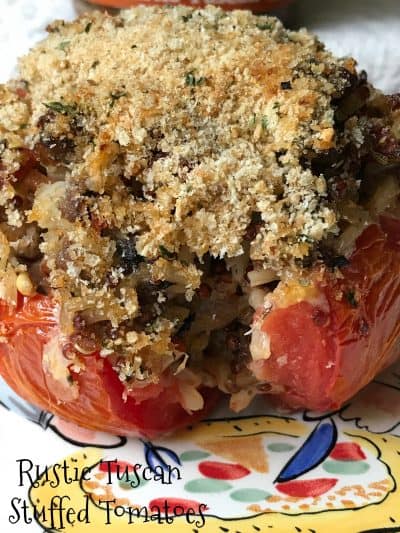 Zesty Southwest Stuffed Avocado
The first recipe I entered in the contest features Giorgio BLENDABELLA Zesty Mexican.  Zesty Southwest Stuffed Avocado makes for a delicious light lunch or for a festive Mexican inspired dinner. Serve Zesty Southwest Stuffed Avocados as a side dish alongside tacos, quesadillas and/or bowls of gazpacho. Don't forget to make an extra large batch of  Frozen Margarita's to serve with your meal.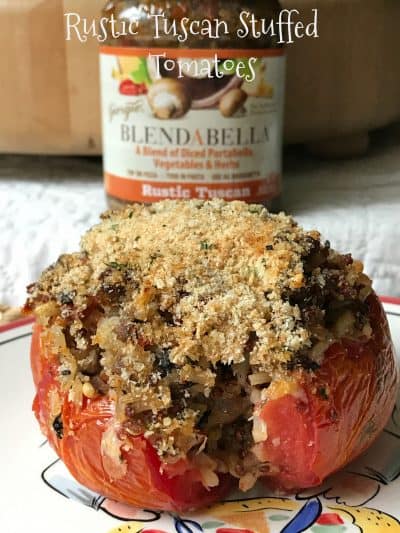 Great for Tomatoes or Mushrooms
The filling mixture used for Rustic Tuscan Stuffed Tomatoes would be delicious in so many different recipes. It's not only delicious stuffed into tomatoes or baby bella mushrooms, you can spread this filling on bruschetta or crostini, sprinkle mozzarella cheese on the top and pop under the broiler until the cheese has melted. You will have a fast and tasty appetizer to serve family and friends at your next tail-gating party.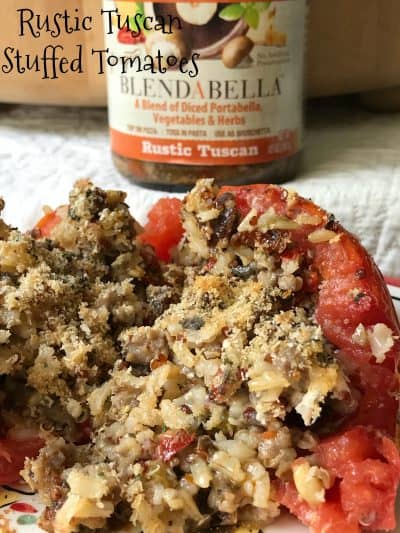 Football Season
Football Season? Tail-gating? Already?? Yes folks, it's that time of year again. The football season has decended upon us and in my family, that's a big deal. We take football season seriously at my house. Stuffed mushrooms are high on our list of top hors d'oeuvres to serve before, during and after a football game. Football season is here and I can't wait to serve these yummy Rustic Tuscan Stuffed Mushrooms. Go Pack Go!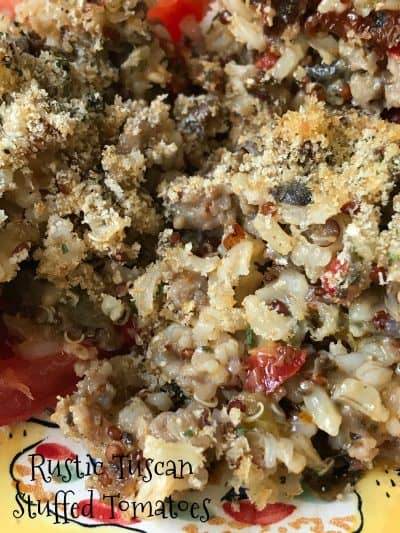 Follow Giorgio BLENDABELLA on all social media. Facebook BLENDABELLA, Twitter BLENDABELLA, Instagram BLENDABELLA and Pinterest BLENDABELLA. To purchase BLENDABELLA products online go to Giorgio BLENDABELLA.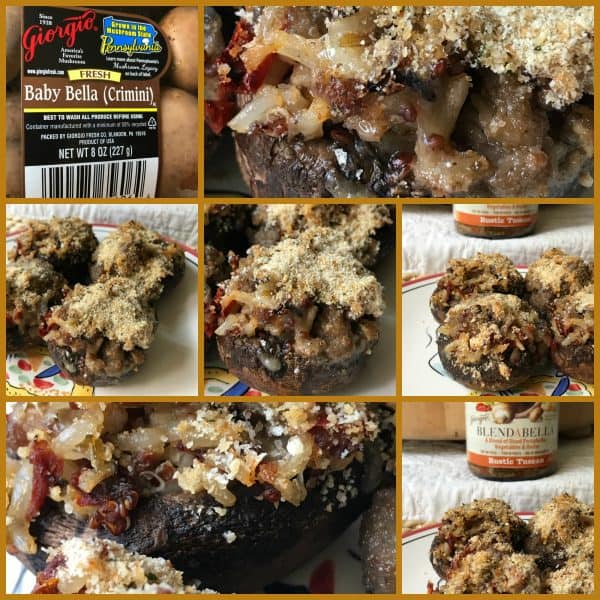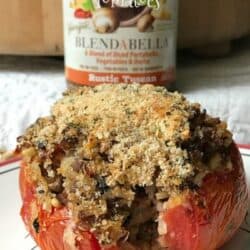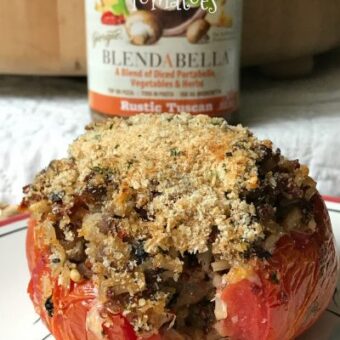 Tuscan Stuffed Tomatoes or Mushrooms
A delicious Tuscan inspired filling made with Tuscan BLENDABELLA, Tuscan grain salad, cheese, and Italian sausage. Stuff into vine-ripened tomatoes and baby bella mushrooms. Enjoy.
Ingredients
1

lb

bulk Italian Sausage

1

jar

Rustic Tuscan BLENDABELLA

,

Giorgio

1/4

cup

white wine

1

5.9 oz box

Tuscan Grain Salad

6

cups

water

1

3 oz

cream cheese, room temperature

1/3

cup

Parmesan cheese, freshly grated

1

cup

mozzarella cheese

1/2

cup

flat leaf parsley, chopped

6

whole

tomatoes

1

8 oz package

fresh baby bella mushrooms, wiped clean

,

Giorgio

2-4

tablespoons

olive oil, divided

1

cup

finely shredded Italian-style cheese blend

1/2

cup

Italian bread crumbs
Instructions
In a large skillet, brown Italian sausage, drain. Stir in jar of Tuscan BLENDABELLA, and 1/4 cup white wine. Simmer on low for 10 minutes. Remove from heat, Set aside to cool.

In a large saucepan bring 6 cups of water to a boil. Empty pouch of grains into boiling water; gently boil uncovered for 17-20 minutes. Set aside dressing mix packet for another use. Carefully drain the cooked grains in a colander. Rinse grains under cold running water until the grains have cooled, 1-2 minutes. Allow grains to drain until dripping stops. Pour grains into a large bowl.

Pour sausage mixture into bowl with grains. Toss gently to combine. Stir in cream cheese, Parmesan cheese, mozzarella, and chopped flat, leaf parsley, Toss together. Set aside.

With a paring knife, cut off the stem end of the tomatoes, Only cut off a very small portion. Gently scoop out the seeds and membranes from the insides of tomatoes.

Fill the tomatoes with the sausage/cheese mixture, lightly packing the filling in the tomatoes. Stand the filled tomatoes upright in a baking dish. Drizzle with 2 tablespoons olive oil.

Gently remove stems from mushrooms. Save stems for another recipe. With a dampened paper towel, wipe mushrooms free of any dirt. Fill mushrooms with sausage/cheese mixture. Place filled mushrooms in a second baking dish. Carefully drizzle with 2 tablespoons olive oil.

Top tomatoes and mushrooms with finely shredded Italian cheese blend. Sprinkle a small amount of bread crumbs on top of tomatoes and mushrooms.

Bake at 375 degrees for 30 to 45 minutes or until cheese is melted, bread crumbs are brown and tomatoes and mushrooms are heated through.
Notes
This recipe was tested with Earthy Grains Southwest Salad from Aldi