Rustic Sourdough Pasta
We may earn money or products from the companies mentioned in this post.
Rustic Sourdough Pasta
This was the first time that I had attempted to make sourdough pasta. I had always wanted to try making pasta with my sourdough starter but for some reason I thought making sourdough pasta would be difficult. Boy, was I wrong. It was a whole lot easier than I thought it would be. In fact it was downright easy. Rustic sourdough pasta only takes three ingredients; sourdough starter, flour and eggs.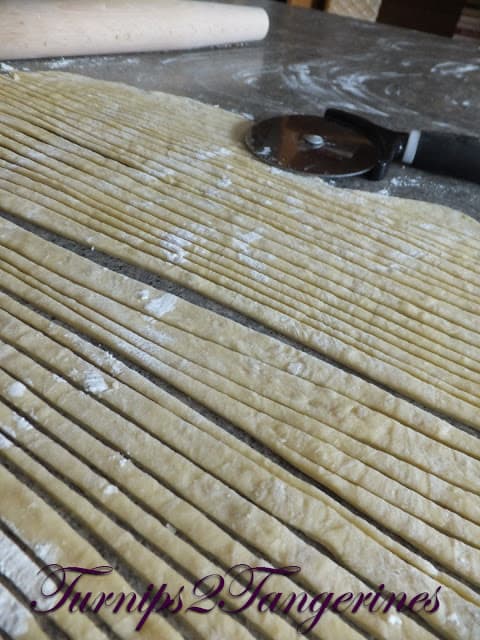 Serve Rustic Sourdough Pasta With
Since this was my first time attempt at making sourdough pasta, I wanted to serve it as simply as possible. I actually wanted to see if I could taste the sourdough, and I must say I definitely could. You can certainly roll your pasta dough out thinner than I did but overall the pasta turned out super delicious. Serve with a light drizzle of extra virgin olive oil, toss with butter or top with a light butter/garlic sauce.
For this Recipe
For this recipe we tossed the rustic sourdough pasta in a zesty Italian salad dressing from Kraft. Rustic sourdough pasta can be tossed with any of the traditional pasta toppings like spaghetti sauce, alfredo sauce or an anchovy sauce. The best way to serve sourdough pasta or any homemade pasta really, is as simple as possible. What's nice about fresh pasta is cooking time is minimal, so why spend time on an elaborate sauce? Simple is the key to good fresh pasta.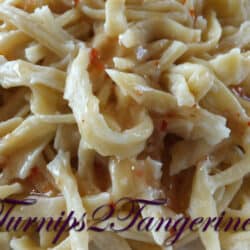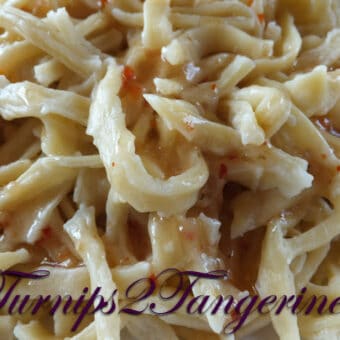 Rustic Sourdough Pasta
A great way to use your sourdough starter!
Ingredients
1/2

cup

sourdough starter, fed

1 1/2

cups

flour

2

eggs

1/4

cup

zesty Italian salad dressing

2

tablespoons

Parmesan cheese
Instructions
Pour the starter into a mixing bowl. Add the flour and eggs. Mix until mixture forms a ball. Allow the dough to sit on the counter for a few hours or overnight. It won't rise much, if at all. Dump the ball out onto a floured counter. Roll out as thin as possible. Slice into thin strips or any shape you want. Either boil the noodles immediately or allow to dry out on the counter on a drying rack. Boil noodles in salted boiling water for about 5 minutes. (it won't take long)

Serve noodles with your favorite pasta sauce or sprinkle with zesty Italian salad dressing and top with grated Parmesan cheese for a quick lunch.