Rosemary Roasted Asparagus and Baby Potatoes
We may earn money or products from the companies mentioned in this post.
Rosemary Roasted Asparagus and Baby Potatoes 
Every spring and early summer I look forward to fresh rhubarb and asparagus. I recently shared this recipe for Rhubarb Ginger Sauce  and this one for Rhubarb Ginger Yogurt Pops Both turned out super delicious. Now it's time to share a recipe for fresh asparagus. I'm the only one who eats asparagus in my house, (remember my hubby doesn't eat any green veggies), so I only made one recipe this year using asparagus. What a winner this recipe turned out to be! Roasted fresh asparagus with fresh rosemary, garlic and baby potatoes is fantastic!! All that is needed to top off Rosemary Roasted Asparagus and Baby Potatoes is some sour cream with snipped fresh chives tossed in.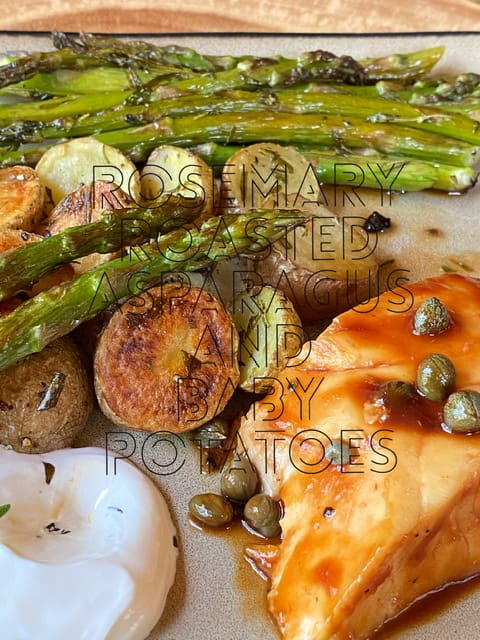 The Little Potato Company
Dynamic Dual potatoes from The Little Potato Company were the perfect potato for this recipe. Another option would be to use fingerling potatoes or any of the other 'little potato' products that Little Potato Company has to offer. Actually any small potato will work nicely in this recipe. The goal here is to use small enough potatoes that will cook up quickly. Therefore, you can get dinner on the table in relatively lightning speed. Needless to say, that makes everyone happy, happy:)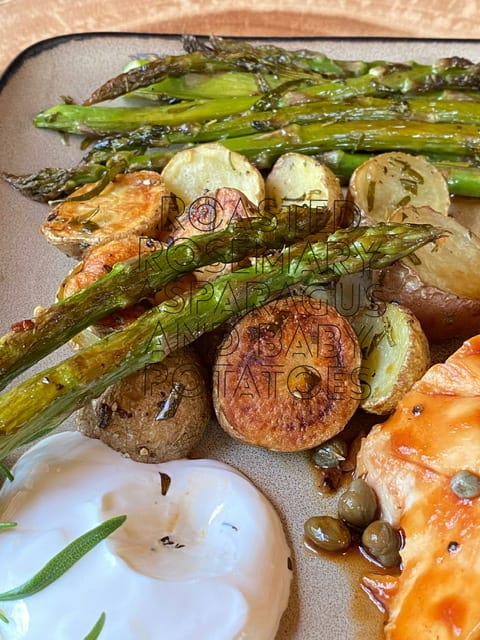 Creamer Potatoes
What are creamer potatoes? The Little Potato Company grows creamer potatoes. Creamer potatoes are naturally buttery in taste, highly nutritious, and easy to cook. Find creamer potatoes in the produce section in fresh bags, kits ready for the microwave, oven or grill and fully-cooked 'Easy Sides.' Little creamer potatoes are excellent to use in a variety of recipes. Creamer potatoes come in a variety of colors too; red, yellow, white, and blue. For example, make red, white and blue potato salad for the 4th of July. Thread  creamer potatoes on skewers along with bite size pieces of chicken breast and corn-on-the-cob.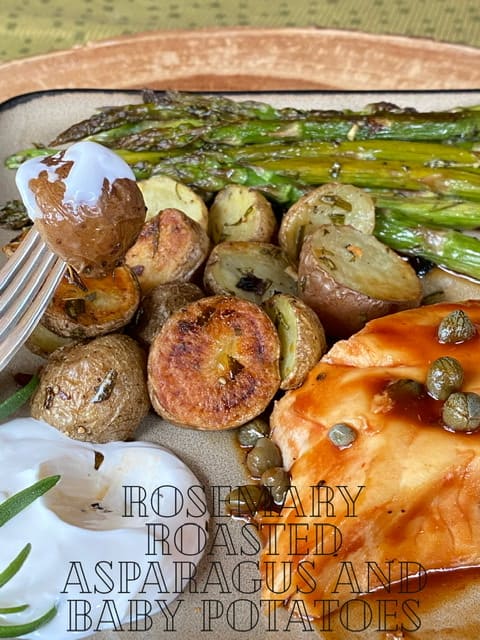 Bred to Be Little
The smallest of the potato family, creamers are meant to be bite size. Like cherry tomatoes are to the tomato family. They offer a naturally buttery taste and creamy texture. They're so easy to prepare and are meant to be eaten with skins on. Creamers are not your average potato. For instance, they are pre-washed, require no peeling, consistency sized, available in fun colors, and are quick to cook. The perfect potato for busy weeknight family dinners or lazy weekend afternoons on the barbie, for example.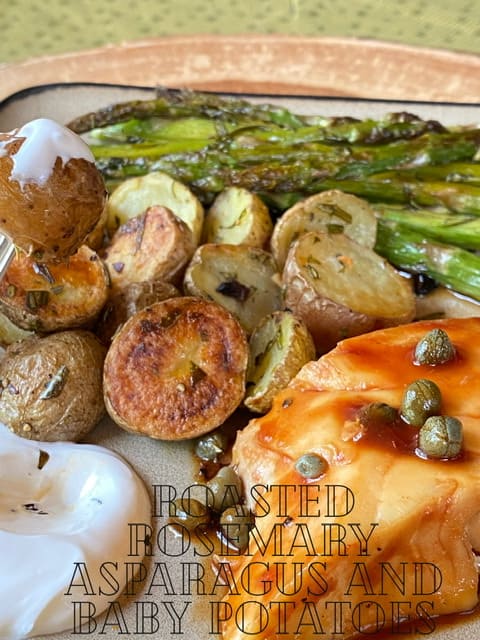 Fish is a Favorite
Here at Turnips 2 Tangerines we love our fish, particularly haddock. You might be thinking, she's from Wisconsin and lives on a lake. Why then, isn't her favorite fish perch or trout? Let me explain. Unfortunately, my hubby isn't a fisherman nor am I a fisherwoman. For some reason, we can't seem to find anyone who will barter with us either:) Haddock is very popular here and we love it. Here are a few recipes to get you started. Crispy Coated Fried Haddock, Baked Haddock with Lemon Dill Aioli, and Beer Battered Haddock with Tarter Sauce.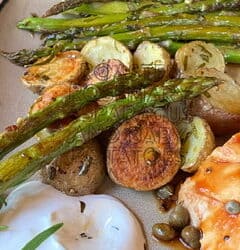 Rosemary Roasted Potatoes and Asparagus
Dress up asparagus with fresh rosemary, minced garlic and baby potatoes.
Ingredients
1/2

pound

baby potatoes, cut in half

1/4

cup

olive oil, divided

2

tablespoons

minced fresh rosemary

3

cloves

garlic, minced

1

pound

fresh asparagus, trimmed

1/4

teaspoon

salt

1/4

teaspoon

freshly ground black pepper

shaved fresh Parmesan, optional
Instructions
In a small bowl, combine potatoes, 2 tablespoons oil, rosemary and garlic; toss to coat. Place mixture in a rimmed, large baking sheet. Roast at 400 degrees for 25 minutes, stirring once.

Drizzle asparagus with remaining oil; add to pan. Bake 15 to 25 minutes longer or until vegetables are tender, stirring occasionally. Sprinkle with salt and pepper. Garnish with shaved Parmesan, optional.