Rose Petal Jam
We may earn money or products from the companies mentioned in this post.
Rose Petal Jam
This delicately perfumed jam is beautiful on lightly buttered toasted brioche. My favorite way to enjoy Rose Petal Jam is to stir some into plain Greek
yogurt. Talk about delicious! Another way to enjoy this flowery, sweet jam is to spoon some over honey goat cheese and serve with buttery crackers. The perfect appetizer to serve on a warm summer evening, while sitting on your patio, sipping a glass of chilled white wine. Heavenly…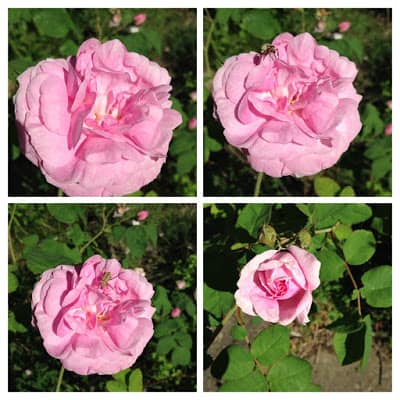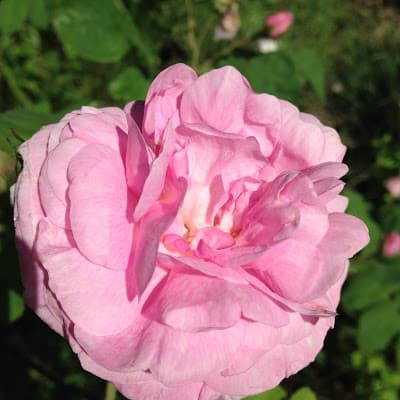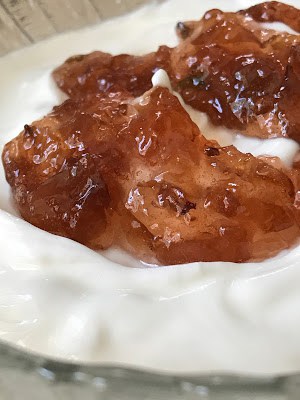 Making Jam
Rose Petal Jam is made the same way as you would make any jam except for the obvious, clean, unsprayed rose petals are used. Make sure that the roses you use are unsprayed, meaning they haven't been sprayed with any chemicals. If you grow your own roses or know someone who does, then that will be easy enough to find out. I grow my own roses and use them so I'm not even sure where you would go to find rose petals for this recipe. Possibly a florist or garden center, just ask them if they are sprayed with chemicals or not. Another very important thing you need to know is to use very fragrant roses. The more fragrant the better.
A Rose is a Rose?
When we lived in the city, I had a huge rose garden. I grew roughly 25 different variety of roses. It became an obsession and I literally spent hours in my garden, pruning, weeding, watering, spraying and of course cutting roses. At least 3 times a summer I would get a knock on my door with someone asking me if it would be alright if they took pictures of my roses or I would come home and find someone in my back yard taking pictures
Now I grow three classic, old fashioned roses. I planted them when we bought the place eleven years ago. Here are the names with a short description of each:
Louise Odier
Bred in 1851, this vigorous old garden rose remains popular for its strength as a cut flower, constant supply of summertime blooms, and intense sweet fragrance.  Size: To 6 feet tall and 4 feet wide.  Zones: 5-9
Madame Alfred Carriere
Another old-rose classic, this climbing rose was born in 1879 and features pink-blushed white flowers with a strong spicy-sweet scent. It bears a continuous supply of blooms. Madame Alfred Carriere bears fewer thorns than most roses.  Size: To 16 feet tall and 9 feet wide.  Zones: 6-9
Madame Isaac Pereire
Considered one of the most fragrant roses in history, 'Madame Isaac Pereire' bears petal-filled, deep raspberry-rose flowers in spring and again in summer.  Size: To 7 feet tall and 5 feet wide.  Zones: 6-9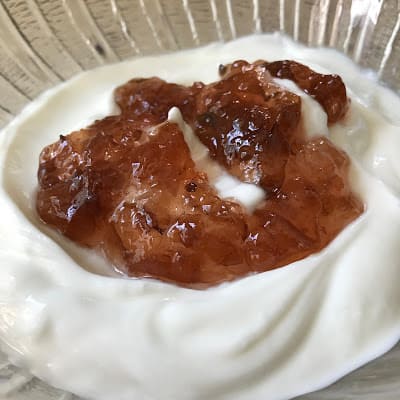 For this recipe use Ball Fruit Pectin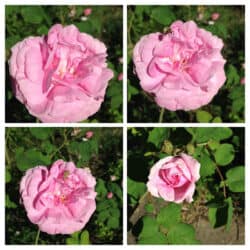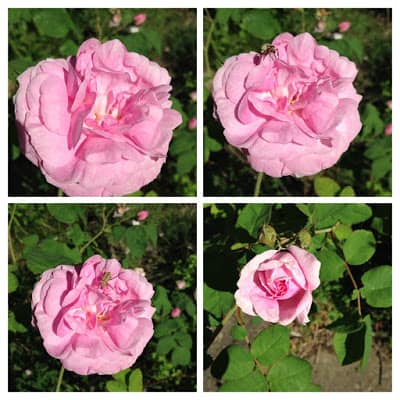 Rose Petal Jam
A delicately, floral jam that is truly delicious.
Ingredients
1/2

pound

rose petals

2

cups

granulated sugar, divided

1/2

cup

freshly squeezed lemon juice

4

cups

water, divided

1

1.75 oz package

pectin powder, divided
Instructions
Clip and discard the bitter white bases from the rose petals if necessary. Very gently rinse the rose petals in water; drain. Place rose petals on a large towel, blot with paper towels. Let air dry until petals are completely dry. Place the rose petals in a large bowl and sprinkle with 1 cup of sugar. With your hands, massage the rose petals with the sugar. Add half the package of fruit pectin power, gently massage the sugar, petals and pectin together. Let this mixture stand at room temperature overnight.

Bring 1 cup water to a boil, pour over petals/sugar mixture in bowl, stirring for about 3 minutes. Bring the remaining 3 cups of water to a boil in a saucepan over medium-high heat. Stir in the rose petal/sugar mixture, reserved 1 cup of sugar and lemon juice; stir until the sugar has dissolved. Reduce the heat to medium-low and simmer 20 minutes. Increase the heat to medium-high, and bring the mixture to a boil, boil for 5 minutes. Stir in the remaining pectin and boil for 1 minute longer.

Pour the jam into 4 sterilized half-pint jars. Seal with lids and rings. Process in a boiling water canner for 10 minutes. Carefully remove jars from canner with tongs. Place jars on counter and leave undisturbed for 24 hours.

Store in a cool dark place.
Brazilian Cheese Bread and Lavender in the Kitchen are Recent Recipes.