Root Beer Chocolate Chip Pancakes
We may earn money or products from the companies mentioned in this post.
Root Beer Chocolate Chip Pancakes
What did that say?!? Root Beer? In pancakes? You betcha!  Root beer chocolate chip pancakes are for kids and adults alike. The root beer in this recipe adds a unique flavor to the pancakes and the carbonation makes the pancakes light and fluffy. As for the chocolate chips, well everyone loves chocolate so why not add some to your pancakes too. A small amount of pumpkin pie spice is added to the batter for an added taste bonus.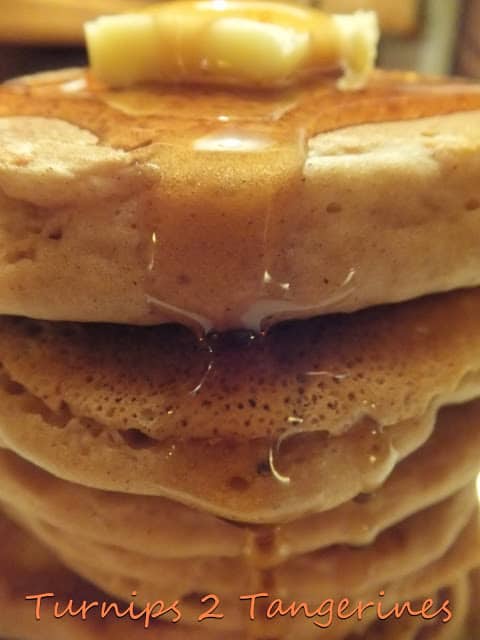 Pancakes For Dinner
Do your kids like pancakes for dinner?? Next time they want to have pancakes for dinner, give this recipe a try. When my kids were young, about once a month we would have breakfast for dinner. Sometimes it would be bacon and eggs, or french toast and sausages, while other times we would have pancakes or waffles. One night the kids wanted pancakes for dinner and the rest is history.
Complete Pancake Mix

More often than not, I have a complete pancake mix on hand. In fact, it's not often that I don't have a complete pancake mix in my cupboard. I usually have a Belgium waffle mix on hand too. Even though its easy to make a pancake or waffle mix from scratch, I like the convenience that they both offer. For the few dollars that it costs to purchase a pancake/waffle mix and some water/root beer, you can have pancakes anytime.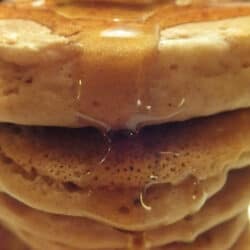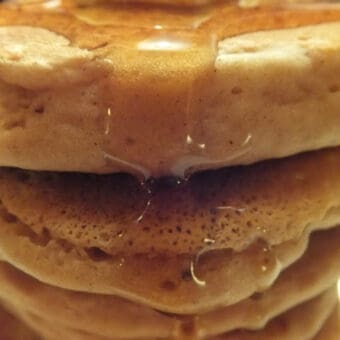 Root Beer Chocolate Chip Pancakes
There are a lot of flavors going on in these pancakes. Root beer, chocolate and pumpkin pie spice.
Ingredients
1 1/4

cups

all-purpose flour

2

tablespoons

brown sugar

2

teaspoons

baking powder

1/2

teaspoon

salt

1/2

teaspoon

baking soda

1/4

teaspoon

pumpkin pie spice

1

egg beaten

1

cup

root beer

,

regular or diet

1

tablespoon

oil

1/3

cup

mini chocolate chips

butter

,

optional

maple syrup

,

optional
Instructions
Stir together flour, sugar, baking powder, salt, baking soda, and pumpkin pie spice.

Combine egg, root beer and oil; add all at once to flour mixture, stirring until well blended, batter with be thick. Let batter "rest" 5 minutes. Stir in mini chocolate chips. Pour batter onto a hot, lightly greased griddle or heavy skillet. Cook until golden brown, turning to cook other side when pancakes have a bubbly surface.

Serve with butter and maple syrup.
Looking for a meatless meal to serve for dinner tonight? Give this recipe a try. Hearty Manicotti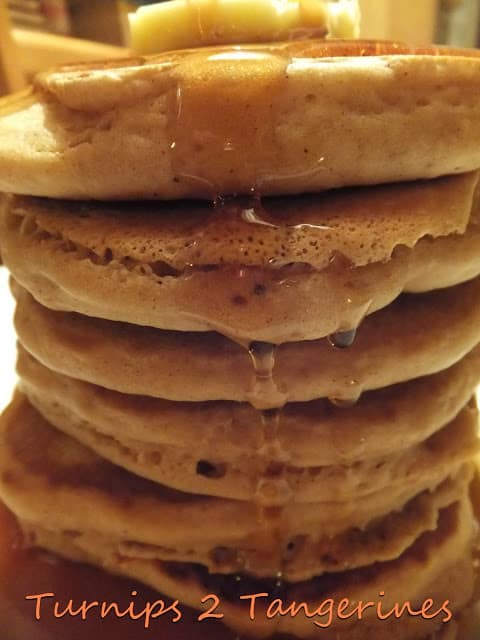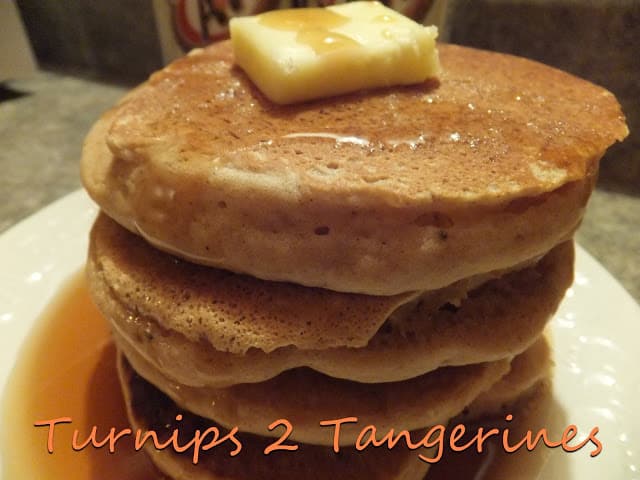 Favorite brand of complete pancake mix: Aunt Jemima Complete Pancake Mix and for Belgium Waffles: Krusteaz Belgian Waffle Mix