Rocky Road Brownies
We may earn money or products from the companies mentioned in this post.
Rocky Road Brownies
Brownies that Rock
According to my son these brownies rock! Not only do Rocky Road Brownies rock they're made with only 6 ingredients….Now that rocks!! If your looking for a fast, easy and delicious brownie recipe, then look no further because this is the one you want. We used a boxed brownie mix with nuts, mini chocolate chips, and mini marshmallows. Add an extra layer of flavor and replace the water called for on the brownie box with cold coffee. This recipe couldn't get any easier
Top With
As soon as your pan of brownies has finished baking, they're removed from the oven and the mini chocolate chips and mini marshmallows are immediately sprinkled on top of the hot brownies. The brownies are then allowed to cool and what you have is a pan of chocolaty, marshmallowy, nutty goodness. This recipe makes an 8 x 8-inch pan of brownies but you can easily make this into a 13 x 9-inch pan of rockin' brownies.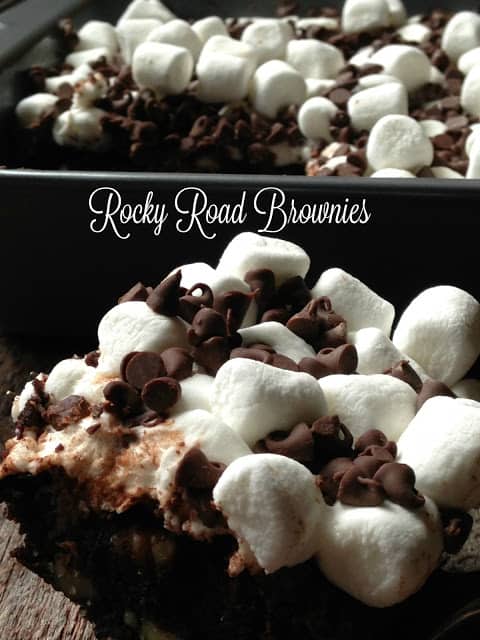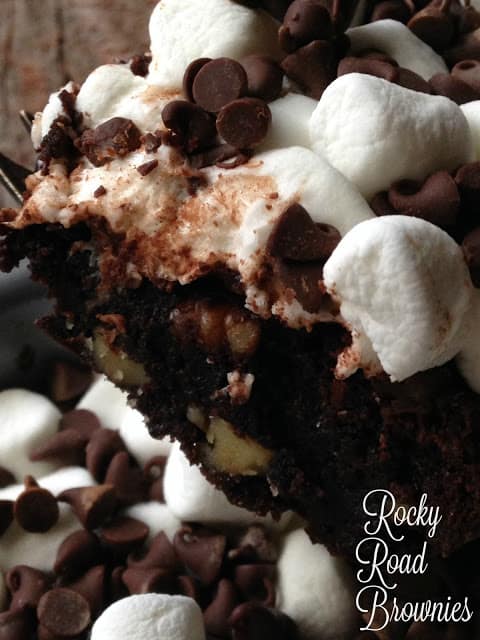 Serve With
For an added treat or bonus, depending how you look at it, you can really spruce up theses already delicious brownies. Serve large squares of rocky road brownies with a big scoop of vanilla or chocolate ice cream. Drizzle chocolate syrup or caramel syrup over all and enjoy! Rocky Road Brownies are made with Ghirardelli. You can easily make Rocky Road Brownies using a "from scratch" brownie recipe but to save time we used a box mix.
Chef's Torch
To add that extra, extra layer something special consider a chef's torch. Yes, a chef or professional cooking torch. Professional chef's torch can be purchased at any retail outlet. Walmart, Target and Bed, Bath and Beyond to name just a few carry chef's torch. They're relatively inexpensive and once you get the hang of using one, you'll find all sorts of things to torch. Like these brownies! Torch the mini marshmallows, ever so slightly for an outdoor, campfire toasty flavor.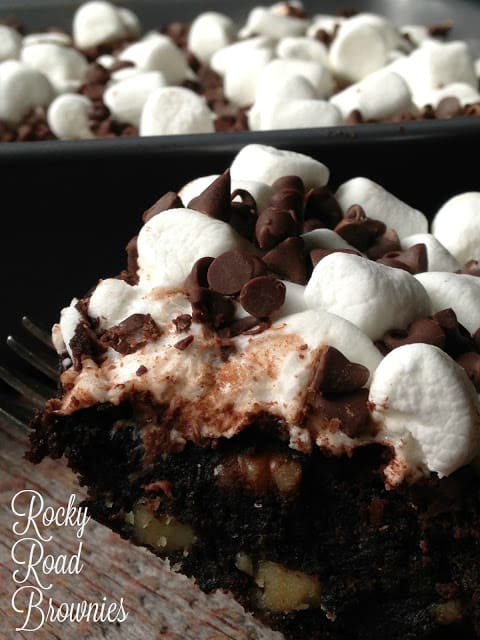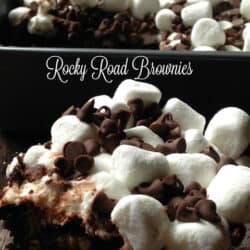 Rocky Road Brownies
Chocolate walnut brownies topped with mini chocolate chips and mini marshmallows.
Ingredients
1

17 oz box

chocolate walnut brownie mix

,

use ingredient amounts and follow directions on your box of brownie mix

1/4

cup

water

1/3

cup

vegetable oil

1

egg

1/2

cup

mini semi-sweet chocolate chips

2

cups

mini marshmallows
Instructions
Heat oven to 325º Lightly grease a square 8 x 8-inch baking pan with non-stick cooking spray.

Place water, oil and egg in a medium bowl and stir until fully mixed. Add brownie mix and stir until well blended.

Spread in prepared pan. Bake for 38 to 42 minutes.

Immediately after removing from oven, sprinkle with the mini marshmallows and chocolate chips. Cool.
Recipes On Tap
Cool off this summer with these yummy Chocolate Chip Waffle Ice Cream Sandwiches. If you're a fudge fan we have a delicious recipe you are going to want to try. Rocky Road Fudge is delicious. If you're going to making the fudge in the summertime or on a hot humid day, keep the fudge in the refrigerator and serve chilled.